If I ever fell in love with a city after just one visit it has to be Singapore! This was the city we stopped off in before we flew onto Australia. The city was just so beautiful with so much to do and the weather was perfect – not too hot and not too cold. English is one of the four official languages of Singapore and everyone speaks it. All signposts are in English too so it's a great stopover city on that side of the world, if you want to avoid having a language barrier!
Jewel Mall in Changi Airport
The best advice we got was from the air hostess on the flight. She told us to go straight off the plane to the Jewel shopping mall which is right next to the airport. We were lucky that we landed in the morning around 10am so we went straight there. Depending on your flight make sure you go either when you land or before you take off because it's a bit out of the way from the city. The Changi airport is also just amazing – probably the best airport I've ever been to. It's massive with so many shops and there was even a Spa where I treated myself to a cheeky massage between layover flights on our way back!
In the Jewel mall there is a HUGE in-door waterfall sometimes called the "Rain Vortex" and it's the largest indoor waterfall in the world. Honestly, we spent about an hour just looking at it! There are some really great shops and restaurants in the mall too so make sure to check those out. Some of the restaurants even do deals if you have a boarding card. We got a free glass of wine each for showing ours so definitely worth asking!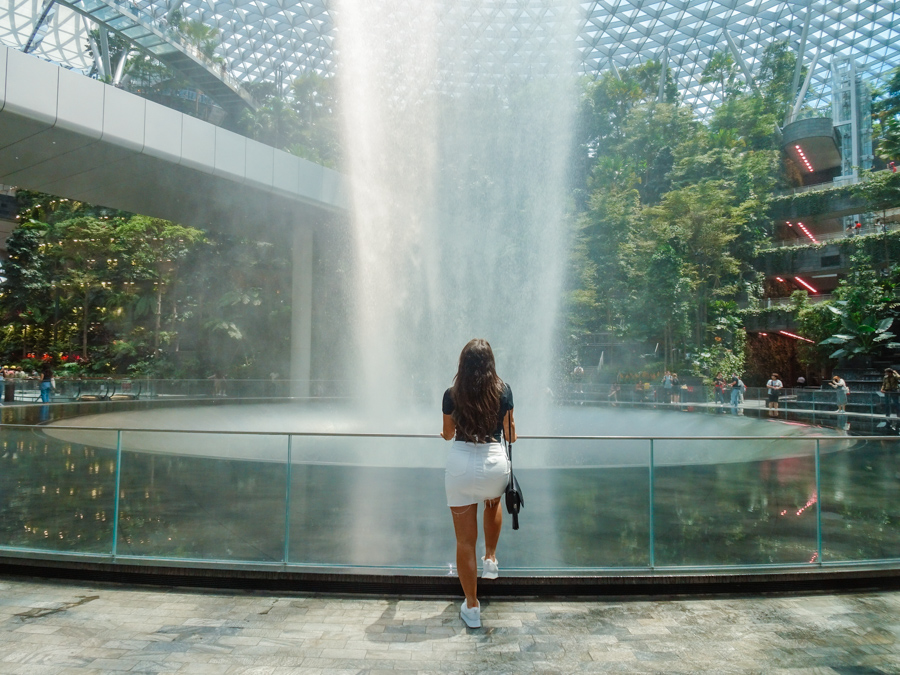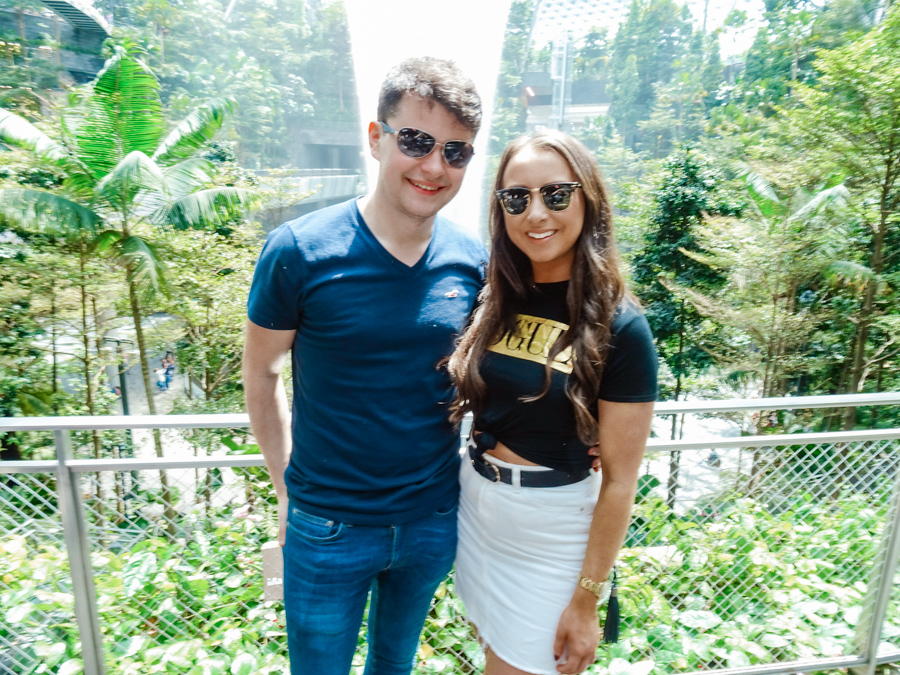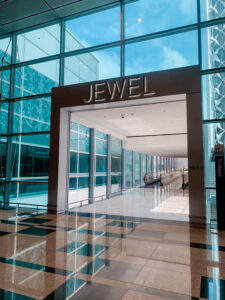 Getting around the city is pretty easy. We mainly used an app called Grab which is a ride-share app equivalent to Uber. We never waited more than a few minutes and the fares were reasonable. We took a taxi one or two times too and didn't notice much of a difference in price – it was pretty much the same! The currency in Singapore is the Singaporean Dollar and we used Revolut the whole time we were there without any issues! It was just super quick to exchange our money over and pay with card, there was no place that only took cash either!
Walking Tour - Most Noteworthy Stops
We booked our overall trip with a travel agency called Trailfinders and I highly recommend them! It was my first time booking with a travel agency but it made everything so much less stressful. One of the optional activities they added on to our trip was a 'walking tour' of the city. It wasn't much of a walking tour as we got a bus everywhere but for each stop you got off and walked around to get a better look. This was great as we got to cram everything in since we only had a few days in the city.
Royal Botanical Gardens

– The first stop on the tour was the Royal Botanical Gardens. I am a sucker for a botanical garden because of all the pretty flowers so I was in my element! It was such a beautiful place and also interesting as there is a Celebrity Garden where hybrids are named after certain celebrities to commemorate them and they're then invited to visit the garden afterwards. It was fun reading through them and finding a celebrity you know – Obama was one I remember finding. The only downside to these botanical gardens was that the humidity there was way too much – my hair certainly was not a fan!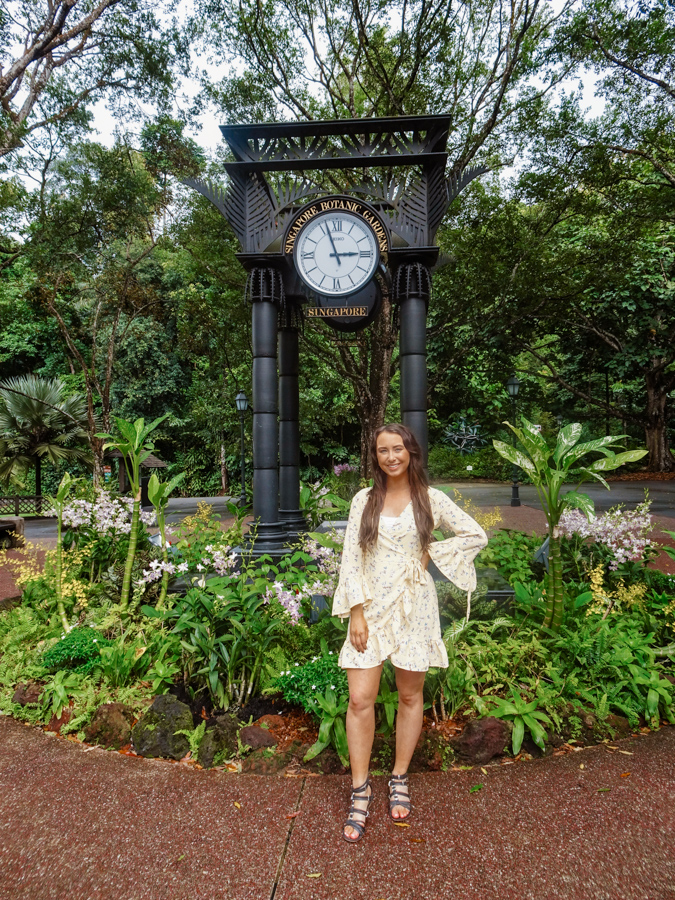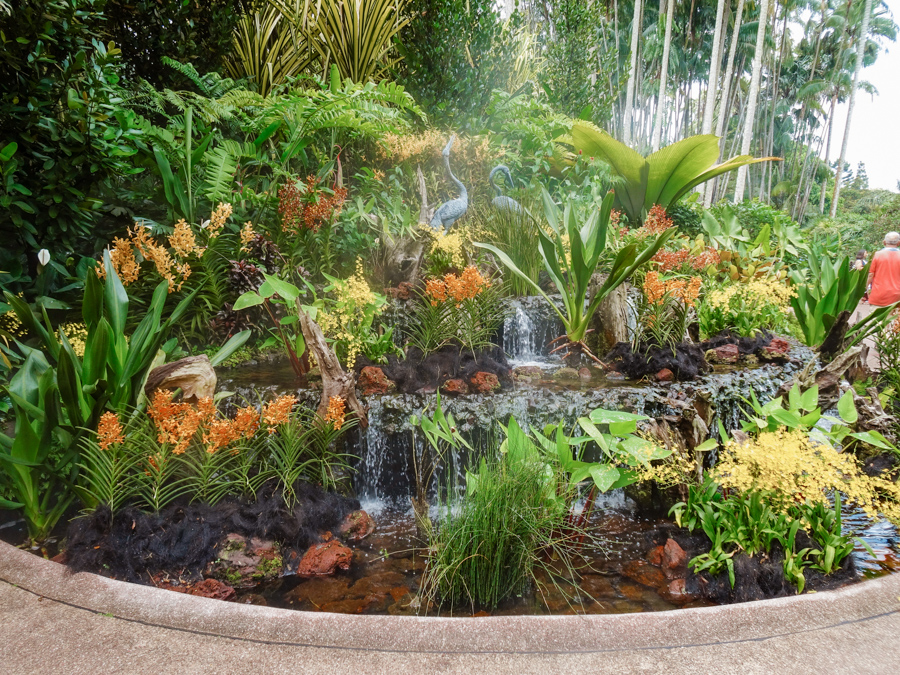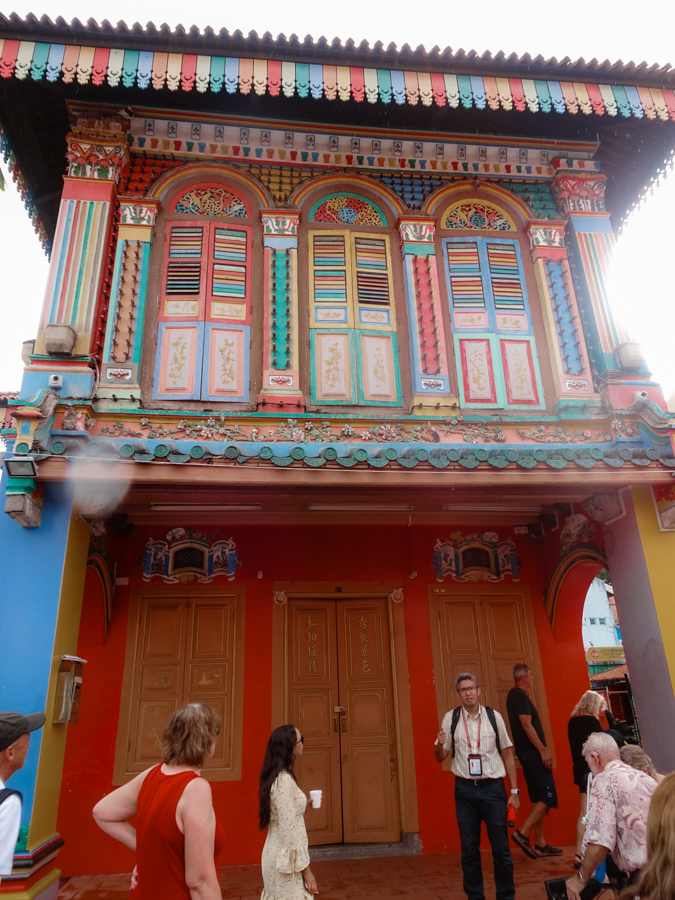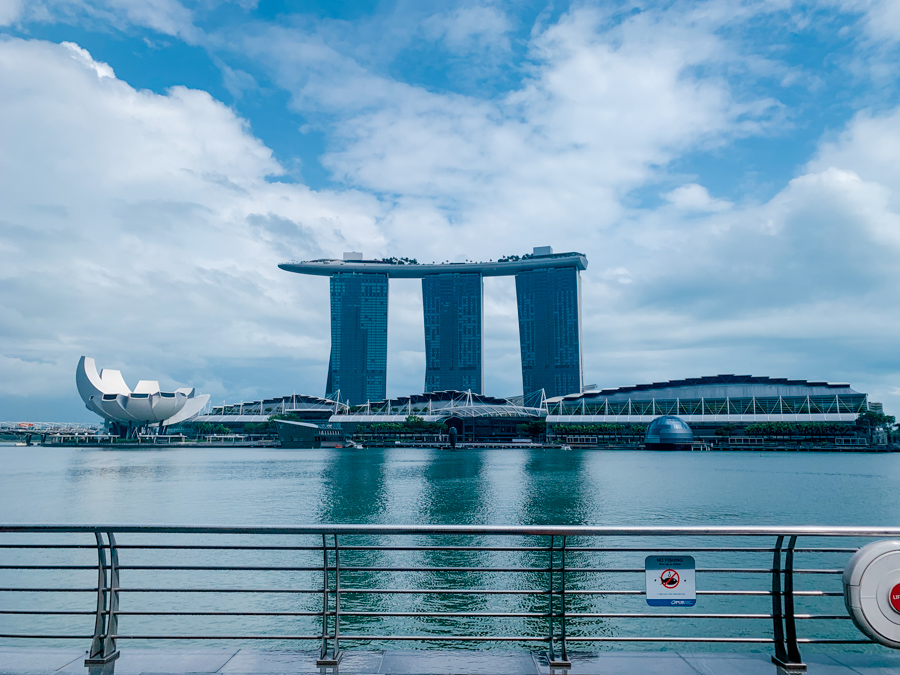 Marina Square

– The other places we stopped at was the Marina Square which is where you get the best view of the Marina Bay Sands and you also see the famous Merlion statue. I always thought this was just a random statue but the Merlion is actually the mascot of Singapore. The "mer", meaning the sea, represents the fish or mermaid body to signify Singapore's origin as a fishing village and the lion's head represents Singapore's original name Singapura which translates to 'lion city'. When the tour guide explained this I found it super interesting!
Telok Ayer St

– The most impactful street we visited was Telok Ayer St and the reason for this is because there is a temple, mosque, and a church all on the one street! Before visiting Singapore I honestly never knew that it was such a multi-religious and multi-lingual city where people of all religions and backgrounds live in harmony – it is truly remarkable! There is a lot of history behind this of course but learning these kinds of facts is one of my favourite parts about travelling. You can go inside the temples and mosques but there are parts where you cannot take photos and if you do you will get yelled at – so definitely go explore around but put your camera away!
Little India

– Little India was the last stop on our tour and it decided to lash rain while we were there but at least it was the end of the day for us! This was interesting to see and there's also a Chinatown that you can visit if you have time. If you do go to Little India make sure you try Masala chai tea. It's a really sweat tea that Indians make by blending two pots together – the bigger distance between the two pots when doing this makes it sweater. It was so good!
Yes, we did decide to stay one night in the boujee Marina Bay Sands hotel and it did cost us an arm and a leg – but honestly, so worth it! We saved a bit on accommodation as we would be staying with friends in Australia so we could justify spending the extra €€€ here. When we checked in both of our mouths dropped! It was like nothing we had ever seen before and they gave us a complimentary ice-cream when we checked in which was unreal. We stayed in Tower 2 and had a Garden View room which was perfect for the garden firework shows at night. The room was gorgeous and was so massive it felt like a suite!
We only had one day there because our flight was really early the next morning. We did some exploring of the place first and then decided to spend the day on the rooftop pool. The pool is everything you expect it to be and more. The views are incredible and the overall atmosphere is so relaxing. We just got some cocktails (there is lounge service) and enjoyed our time there.
One thing that came included with our stay thanks to Trailfinders was 'VIP access' and I had no clue what that meant. After we checked in we soon found out that it was the best thing we could ever ask for – free food and drinks! We went to a room on one of the top floors and got to indulge in an afternoon tea spread at 2PM and then dinner snack and unlimited drinks at 7PM, it was honestly heaven. We watched the garden lights show which was on at 7PM and 8PM for the time of year we were there (February). The show lasted about 15 minutes and we first watched it during our dinner and drinks and again an hour later in our room.
We then checked out the next day to continue on our trip to Australia which you can read about here but we left Singapore knowing we had to come back sooner rather than later!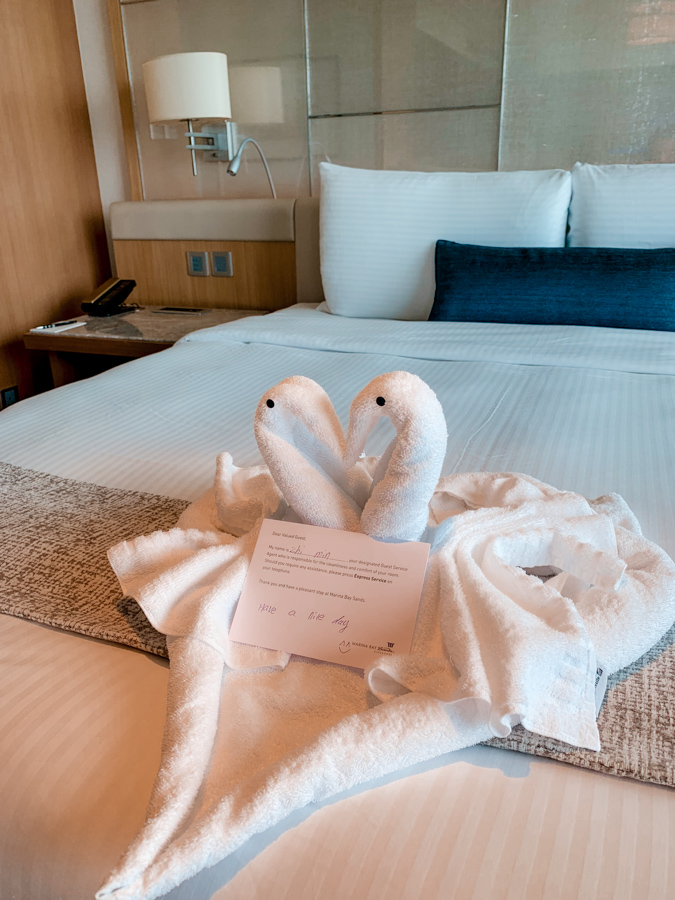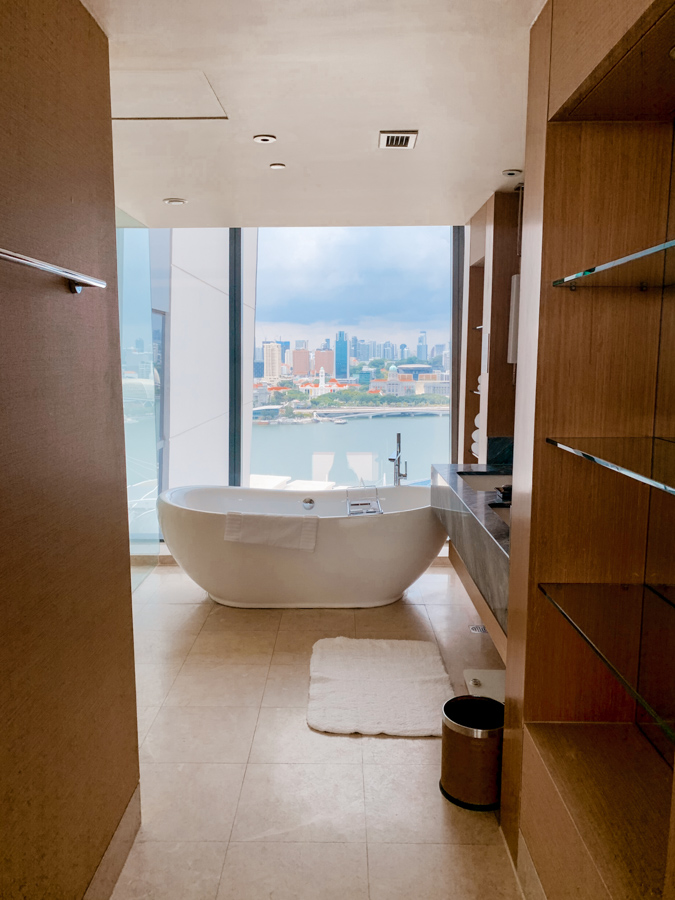 Some of my friends that visited or live in Singapore recommended a few things we didn't get to do but I still want to share them with you!
Sentosa Island – This is a small island resort off the coast and you can get there by walking on the boardwalk, taking a taxi or cable car (I personally think cable car sounds the most fun!). The biggest spot you should head to is Ola Beach Club.
Gardens By the Bay – Although we had a prime view spot from our room in the Marina Bay Sands, we did not get to go down and check out the gardens. They are modern public gardens on reclaimed land and look so beautiful. Try to go if you can!
Universal Studios Singapore – This is actually on Sentosa Island but you would definitely need an extra day to go. From what I hear it's worth the visit and I mean, who doesn't love a theme park?
Thanks for reading,
Jess x