When booking a hotel for a trip to Paris, it is hard to know where to start! There are so many options to choose from and finding the perfect place to stay can be challenging. I recently stayed in Hotel Fabric, and I would highly recommend it if you are looking for accommodation in the city of love. Following my stay, I have put together a full review of Hotel Fabric discussing everything from location to amenities.
Location Review of Hotel Fabric:
This charming hotel is located in the 11th arrondissement in the Oberkampf District, which is a diverse and dynamic quarter where artists and artisans often set up their workshops. The famous Canal S. Martin is just a short walk away. The hotel is very close to Le Marais, to the popular area in the 4th arrondissement. Le Marais is a stunning neighbourhood which is a perfect place for strolling, eating, and shopping. 
There are many things to see and do around Hotel Fabric. Place des Vosges, a nice little park to visit where you can admire the beautiful Parisian architecture of the surrounding buildings, is just a 15-minute walk away. Ateliers des Lumières is an 11-minute walk and a great activity for any art lovers as you will experience multimedia shows of paintings from great artists such as Monet and Renoir, depending on what exhibitions are available.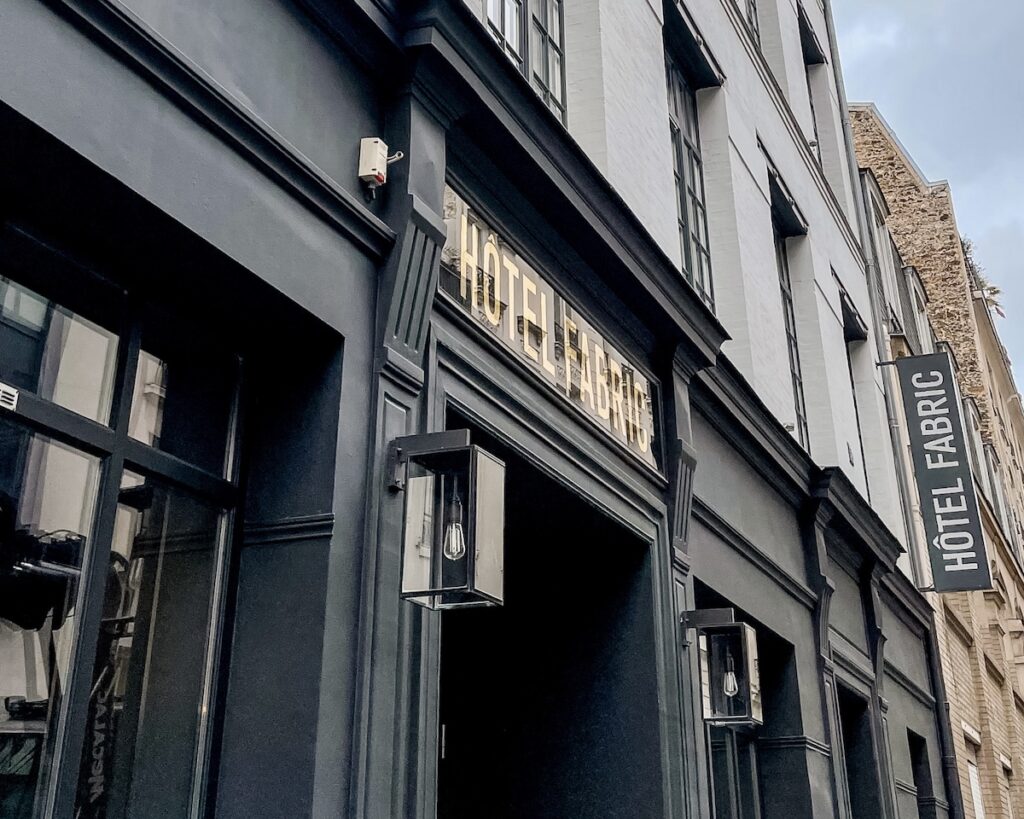 For getting around the city, the location of Hotel Fabric is very convenient. The Metro station Saint-Ambrose is a 4-minute walk and serves the metro line 9, bringing you to Trocadéro, the famous spot to see the Eiffel Tower. The next closet station is Oberkampf and this is a 7-minute walk away. You can get on Metro line 5, which connects with Gare du Nord making it very accessible to travel by the Eurostar.
Pro Tip: If you are exploring for just one day, I would recommend getting the 'Mobilis' ticket on the Metro which will be your day pass for Zones 1-2. It is the cheapest ticket type at 7,50 Euro but you will need to buy this as the counter and not the ticket machines.
Room Review of Hotel Fabric:
There are 4 stories in the hotel and four different types of rooms to choose from; Club Room, Superior Double, Triple Room and Deluxe Room. I stayed in a Double Superior Room, and I fell in love with the décor as soon as I arrived. The double bed was very comfortable with a large headboard, each room having a unique colour. The colour in my room was pink, so I was very excited with this! Other colours you could find in your room are green, brown, and orange.
I found the room to be clean and spacious with good storage space. There is also a small desk area and chair which is perfect if you need to do some work while you're away. You will be greeted by a complimentary bottle of Evian water on the desk when you arrive, which came in very handy as I could pop this in my bag for a full day of sightseeing the beautiful city of Paris!
The bathroom in the room was very clean and equipped with a large sink, toilet, and a powerful electric shower. My favourite part about staying in hotels is always the small toiletries products you get in the bathroom. I was particularly impressed with the ones given in Hotel Fabric as they were L'Occitane en Provence products which was a real treat!
The facilities in the rooms include a flat screen satellite TV with 70 international channels, air conditioning and heating, free WIFI, a safe and a minibar.
I was very impressed with the facilities of the Hotel Fabric as it has more than your typical hotel in Paris. There is a Fitness Centre in the bottom floor, decked out with a treadmill, bike, yoga mats and dumbbells. If you are like me and try to keep your normal gym routine while traveling, this is would be perfect as Hotel Fabric has most of the equipment you would need.
The best part was the spa facilities which are always a very nice bonus for a night away. There is a steam room or 'Hamman' in French which you can book a private session for up to 45 minutes and it is open from 9AM-9PM. There is an option to book a massage if you want to really relax during your stay.
Breakfast is served in the lobby area every day from 7AM-11AM. You can enjoy a breakfast buffet "à la Française" with the below options available:
Choice of hot drinks
Fruit juices
Organic breads and viennoiseries
Fresh fruit salad
Scrambled eggs, sausages, bacon
Charcuterie
Sliced or whole raw vegetables
French cheeses
Farm yoghurt
I loved the breakfast and especially the croissants (it's only necessary to have one when in Paris) – they were very fresh and left me wanting more!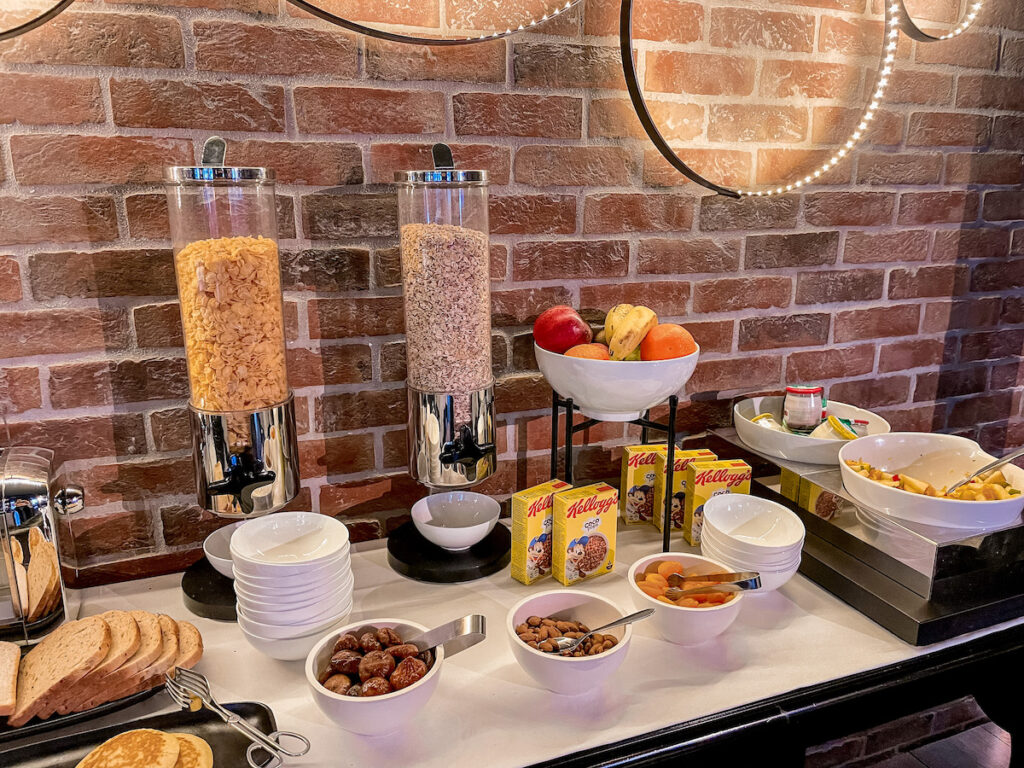 In the lobby you can have a coffee or a tea with a madeleine free of charge as a guest in the hotel. I really enjoyed this part and probably ate way too many madeleines for a night stay but they were delicious! Since I am from Ireland, I am a big tea lover and there was a wide range of teas to choose from like Roobïos to good old English breakfast too.
At night-time, the area where the breakfast is normally served turns into a mini bar where you can help yourself to a drink. You can choose from a glass of wine or your favourite spirit drink. It is completely self-service, but you just need to tell the receptionist what your order was.
The lobby of the Hotel Fabric is stunning with high chandeliers and a comfortable coach. There were also two large armchairs by the window with a selection of French books to read and travel guides for Paris. This is a perfect place to relax in the afternoon.
I hope you enjoyed this Hotel Review of Hotel Fabric. If you want to book a stay in the hotel you can do this on their website here. Please let me know if you do as I would love  to hear about your experience also!
I would like to say a huge thank you to the Hotel Fabric for hosting me for one night. All opinions are my own and are based on my experience.