Are you ready to immerse yourself in the charm of Notting Hill and capture its breathtaking beauty? From its unique streets to its quintessential Instagram spots, this blog will take you on a visual journey through one of London's most picturesque neighborhoods. I'll share tips on making your Notting Hill photos stand out and why this neighbourhood in West London is a haven for Instagram lovers. So grab your camera or phone and plan your photoshoot day in Notting Hill!
The Uniqueness of Notting Hill's Streets:
Notting Hill's streets are renowned for their picturesque charm, with colorful houses and charming storefronts lining every corner. The neighborhood offers a variety of unique photo opportunities, from the vibrant atmosphere of the famous Portobello Road Market to the trendy shops and beautiful architecture on Westbourne Grove. Don't miss the hidden mews streets, featuring cobblestone lanes and stunning converted stables. You can even find the iconic blue door from the movie "Notting Hill" on Westbourne Park Road. With its vibrant street art and artistic facades, Notting Hill is a true Instagrammable paradise.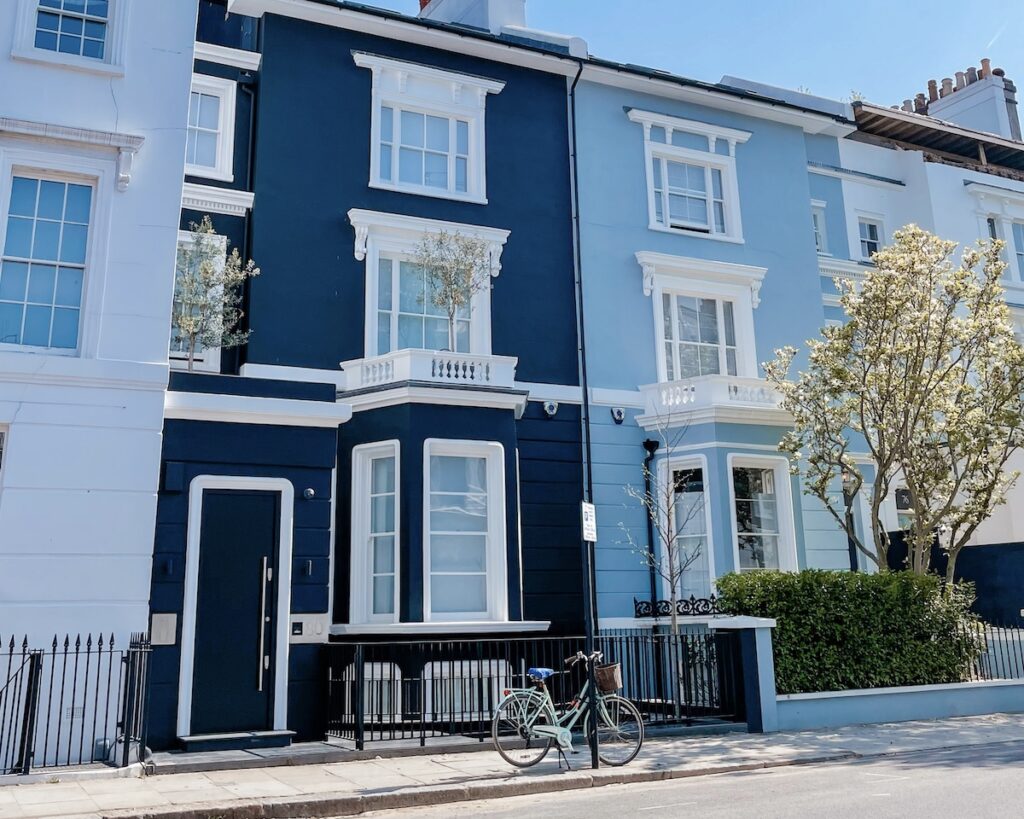 Top 10 Notting Hill Instagrammable Spots:
Located in the heart of Notting Hill, St Luke's Mew is a hidden gem that offers a picturesque setting for capturing stunning Instagram photos. With its charming cobblestone street and pastel-colored houses, this quaint corner provides the perfect backdrop for your shots. Unlike other popular spots in Notting Hill, St Luke's Mew tends to be less crowded, allowing you to capture the perfect shot without distractions. Make sure to visit at different times of the day to take advantage of the changing lighting conditions and discover unique perspectives. Fun Fact: This street was the filming locations for Kiera Knightley's home in the film Love Actually. You will notice the street from the iconic scene where Mark (Andrew Lincoln) comes to her doorstep holding placards to profess his love to Juliet (Kiera Knightley). Snapping a photo here is a must!
2. Biscuiteers on Kensington Park Road:
Located on Kensington Park Road, Biscuiteers is a beloved destination in Notting Hill for capturing delightful and intricately decorated biscuits. The shop's exterior boasts a vibrant and captivating design that serves as an ideal backdrop for Instagram photos. Inside, you'll discover a wide array of hand-iced biscuits in various shapes and themes, including flowers, animals, and famous landmarks. Additionally, Biscuiteers hosts workshops where visitors can learn how to decorate their own biscuits, presenting even more opportunities for picture-perfect moments. For any Instagram enthusiast in Notting Hill, a visit to Biscuiteers is an absolute must!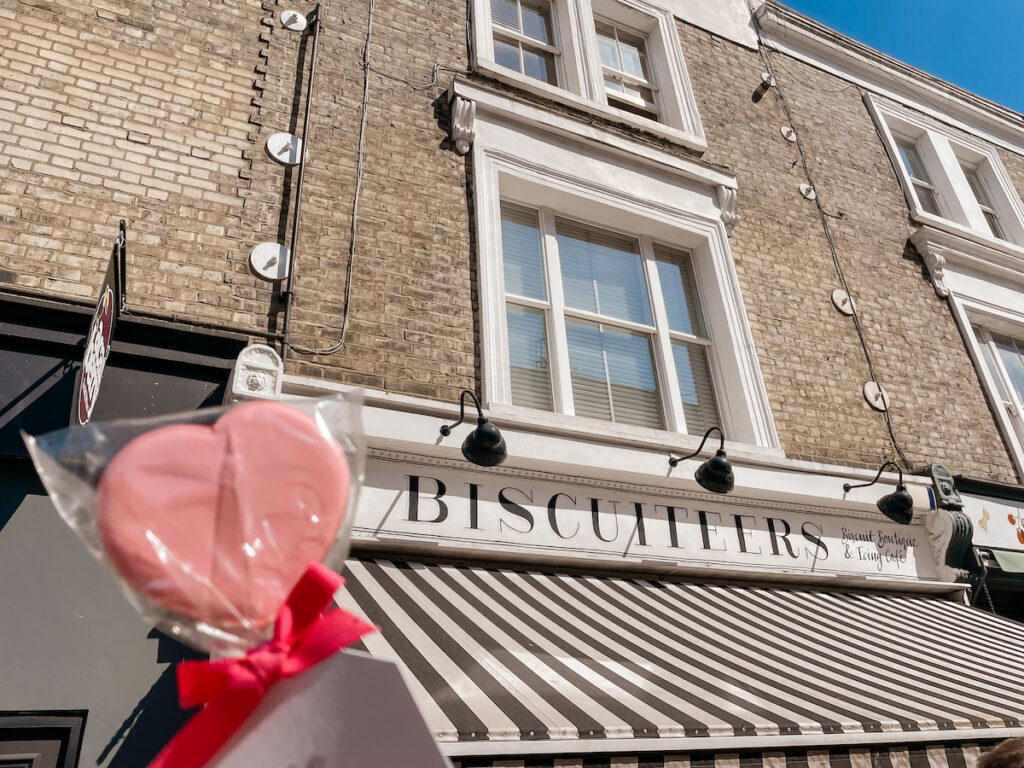 Nestled in the heart of Notting Hill, this residential street is the epitome of London's classic charm and architectural grace. Lined with pastel-hued houses, leafy trees, and quintessentially English gardens, it offers an irresistible backdrop for your Instagram feed. The Victorian townhouses, adorned with intricate detailing and ornate facades, transport you to a bygone era that feels almost poetic. This crescent-shaped wonder encapsulates the bohemian yet sophisticated spirit of Notting Hill. In the months of March and April the street has cherry blossoms blooming making it an even better photo spot!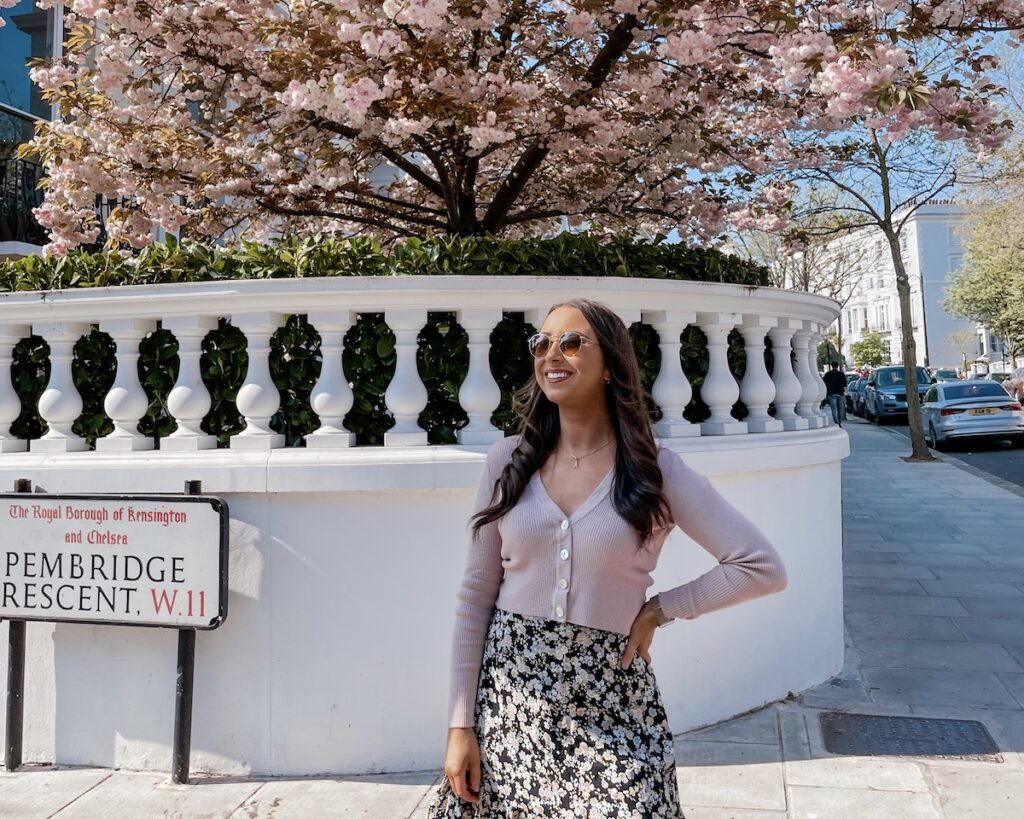 Portobello Road in Notting Hill is famous for its vibrant and colorful buildings, creating a perfect backdrop for Instagram-worthy photos. It's known for its antique shops and market stalls, offering a unique vintage vibe that adds character to any photo. Whether you're posing in front of the iconic colorful houses or exploring the treasures along the street, there are endless opportunities for capturing the essence of Notting Hill. Portobello Road is a must-visit spot for fashion enthusiasts or anyone wanting to soak in the charm of this London neighborhood.
The Pink Flat Iron in Notting Hill is a popular spot for capturing Instagram-worthy photos. Its vibrant pink color and unique triangular shape make it stand out among the surrounding streets and colorful houses. Pose in front of the Pink Flat Iron to capture the charm of Notting Hill, with its picturesque backdrop. Don't forget to explore the nearby Portobello Road Market and other attractions for more Instagrammable moments.
The famous Churchill Arms pub in Notting Hill is renowned for its stunning floral displays. Its exterior is adorned with vibrant hanging baskets and flower arrangements, providing a perfect backdrop for Instagram photos. Inside, the cozy interior features traditional British decor, including old-fashioned telephone booths and vintage memorabilia. Visitors can enjoy a drink or meal while taking in the picturesque surroundings. During the annual Notting Hill Carnival, the pub becomes a focal point of celebrations, attracting even more attention on social media.
7. Notting Hill Bookshop:
The Notting Hill Bookshop is a dreamy destination for book lovers and rom-com fans alike, as this is the very spot featured in the film "Notting Hill" starring Hugh Grant and Julia Roberts. With its sky-blue façade and quaint, yet overflowing, bookshelves that spill onto the sidewalk, it's an irresistible backdrop for Instagram photos. Whether you're an avid reader, a movie buff, or simply an admirer of charming local shops, capturing a shot here is like capturing a piece of cinematic and literary history. Frame your shot with the iconic storefront or get lost amidst the labyrinth of bookshelves.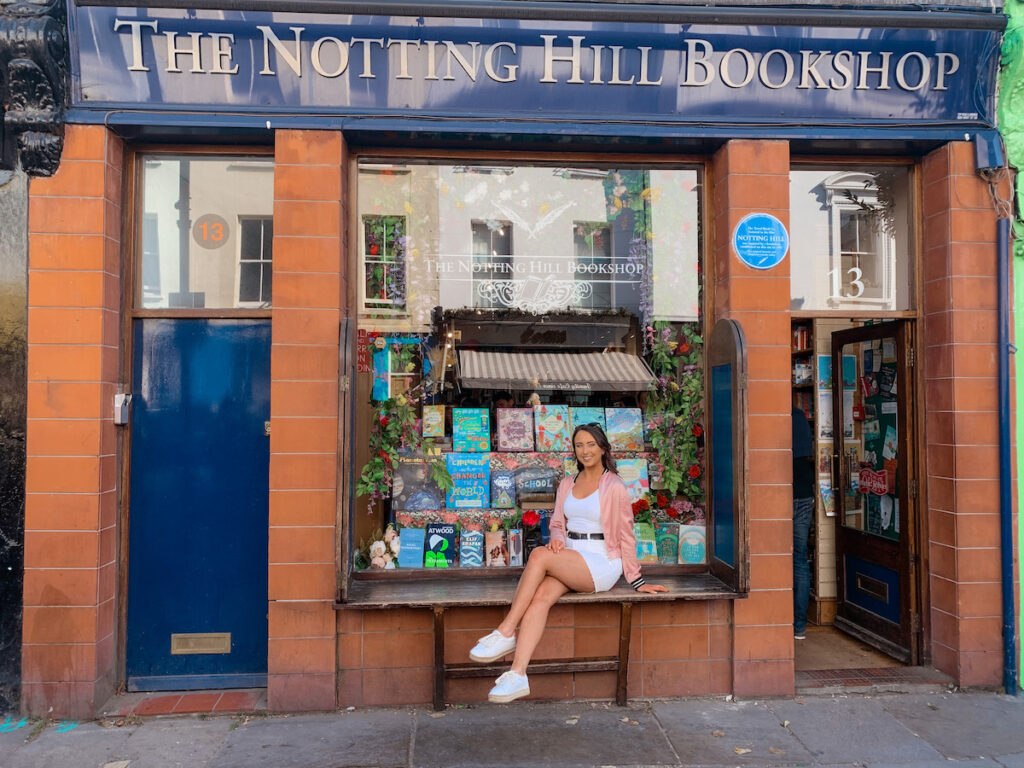 Located on Westbourne Park Road, the Famous Blue Door needs no introduction as it is another filming location from the famous Notting Hill film.  Instantly recognisable as Hugh Grant's home in the movie, this vivid blue door offers a splash of colour that can make any Instagram feed pop. While the house behind the door is private property, the door itself has become an iconic landmark that epitomises the quirky and artistic spirit of the neighborhood. Snapping a picture here is like a rite of passage for any visitor to Notting Hill.
Alice's Antique Shop is a treasure trove of nostalgia and vintage flair, located on Portobello Road. From its whimsical window displays to its eclectic collection of antiques, this is the place to snap a photo that exudes old-world charm. Each item in the shop tells a story, and the quirky façade of the store makes for a fantastic Instagram backdrop. Imagine posing with a retro find or capturing the intricate details that make Alice's a local gem.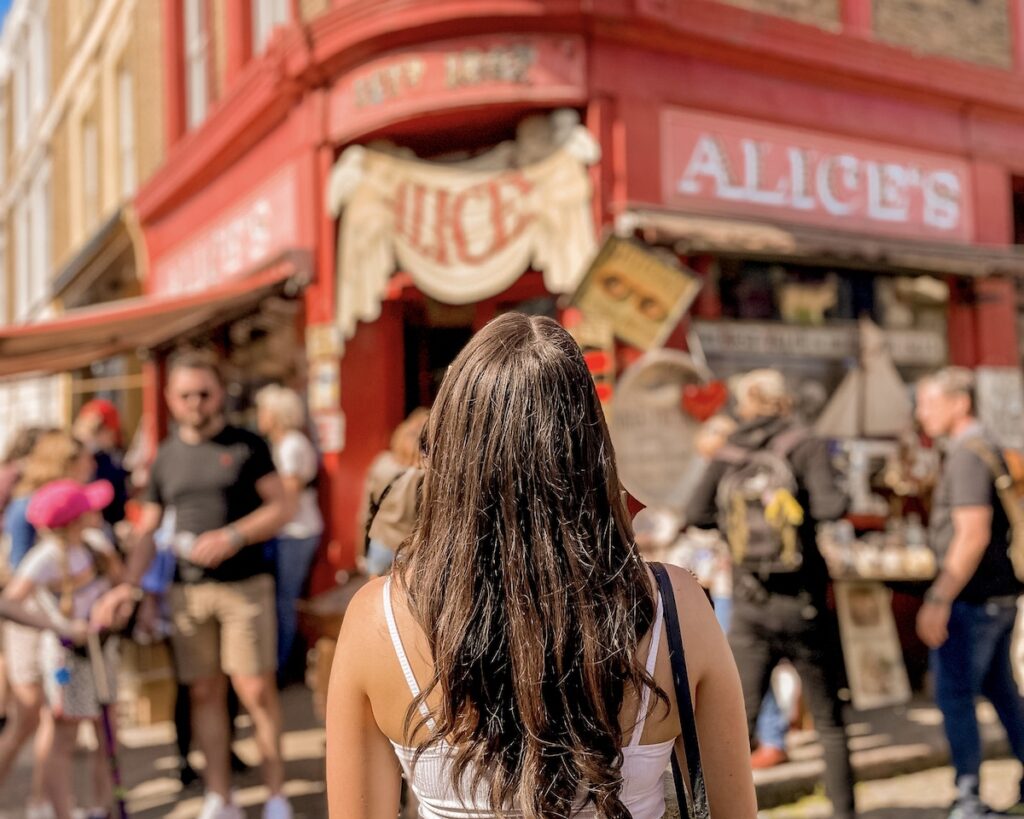 Last but not least, Callcott Street offers a serene, lesser-known Instagrammable location in Notting Hill. Lined with stunning Georgian townhouses and replete with mature trees and blossoming flowers, the street is a quiet retreat from the bustling main roads. The pastel-coloured homes and cobblestone pavement offer an ideal setting for romantic and whimsical photos. It's a peaceful place where each house seems to have its own personality, and it offers a different but equally captivating aesthetic to its more famous neighbors. This is the best Notting Hill colourful houses street!
Choosing the Right Gear for Your Instagram Shots:
Investing in a high-resolution camera or smartphone is crucial for capturing stunning Instagram shots in Notting Hill, London. All of the photos in this blog post were taken on my iPhone 12 Pro. Consider using a wide-angle lens to showcase the colorful houses and vibrant streets. Bring along a tripod for stable shots, especially in low light situations. Experiment with different angles and perspectives to create unique photos. Don't forget to edit your images using photo editing apps or software to enhance colors and overall aesthetics. When posting your Instagram make sure you choose your Notting Hill captions too.
The Perfect Timing for Instagrammable Shots in Notting Hill:
When it comes to capturing Instagrammable shots in Notting Hill, timing is everything. To ensure you get the best photos, aim to visit early in the morning or late in the afternoon. During these times, you'll benefit from beautiful natural lighting and fewer crowds, allowing you to capture clear shots of the colorful houses and streets. Weekdays are also preferable to weekends, as they offer less foot traffic and more opportunities for uninterrupted photos in Notting Hill street London. To make your pictures stand out, don't be afraid to explore different angles and perspectives, making your shots unique and eye-catching. And always remember to respect the local community and their privacy while taking photos in residential areas.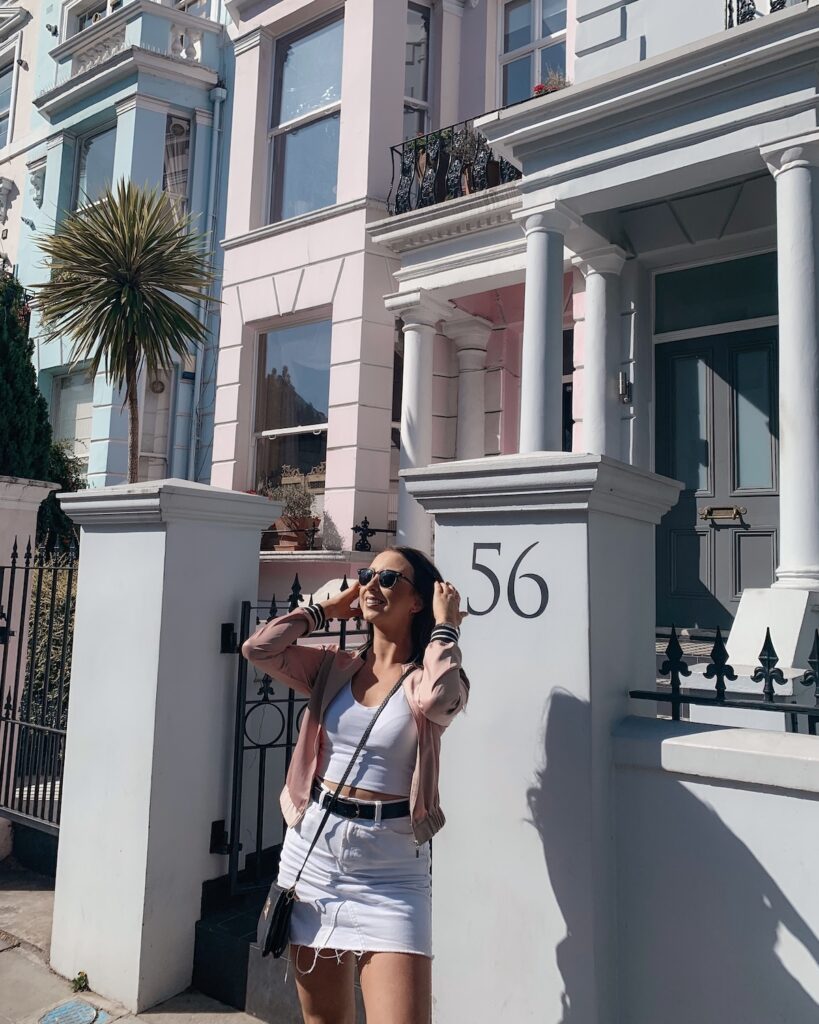 Notting Hill in West London is a treasure trove of Instagrammable spots that will leave you in awe. From its colorful streets to its charming corners, this neighborhood offers countless opportunities for capturing breathtaking photos. Whether you're looking for vibrant colors, stunning architecture, or picturesque streets, Notting Hill has it all.