One of the most beautiful places I visited in 2019 had to be Split, Croatia! The sunny weather, stunning beaches and reasonable prices make it the perfect summer holiday spot, especially for a couple getaway!
This was the first holiday my boyfriend Aidan and I went on just the two of us, so admittedly we didn't stay in the cheapest of spots in Split.. we stayed in the Le Meridien LAV and it was seriously breath-taking. The main reason I wanted to stay there was because the hotel had an infinity pool – I'm a sucker for an infinity pool! But overall, we were really happy with staying there as it felt like a kind of resort. There was a pool, private beach for hotel stayers and a port with a dock filled with shops and restaurants. The rooms were luxurious and spacious and the service was fantastic. Our favourite part about staying there is that you could rent out a cabana for the day overlooking the beach and for a set price it includes your meals too and the waiter brings them over to you to eat there. We spent a whole day there and it was just so relaxing!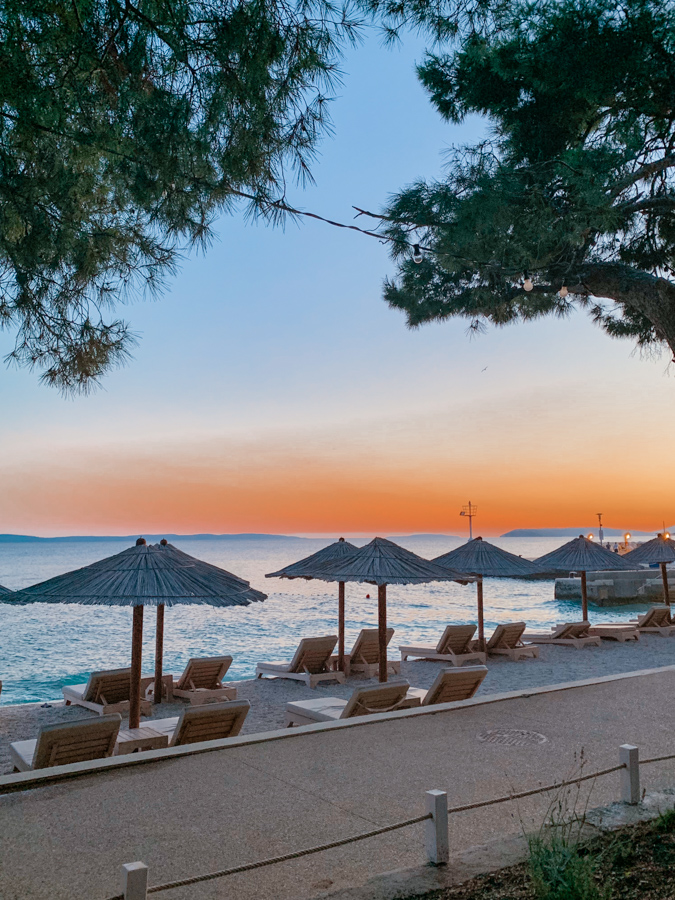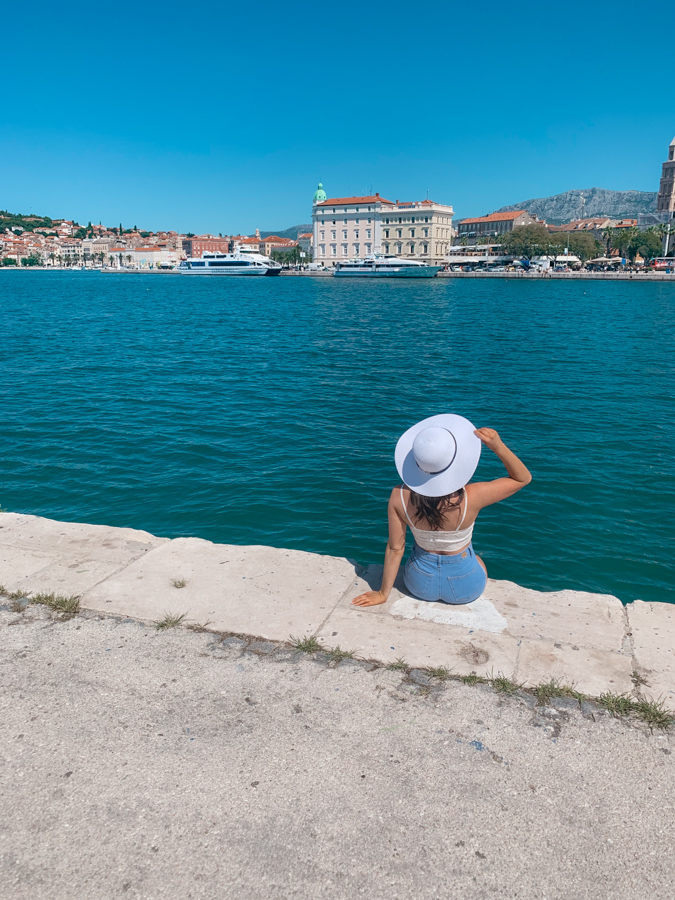 We stayed in Le Meridien LAV hotel for five days and for the last three nights we changed it up and stayed in an Air-BnB up in the mountains that overlooked the entire city. We had never stayed in an Air-BnB before and it was so nice to have our own space. It was a small apartment with a little private pool out the back. There was just a kitchen, bathroom and bedroom. There was a garage where you could park a car too. We were really happy with this place and the owner was so sweet! He didn't have much English but when he met us to hand over the keys he showed us around the apartment and then looked into the fridge pointing at a few bottles of beer and biscuits and just said 'present'. Our hearts melted! I will link the booking.com page here if you are looking for this kind of accommodation in Split!
While staying in Le Meridien, we didn't venture out to the town much as there were restaurants on port that we could go to. Looking back I wish we had gone out to the old town more because the restaurants in the hotel were seriously overpriced! When we moved to the Airbnb we went into Old Town Split most nights and found some really nice restaurants and places to drink. The ones I would recommend are:
·      Konoba Barbarin – Lovely restaurant with great food and nice atmosphere in the centre of Split 
·      Chops Grill – Steak and Seafood restaurant if you want some good meat dishes!
·      Stari Restoran (Hvar island) – Restaurant right beside Saint Stephan Cathedral and a great place if you want a nice burger and chips.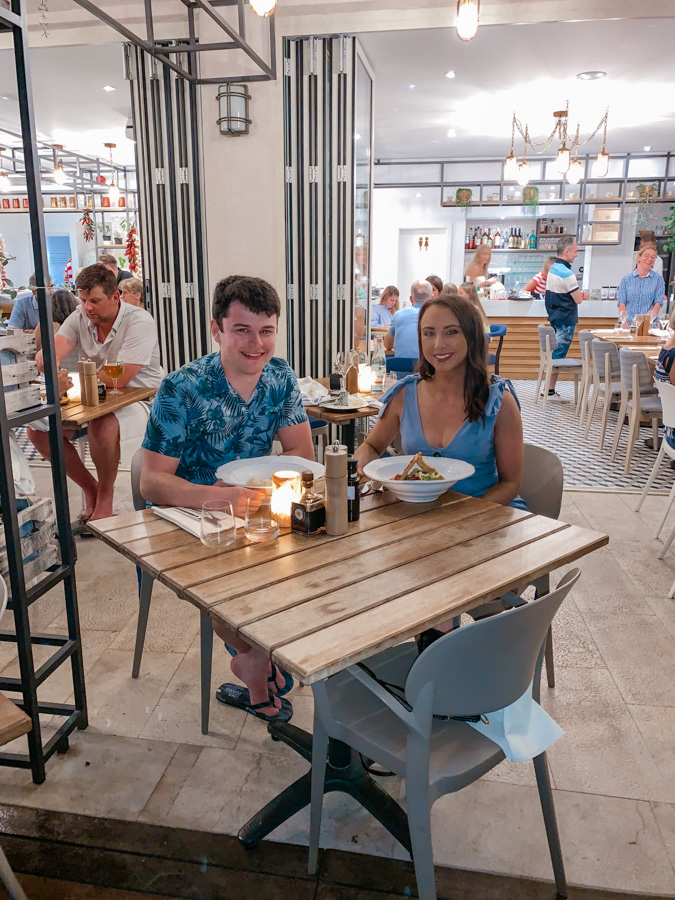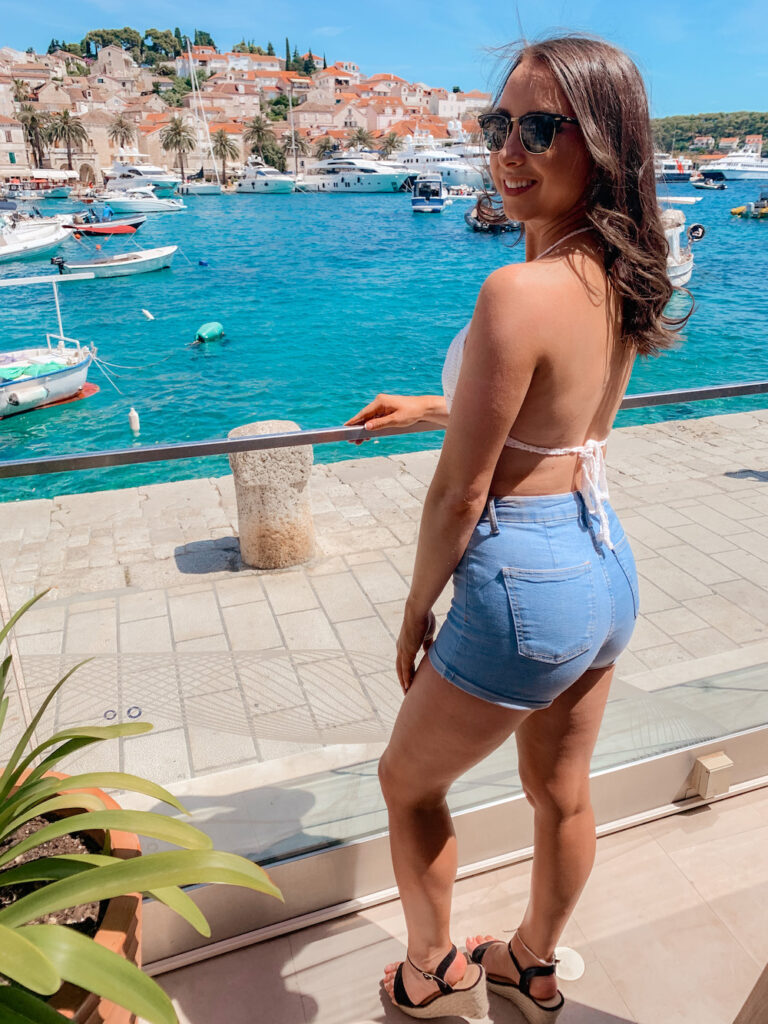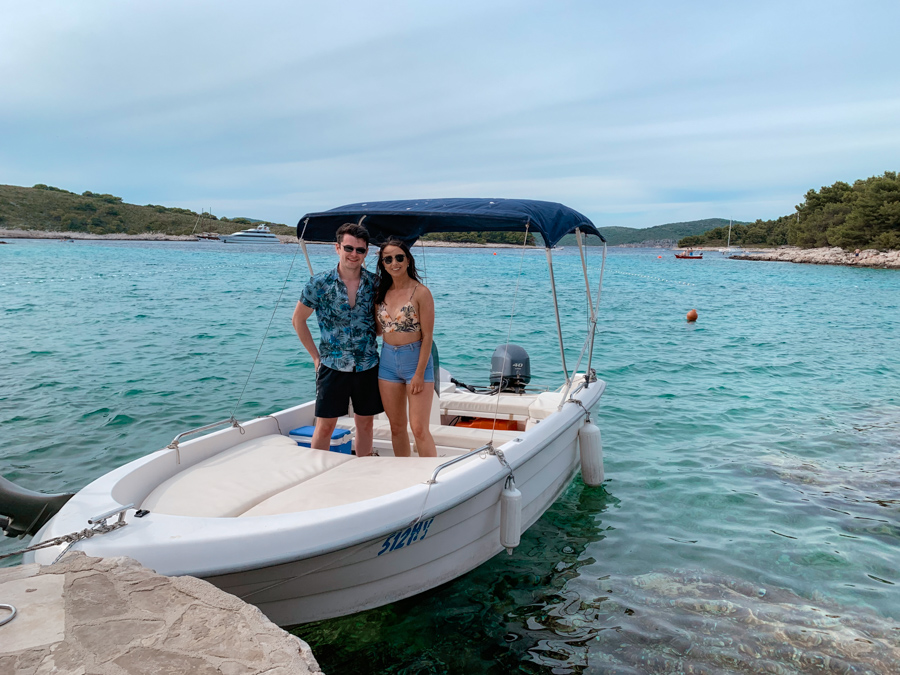 If you take anything from this blog post, please take this one piece of advice: stay at least 2 nights in Hvar if you can! We only went out for a day trip not really knowing what to expect but as soon as we got there, we knew we should have planned to stay longer. The little island in the Adriatic Sea, just off the Dalmatian coast, was one of the most beautiful places I have ever been.
The best thing we did on our day was rent a boat out for a few hours. In Hvar you can rent a boat with just a driving license! I know it seems crazy but they are quite small boats with a little steering wheel and once they teach you the basics you pick it up pretty quick. Once you get off the port you will see boats lined up and men with little stalls renting them out. There are a good few of them doing this so chat to a couple and haggle them down to get the best price! Off we went on our little boat ride and it was so much fun! We stopped off on a little island called Marinkovac where there is a restaurant so you can get a little snack or ice-cream. There's also some cabana beds that you can relax on but I'm pretty sure you need to pay to rent them.
Make sure to go to Hula Hula Beach bar when you're in Hvar. It's a really lively bar on the beach where you can get a good cocktail and dance the night away!
Day Trip to Krka National Park:
A trip that you must do if going to Split is take a day trip to Krka National Park. You have probably already seen many pictures of the waterfalls in this park and the emerald green water. It's one of Croatia's best known attractions and if you visit you will definitely see why. It's a perfect day out for just a park walk – you will walk a while before you get to the famous waterfalls, but there is stunning views along the way.
Getting to Krka National Park is tricky enough by public transport. You can catch the bus from Split bus station and it will take you around an hour and 15 minutes to get there. You will get off at a town called Skradin and then get the ferry to Krka. We decided to rent a car for our last three days on our holiday, as the Air B-B we stayed in was a little bit out of town and we needed it to get around anyway. Driving there took about an hour and the route is really easy to follow as it is a motorway most of the journey. The hardest part for us was getting used to driving on the other side of the road because in Ireland we drive on the left! If you are thinking of renting a car we booked with lastminute car rentals because we really booked it last minute! But there are also services like Rent-a-car online that you can check out too.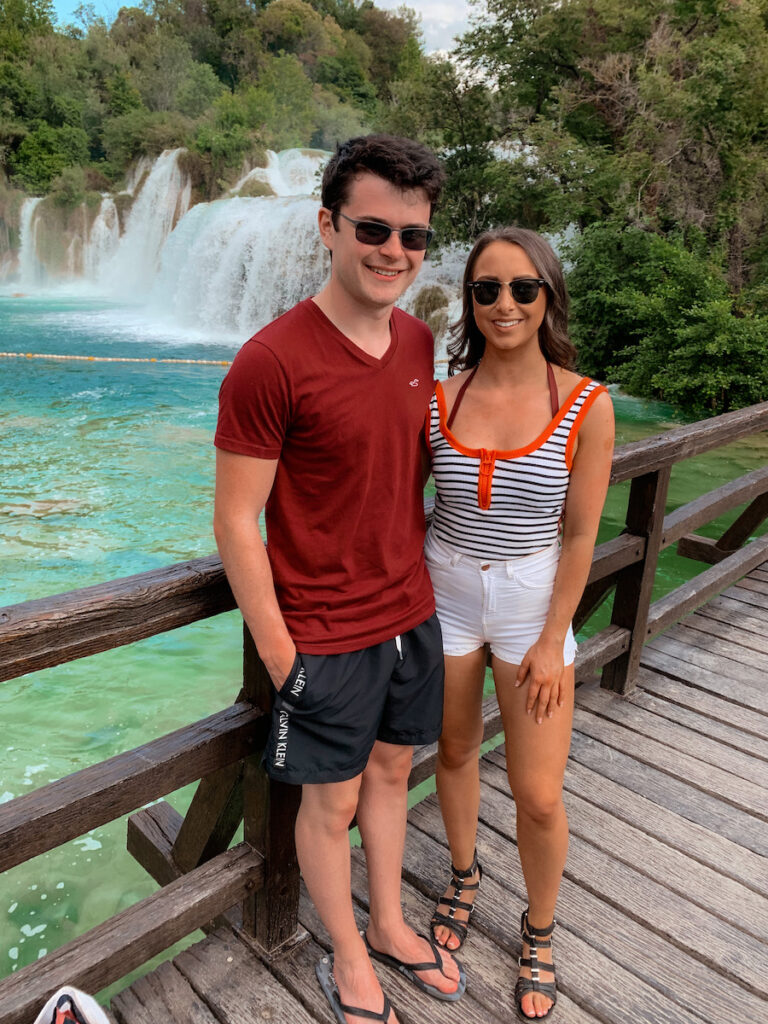 After staying one week in Split I certainly didn't want to leave and I left with a desire to explore Croatia even more! I made a short list of some other places that were recommended that we didn't get to do.
Riva Promenade –

This is Split's main ferry port and we walked a bit of it when taking the ferry to Hvar. The promenade runs the entire length of Old Town Split so there is a lot more to see there.
St. Domnius Cathedral – Stunning cathedral that was constructed as early as 7th century AD. You can climb up the bell tower and look out at the amazing views!

Diocletian's Palace –

This a very well known and beautiful palace and it's free to visit and explore!
Thanks for reading,
Jess x