This enchanting city is a perfect weekend break, whether you're a history buff, a food lover, or simply seeking picturesque landscapes. I have curated an exciting 3-day itinerary that highlights the must-visit attractions in each day, including iconic landmarks such as the Church of our Saviour and the Little Mermaid Statue. Get ready to immerse yourself in Danish culture, indulge in delicious cuisine, and create unforgettable memories to visit Copenhagen in 3 days.
Experience the vibrant charm of Nyhavn, the picturesque waterfront area in Copenhagen, during your 3-day visit to this delightful city. With its colorful buildings and historic ships, Nyhavn offers a truly unforgettable experience. Immerse yourself in the lively atmosphere as you take a leisurely stroll along the canal, marvel at the beautifully restored buildings, and indulge in delectable meals and drinks at the numerous restaurants and cafes.
Embark on a boat tour to discover Copenhagen from a unique perspective and visit cultural attractions like the Royal Danish Playhouse and the Hans Christian Andersen Fairy Tale House. Nyhavn truly comes alive in the evening, when the illuminated buildings create a magical atmosphere. Don't miss the chance to witness the enchantment of Nyhavn firsthand in April, the highlight of your Copenhagen adventure.
Don't miss out on the Smørrebrød Experience in Copenhagen, a culinary delight that is a must-try during your 3-day visit to the city. These traditional Danish open-faced sandwiches, offered by numerous cafes and restaurants, offer a range of delectable toppings including pickled herring, smoked salmon, roast beef, and liver pate. Vegetarian and vegan options are also available to cater to all dietary preferences.
For a truly authentic Danish dining experience, pair your smørrebrød with a local beer or snaps (Danish aquavit). Indulge in the flavors of Copenhagen and savor the unique combination of flavors and textures that make smørrebrød an essential part of Danish cuisine, including the Danish royal family.
Tivoli Gardens, the iconic amusement park and garden in Copenhagen, is a must-visit attraction for travelers exploring the city in 3 days. Established in 1843, it holds the distinction of being one of the world's oldest operational amusement parks. With its thrilling roller coasters, enchanting carousels, and live performances, Tivoli Gardens promises a memorable experience for visitors of all ages.
Take a leisurely stroll through the picturesque gardens and enjoy the tranquil lakes, providing a welcome respite from the city's hustle and bustle. Additionally, tantalize your taste buds with the delectable offerings from the park's diverse selection of restaurants and cafes. Tivoli Gardens truly embodies the magic and charm of Copenhagen in September, making it a must-see attraction during your visit.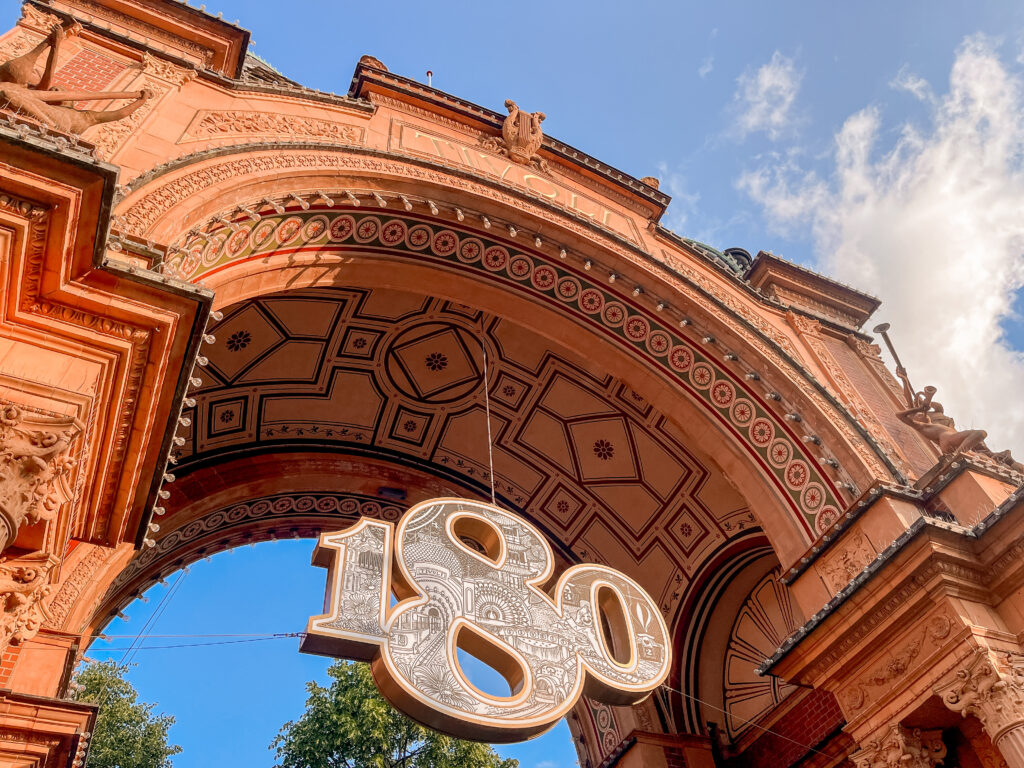 Copenhagen's Church of our Saviour is a must-visit landmark that promises awe-inspiring views of the city. This iconic church, known for its captivating spiral staircase, boasts remarkable architecture and design in the Baroque style. Ascending the external staircase, visitors are rewarded with breathtaking panoramic views of Copenhagen's enchanting skyline.
For a more pleasant experience, plan your visit in the early morning or on weekdays to avoid crowds. Situated in the charming Christianshavn neighborhood, famous for its idyllic canals and vibrant houses, the Church of our Saviour stands as an unmissable gem on your Copenhagen adventure.
Escape into a world of natural beauty at the Botanical Gardens in Copenhagen. This lush oasis is a paradise for nature enthusiasts, showcasing a diverse array of plant life from around the globe. Wander through winding paths surrounded by rare and exotic species, immersing yourself in the vibrant colors and fragrant scents that fill the air.
Don't miss the iconic Palm House, a breathtaking glass greenhouse that houses an enchanting collection of tropical plants. Take a moment to recharge in the themed gardens, like the tranquil Rock Garden and the captivating Perennial Garden. The Botanical Gardens invite you to embark on a sensory journey through nature's wonders.
Explore the majesty of Copenhagen's past at Rosenborg Castle, a remarkable historic landmark located in the heart of the city. This magnificent palace, built in the 17th century, once served as the royal residence for Danish kings and queens. Step into the beautifully preserved rooms, including the King's Bedroom, the Great Hall, and the Knight's Hall, and get a sense of the grandeur of the Renaissance era.
Don't miss the opportunity to admire the castle's collection of royal treasures, including the glittering Crown Jewels and other priceless artifacts. As you venture outside, take a moment to wander through the enchanting Rosenborg Castle Gardens, a peaceful oasis where you can enjoy a leisurely stroll or have a delightful picnic amidst the lush greenery. Immerse yourself in the history and beauty of this iconic site, and let Rosenborg Castle, also known as Frederik's Church, transport you to a bygone era.
Discover the bohemian charm of Freetown Christiania, an extraordinary neighborhood in Copenhagen. Established by rebellious visionaries in 1971, Christiania is famous for its alternative lifestyle and self-governance. Stroll through its vibrant streets adorned with captivating murals and unconventional buildings, immersing yourself in the free-spirited atmosphere.
Unwind and indulge in Copenhagen's vibrant charm by enjoying a refreshing drink along the picturesque canals and waterfronts. Whether you prefer local craft beers, delicious cocktails, or traditional Danish snaps (aquavit), there's a canal-side bar or cafe that's sure to satisfy your taste buds. With stunning views of the canals and colourful buildings, you'll be transported to a world of pure relaxation and bliss.
Nyhavn, Christianshavn, and Islands Brygge are just a few of the popular spots where you can sip your drink of choice while taking in the beauty of Copenhagen. Soak up the city's atmosphere, make unforgettable memories, and let the canal-side drinks be a highlight of your Copenhagen adventure.
Immerse yourself in the magical world of Copenhagen with a visit to the iconic Little Mermaid Statue. Standing gracefully on a rock by the picturesque Langelinie Promenade, this statue is a symbol of the city's rich cultural heritage. Inspired by Hans Christian Andersen's beloved fairytale, the Little Mermaid Statue is a must-see for every traveler..
Looking for a unique and enjoyable way to explore the beautiful canals of Copenhagen? Look no further than a Go Boat ride! These electric-powered, eco-friendly boats can be rented by individuals or groups, allowing you to have complete control of your own adventure. Cruise along the canals, taking in the stunning scenery of this vibrant city.
Why not pack a picnic and enjoy it on the boat, creating the perfect combination of relaxation and exploration? Whether you're a seasoned sailor or a first-time boater, the Go Boats are easy to operate, ensuring that everyone can join in on the fun. Don't miss out on this must-do activity, loved by locals and tourists alike!
Reffen Street Food Market
Located in Copenhagen's Refshaleøen district, Reffen Street Food Market is a must-visit culinary destination. This vibrant and bustling market is a haven for food enthusiasts, offering an extensive range of international street food and local Danish dishes. Immerse yourself in the diverse flavors and aromas as you explore the different stalls.
From tacos to sushi to burgers, there's something to satisfy every craving. Grab a seat at one of the outdoor patios and soak in the lively atmosphere while enjoying your delicious meal. Reffen Street Food Market is a true food lover's paradise in Copenhagen.
One of the best ways to explore Copenhagen, a city known for its cycling culture, is by renting a bike or an e-bike. Bikes are omnipresent in the city, and renting one is a simple process. You can use bike-share company like Bolt or Lime, as all you need to do is download their app and follow the steps to rent a bike. Whether you choose a traditional bike or an e-bike, cycling offers a fun, efficient, and eco-friendly way to see the sights and immerse yourself in the Copenhagen way of life.
Frequently Asked Questions:
How many days in Copenhagen is needed?
It is recommended to spend at least 3 days in Copenhagen to fully experience the city's main attractions, including Nyhavn waterfront, Tivoli Gardens, and the Little Mermaid statue. This timeframe also allows for day trips to Kronborg Castle or the Louisiana Museum of Modern Art. However, if you have more time, extending your stay to 4 or 5 days will provide a more relaxed exploration of both the city and its surroundings.
Can you do 3 days in Copenhagen on a budget?
Absolutely! Copenhagen is an expensive city but you can explore the city on a budget for 3 days. Opt for budget-friendly accommodations like hostels or budget hotels. Make the most of free attractions like walking tours and parks. Save on food by trying local markets, food stalls, and affordable eateries.
What time of year is best to visit Copenhagen?
The ideal time to visit Copenhagen is in the summer, from June to August, when the weather is pleasant and there are longer days. This period also offers various outdoor festivals and events. However, visiting in spring or fall can be equally enjoyable, with fewer crowds and potential savings on hotel prices.
How do you get around Copenhagen?
The public transportation system in Copenhagen is known for its efficiency and accessibility with buses, trams, and metros. For a greener alternative, join the locals and hop on a bike. You can buy a Copenhagen Card for unlimited access to public transportation and attractive discounts on popular attractions. For ultimate convenience, taxis and ride-sharing services are also readily available. Please note they do not have Uber in the city but the equivalent is Taxa 4×35 or Viggo.
Copenhagen offers a unique blend of history, culture, and natural beauty that can be explored in just three days. From iconic landmarks like the Church of our Saviour and the Little Mermaid Statue to vibrant neighborhoods like Nyhavn and Freetown Christiania, there is something for everyone in this charming city. Don't forget to indulge in local delicacies like smørrebrød and explore the beautiful gardens and parks that Copenhagen has to offer. So start planning your trip today and make unforgettable memories in Copenhagen! Share your thoughts or any questions you may have in the comments below.