Known for its beautiful cobbled streets and prestigious universities, Cambridge is a beautiful town to visit in the UK. If you're living in London and want to escape the hustle and bustle for a peaceful overnight stay, I highly recommend Cambridge! In this post I will be sharing details on how to get to Cambridge from London, where to stay and a list of things to do when you get there!
Leaving London for an Overnight Trip to Cambridge:
Train: The trains to Cambridge from London are very frequent and usually take off every 30 minutes. The stations where you can get the train are London Liverpool Street, London Victoria and London Paddington. I have noticed trains in UK are more expensive than back home in Ireland since they are privatised here. However, I found a useful app called Trainline where you can look up different trains to get the best price and also find off-peak cheaper options! The total journey time from London to Cambridge by train is only 48 minutes.
Bus: Another way you can get to Cambridge from London is to hop on the National Express bus. Tickets start from about £11 and you can get on from Golder's Green, Stratford, Liverpool Street or London Victoria station. The journey takes an hour and a half but there are USB ports so you can charge up your phone before you get to Cambridge. This is definitely the cheaper option to get to Cambridge but of course, it takes slightly longer.
Where to stay for your overnight trip to Cambridge:
I recommend staying overnight in Cambridge to experience the city in its entirety but you can also fit in most things in a day trip too. We stayed in Regency Guest House and it is a great choice if you are looking for something on the cheaper side but also a good location. The guest house is located on Regent Terrace and is about a 15 minute walk from the train station. It was very central and we could walk to most of the places we wanted to visit. Other hotels that I highly recommend are The Graduate, the Hilton Cambridge and the University Arms hotel.
Things to do during your overnight trip to Cambridge:
When visiting Cambridge, you must take a stroll into some of the UK's most prestigious colleges. There are 31 autonomous colleges in total but the most visited by tourists are St. John's College, Trinity College and King's College. You normally have to book to visit one of these colleges. They have been closed to visitors for a while due to Covid but luckily we had some student friends who could give us a tour.
It's really interesting to roam the college campuses and take in the atmosphere. Students eat, sleep and study in their respective colleges and they often have Formal Hall which is where they dress in formal attire and dine in the main hall. The idea of it gives me Harry Potter vibes!
Clare College is another must visit college and is the second-oldest of the universities, dating back as far as 1326. The college also has some of the best gardens in Cambridge, which lie next to the River Cam.
St. Johns College is a particularly beautiful college to visit and where you'll find the iconic Bridge of Sighs, one of the most recognisable pieces of architecture in Cambridge. The name is a reference to the famous enclosed bridge that connects the Ducal Palace to the prison in Venice and also to reflect the sighs from the students when crossing the bridge during exam season.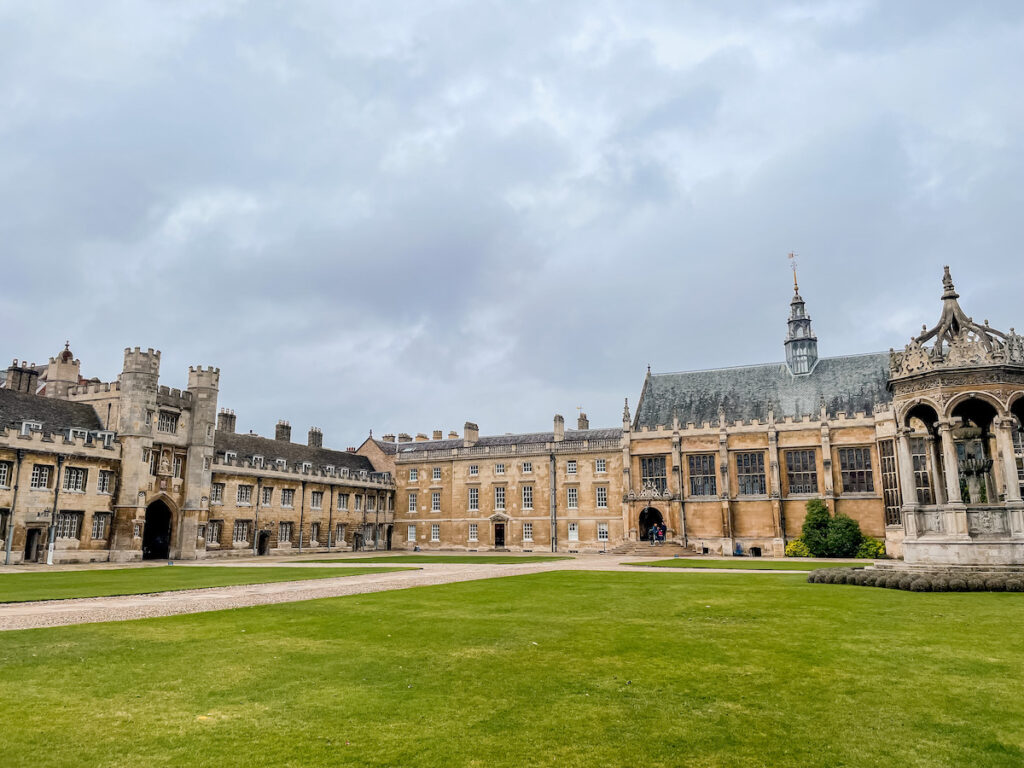 What is a trip to Cambridge without going punting? It is a must-do activity when you visit, especially since this is the place where the sport started. If you have never heard of punting before, the definition according to the Oxford English Dictionary is: "A long, narrow flat-bottomed boat, square at both ends and propelled with a long pole, used on inland waters chiefly for recreation." Basically, you get in a wooden boat and push yourself along by hitting a long pole on the bottom of the canal.
It is a really fun thing to do and a great way to sight see, as you can punt along the river and see the colleges. If you walk along Silver Street there will be punting companies that you can go to. However, it is quite pricey if you book on the day (£100+) so book in advance if you can. Get Your Guide have chauffeured punts for around £30 taking around 45-50 minutes which is more than enough time to get the experience.
Wander around the Market:
One of my favourite things to do when visiting a new city is browse through local markets. Cambridge Market Square even more so as it has been around since middle ages! You will find everything from international foods to second-hand books and even vintage clothing on sale in the stalls. The atmosphere is great around the square and the traders are very friendly and willing to tell their stories, so take your time having a look around!
Climb the Tower of St. Mary's Church:
If you want to get the best bird's eye of the city then visit St. Mary's Church to climb the tower inside (Gonville and Caius St Mary's, Cambridge CB2 1SZ). It costs £6.00 per person but the costs go towards the church. There are exactly 123 steps to get to the top which your legs will not thank you for, but I promise the view is worth it!
Visit the Fitzwilliam Museum:
Another thing to do during your trip to Cambridge is to visit the Fitzwilliam Museum. You'll find the museum on Trumpington S and it is completely free to visit. You will need to book in advance through the website and it is open 10AM-5PM Tuesday-Sunday (closed on Mondays). With your entry ticket you can see an amazing variety of beautiful artefacts and art from all around the world. From Egyptian coffins to Impressionist masterpieces, it's a history and art lovers dream!
Chill at Parker's Piece common:
Parker's Piece is the small park right off Regent Street and you can't miss it when you see the Ferris wheel bang in the middle! It's a lovely place to go for a stroll or have a picnic if the weather is nice.
Make sure to also check out the 'Reality Checkpoint' which is a large cast-iron lamppost in the middle of Parker's Piece. The idea of the lamppost was first proposed in 1890 and there are a few theories behind the meaning and its name. My personal favourite is that it marks the boundary between the central university area of Cambridge the "reality bubble" and the "real world" of other citizens living in the city.
Thank you for reading this blog post, I hope you enjoy your trip to Cambridge and that these tips come in handy!
Jess x