The most loved fictional story of our generation, the wizarding world creating by J.K Rowling has changed the lives for so many. From the books to the movies, we followed the story of Harry, Ron, and Hermione for years and years. Now, there are so many attractions where you can immerse yourself into the wizarding world and feel like you are part of it. It's only fitting that London is home to many of these attractions since it's the setting for a lot of the story and filming locations. If you're looking for exciting Harry Potter Things to do in London, then keep reading this blog post for some inspiration.
Top 5 Harry Potter Things to do in London
1. Visit the Harry Potter Studios:
This experience is a must-do! If you've ever dreamed of walking the corridors of Hogwarts where the actors did for so many years, then you need to visit the Warner Bros. Studio. It is important to note that the Harry Potter Studios are not actually in London. They are in a place called Watford which is approximately an hour train ride from Central London.
There are two ways to get there; you can take the London Overground from Euston station to Watford Junction, or you can take the West Midlands train. The Overground is the cheapest option costing from £9.50 each way. Once you get off at Watford Station, there is a free shuttle bus running every 20minutes to the studio. It's a double decker bus and looks very like the Knight Bus from Harry Potter and the Prisoner of Azkaban – so you won't miss it!
An adult ticket starts from £49 and child's ticket starts at £39, children under 4 entry is free. You will start the tour in a room with a screen that has clips with the actors re-visiting the studios when it opened to the public. Then you embark on your tour and some of the magical places you will visit are Gryffindor's common room, Dumbledore's office, Gringotts, Diagon Alley and more. You end the tour seeing the Hogwarts' model which was what the filmmakers used for all the shots of the school in the films. Make sure to get your stamp for each location you visit so you have a filled book at the end of your tour.
At the halfway point of the tour there is a café where you can get food ad also taste some Butterbeer! The famous drink from the franchise is served in either a takeaway glass or a souvenir glass that you can take home with you. It costs a few extra pounds but worth it. Outside the café area make sure you get to see Knight Bus from the third film as you can actually go inside and look around. In this area you will also see Pivot Drive and The Flying Ford Anglia from the second film that Ron and Harry crashed into the Stomping Willow!
Top tip: if you visit Warner Bros. studio Tour during the winter you will see the Great Hall decorated as it was for the Yule Ball and the Hogwarts' model will also be covered in snow for the festive season!
2. Have an Afternoon Tea at Wands and Wizard Exploratorium
 If you are a Harry Potter fan and a fan of Afternoon Tea, then this activity is perfect for you. When I found out this was in London, I was so excited! Located in Soho, Wands and Wizard Exploratorium is a 5-story purple townhouse offering many Harry Potter experiences. For the Afternoon Tea you step into a Hogwarts classroom and are given your cloak and magic wand upon arrival. You will have a professor showing you how to brew two interactive teas with your wand while also enjoying a range of sandwiches, scones and desserts.
The experience is 1 hour and 45 minutes in total and is a lot of fun! With the clever use of lights and smoke affects you feel like you are a wizard or witch for a day! There are vegetarian, vegan and gluten free options which you can book in advance. The Cauldron Co. also have the same afternoon tea experience in Edinburgh and New York City.
3. Take a Walking Tour of the Filming Locations
Many of the iconic scenes from the films were shot in London and most of these are quite central to other tourist attractions. Here is a list of the main filming locations that you can visit in real life. You can either take a guided tour which is free (but of course it is nice to donate to the tour guide at the end!) or you can take a self-guided tour, which I did, and go at your own pace and really take in the locations. You can follow my map below:
Leadenhall Market (Diagon Alley)
Borough Market (also Diagon Alley)
Goodwins Court (Knockturn Alley)
Piccadilly Circus
Old Scotland Yard (Ministry of Magic)
Australia House (Gringotts Bank)
Millennium Bridge
4. Go See Harry Potter and the Cursed Child
One of the best shows on the West End has to be Harry Potter and the Cursed Child. The show is broken up into two parts. Part One is 2 hours and 40 minutes in total with a 20 minute interval. Part Two's running time is 2 hours and 35 minutes also with a 20 minute interval. You can choose to watch the two parts in one day by going to the matinee and then the evening show and you will have around 2 hours break between the shows. You can also break them up, for example going to Part One show on Friday evening and Part Two show on Saturday evening.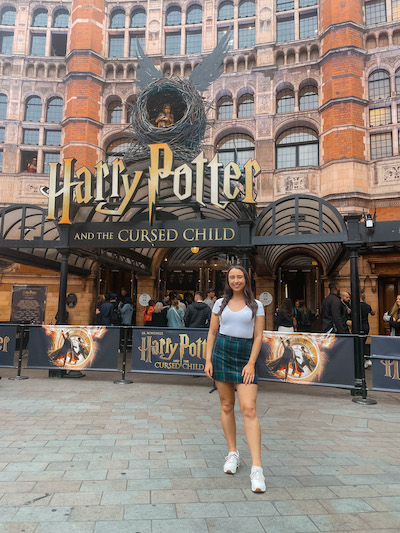 The play is written by Jack Thorne and based on the original story written by J. K. Rowling. Harry Potter and the Cursed Child is set nineteen years after the events of Harry Potter and the Deathly Hallows. The main characters of the story are the children of the main characters of the original Harry Potter series. Albus Severus Potter is the protagonist and Scorpius Malfoy is his best friend. The play runs year-round in the Palace Theatre which is located on Shaftesbury Avenue, near Leicester Square. The tickets cost approximately £100 per person for the two shows and vary based on seating and time of year. It is an incredible show with superb acting, fantastic storyline and unbelievable effects!
5. Check Out Platform 9 and 3/4
Did you know there is an actual Platform 9¾ in Kings Cross station? In the wizarding world the only way to get to the platform is by dashing through a brick wall between platforms 9 and 10. In the real King's Cross station, platforms 9 and 10 are separated by tracks. Since there was high demand from Harry Potter fans a platform 9¾ was installed on the wall in the station concourse.
Platform 9¾ is where Harry, Ron and Hermione hop on the train to start their school year at Hogwarts! You can pretend you are doing this too by getting your photo taken by the trolley. There is also a souvenir shop beside it where you can buy house scarves and ties and even a chocolate frog with a personalized wizard card!
I hope you enjoyed this guide of Harry Potter things to do in London. If you have been to other experiences in the city please let me know as I'd love to hear about them!