There is nothing quite like a night away in Dublin's fair city! The hustle and bustle of the streets, coupled with the lively nightlife; it is always fun to visit. I am from the Irish countryside, about a 40-minute drive from Dublin and have lived in the city during my time as a college student. I always admired the well-known and established hotels and one of my favourites was always The Gresham. This iconic hotel has recently rebranded to be part of the Riu Hotel group, aninternational chain founded in Mallorca that started as a small family business in 1953. If you are looking for the perfect luxury hotel in Dublin city centre, I highly recommend staying at Hotel Riu Plaza The Gresham.
Best Location for a Luxury Hotel in Dublin City Centre:
The Gresham Hotel is located on O'Connell Street, which is right in the centre of the city. You are a few minutes' walk to Henry Street where you can do a lot of shopping in high street retailers such as Zara, H&M and of course Arnotts, the oldest and largest department store in Ireland. During this stay I came with my mom and sister to do some of our Christmas shopping and it was an ideal location as we didn't have to walk far back to the hotel with all the heavy bags! After a busy day of shopping and wandering the city, coming back to the lobby and being greeted with the beautiful Christmas tree kept us in the festive spirit!
Because The Gresham is in such a prime location, there are so many activities you can do during the day, such as grab the Hop on and Hop off bus to sightsee Dublin's finest tourist spots, walk around the historic campus of Trinity College or even go for a pint in Temple Bar. At night time there is a great atmosphere for nightlife around this area too or if you're looking for a quieter night you can watch the newest movie in the Odeon cinema. You will also find the most celebrated shows and theatres such as The Gate Theatre and the National Concert Hall close to the hotel.
When it comes to transport, the Hotel Riu Plaza The Gresham comes on top again as Aircoach bus stop is right outside and drops you off at Dublin airport in just 30 minutes. A single adult ticket costs €7 and €9 for a return ticket. As well as this, Dublin Bus has many stops on O'Connell Street and the city tram service, Luas can bring you to Grafton Street which is a pedestrian shopping street that ends at St. Stephen's Green Park.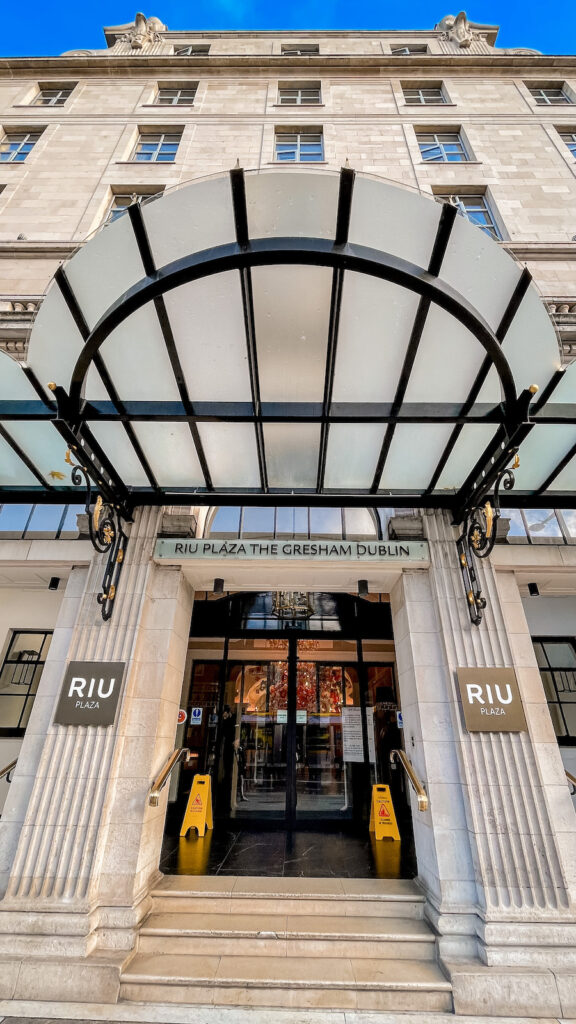 Rooms offered in this Luxury Hotel in Dublin Centre:
During my stay at the Gresham Hotel, I was lucky enough to stay in the stunning Elizabeth Taylor Suite, complete with a red and gold decorated four-poster bed. As soon as I checked-in to this room I was blown away by the antique interior design and the space in the room. The bathroom featured a double sink and also a hot tub. The living room was the perfect place for relaxing with a very comfortable coach and a gas fireplace. I felt like a princess in her royal suite for the entire stay here.
The hotel has two types of suites that you can book into; Suite and Senior Suite and offer both modern and old-fashioned styles. The Suite costs approximately €300 per night and the Senior Suite costs approximately €350 per night, depending on availability. Each of hotel's 323 bedrooms and suites are equipped with a television, safe and complimentary WI-FI.
The suites include penthouse balconies with stunning views across the city and the Dublin mountains. We could see the famous Spire from our window which was a nice treat! The hotel has other great amenities for your stay such as a gym and room service 24 hours a day. The Gresham was also recently awarded GOLD certification for the Travelife Sustainability System. After staying in one of the rooms it is easy to see why it is a favourite for many travellers coming to Dublin.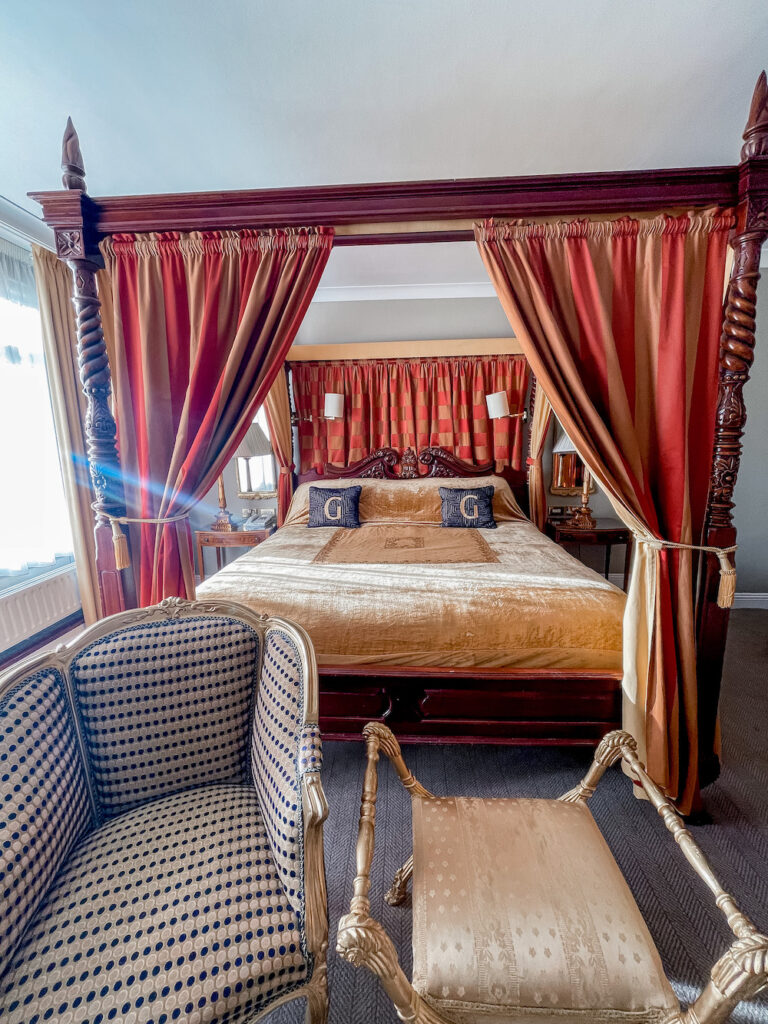 When staying in The Gresham Hotel you have the option to add on breakfast to your booking. The breakfast is served downstairs in the Gallery restaurant. It is a varied buffet and continental breakfast served from 6.45 a.m. to 10.30 a.m. Monday to Friday and from 7.00 a.m. to 11.00 a.m. on Saturdays, Sundays and Bank Holidays. 
The hotel also has its own bar and restaurant downstairs named Toddy's Bar and Brasserie. It is a perfect cosy and charming place to eat. Open from 12.30pm until 11.30pm Monday to Sunday, Toddy's is both a favourite with in-house guests and locals alike. I would personally recommend the BLT for lunch – it was a great choice!
Overall, I was very impressed with my stay at The Gresham Hotel – the perfect luxury hotel in Dublin City Centre. The Senior Suite room was stunning, the food was fantastic, and the staff were always friendly and helpful. I would highly recommend booking this hotel if you are planning a trip to Dublin!
This review has been written following a press stay at The Gresham Hotel but all opinions are my own. A huge thank you to the lovely staff for having me.