Malta is an archipelago in the central Mediterranean between Sicily and the North African coast and a must-visit destination in Europe. I had never been to this island before and after one trip I'm already thinking about when to go back. There are so many reasons to visit this beautiful island; from the blue crystal water to the stunning architecture, you will no doubt have a memorable holiday! After my trip in April 2023, I made a list of my top 7 reasons why Malta is worth visiting.
7 Reasons Why Malta is Worth Visiting
The island enjoys 300 days of sunshine which makes it a perfect location almost year-round. The best time to visit Malta is off-season months like April, May or September. The temperatures average 20 degrees during this time and you will get better deals for flights and hotels. July and August are peak times to visit so you will see a rise in prices and it also has high temperatures, more than 30 degrees.
Is Malta worth visiting in December? Yes, if you're looking for an alternative Christmas destination in Europe with warm weather, Malta is definitely an option. The average temperatures in December in Malta during the daytime are 16°C-18°C (61°F-64.5°F). However, it doesn't get as hot as the Canary Islands like Tenerife which is where most Europeans visit for some winter sun.
2. Activities for Everyone:
There are so many things to do in Malta and you will be spoiled for choice. From cultural, historical to adventurous activities, there is something for everyone. It is a good holiday destination for couples, friends, families and also very safe for solo travellers. The best way to see the city is to take the Hop on Hop off Bus tour which costs £25.08 for an adult 1-day ticket and £17.91 for a child's 1-day ticket. You can also buy a 48-hour ticket which includes a Harbour Cruise if you have more time.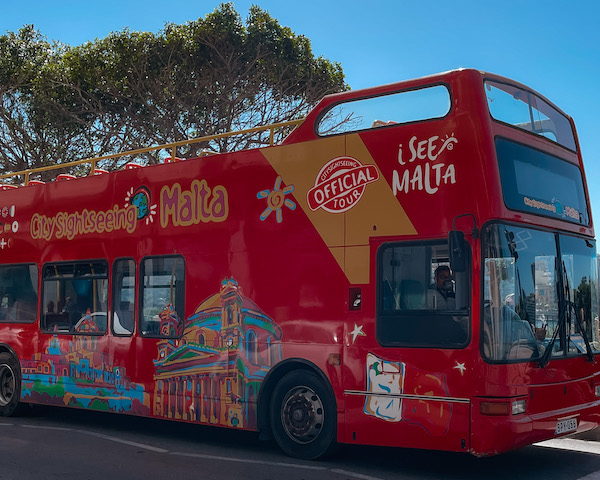 If you're like me and seek a bit of adventure, you can do anything from quad biking, e-biking to a Segway tour! The Segway tour was by far my favourite thing I did in Malta. It's also a super quick way to explore the city of Valletta. The city of Valletta is a planned city and after visiting it's hard not to admire the stunning architecture. Most buildings are constructed with Maltese stone. It is the traditional stone and is honey in colour. The older the buildings are the darker the stone will be in colour.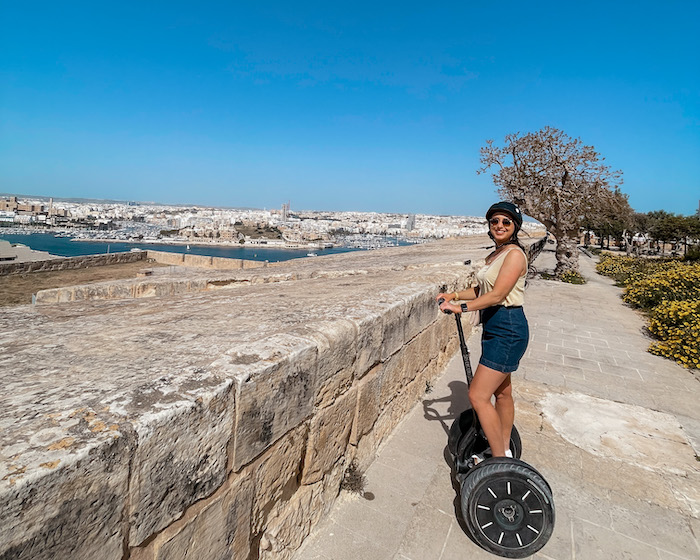 The archipelago of Malta consists of three inhabited islands: Malta, Gozo and Comino. There are 470,000 people living in Malta, 45,000 living in Gozo Island and only a handful of people living on Comino. I got to visit Gozo and definitely think it's worth a day trip to experience the culture, food and nature. To get there you will need to catch the ferry departing from Ċirkewwa, the northernmost point of Malta. The ferry takes 25 minutes and arrives into Imgarr Harbour, the port on the island of Gozo.
Citadel is the main attraction on Gozo, which is a fortress in the town of Victoria. Comino is the smallest island and is where you will find The Blue Lagoon, one of the most famous natural attractions in Malta. You've probably seen many photos of the iconic orange limestone cliffs dropping into turquoise, crystal clear water. On Gozo Island you will find The Blue Hole which is a great place for diving, snorkelling and swimming.
While it may not hold the title as best wine, grapes grown in Malta's hot and humid climate ripen much quicker than countries further north. Since there are no lakes or rivers in Malta and it gets very dry from May to September, it is a perfect climate to produce wine. The soil is also not deep enough for many trees which means more green space for vineyards.
A great activity for wine lovers is to visit a local vineyard and do some wine tasting. There are many that you can visit both on Malta island and Gozo Island. You can find many Maltese wines in UK supermarkets and the main kind that is produced here are Cabernet Sauvignon, Merlot, Syrah, Grenache, Sauvignon Blanc, Chardonnay, Carignan, Chenin Blanc and Moscato.
6. Friendly People & English Language:
I don't know about you, but the locals of a country can really make or break an experience there. Maybe it's because of my Irish roots as we have a very welcoming reputation. In Malta the locals were so friendly and helpful which made me love the country even more! Since Malta entered the EU in 2004, more Europeans are coming to live here and therefore you can meet many different nationalities.
The national language is Maltese which is a variation of Roma. English is also an official language due to the history of being colonised by the British. Many place names are shown in both English and Maltese and films in the cinema are shown in English, without any subtitles! This really helps in communicating during your trip.
If you're travelling with a group or like to enjoy a night out on your holiday, Malta has a lot to offer! There are many cosy pubs, rooftop bars, and even clubs to go to so you will not be stuck for somewhere to find for a night out in Malta. Here are some of the places I would recommend:
7. Beautiful Waterfronts:
No matter where you stay in Malta you will be near the ocean which is one of the best reasons to visit! It is a small island stretching only 27 kilometres (17 miles) long and 14.5 kilometres (9 miles) wide. The water in Malta is a beautiful bright blue and of course you have the Blue Lagoon where the water is almost crystal-clear. Malta is known for its natural harbours and in fact the largest national harbour of the Mediterranean is in Valletta.
In the cities of Valletta, Sliema and St. Julians you can sit and admire this water either on the beach or while having your dinner in one of the countless restaurants. I highly recommend visiting the so sunrise to watch the sun rise up from the water, it was incredible! Depending on the time of year you visit, the sunrise will be between 6am and 8am. The photo below was taken at 4, Ix-Xatt ta Xbiex Ta Xbiex XBX, 1025, Malta (View on a Map).
So, is Malta worth visiting? Absolutely! To be honest, I can't think of any reasons not to visit Malta. You should add this destination to your bucket list ASAP.
If you found this Malta guide useful, then save this post for future reference. Also if you have a friend or family visiting Malta soon, I'd love if you shared this with them!