This beautiful region in the Northwest of France has so much to offer. If you're a foodie, an adventure seeker or interested in art, there is something for everyone! The nature of this region is truly breath-taking especially because of the incredible green grass. I was lucky to have spent 3 days exploring some unique food and drink experiences with Normandy Tourism. If you're wondering how to spend 3 days in Normandy France then this blog post is for you.
From Dublin: The more direct and sustainable way to travel is by ferry and the crossing takes around 18 hours in total. The ferry leaves from Dublin port and you can travel with either Irish Ferries or Stena Lines. The terminal you board will depend on the company that you travel with.
There are many amenities on the ferry such as a cinema, restaurant, lounge. It's good to know that you need to pay extra for these amenities and WIFI is only free for 20 minutes. It will cost €5 an hour afterwards so make sure you have a book, or some movies downloaded in advance! When you check onboard you will get a cabin number and your ticket is also your key that you scan at your door. The cabins can fit up to 4 people when you take down the bunk beds.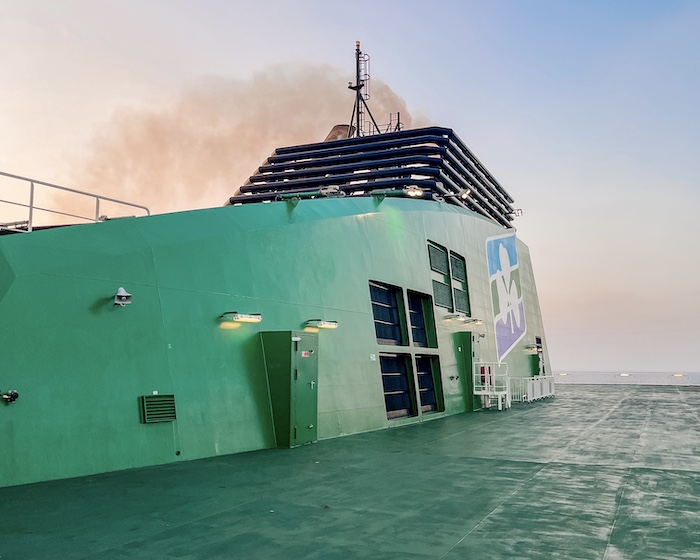 From London:
Travelling by Eurostar is the quickest way to get Normandy from London. You can get the train from London St. Pancreas directly to Gare du Nord Paris which takes around 2 and a half hours. There is free WIFI onboard and a café where you can have some snacks or a drink on your trip.
From Paris you can take a SNCF train to any of the cities in Normandy such as Caen, Rouen, or Cherbourg. Saint Lazare is the regional train station in Paris to catch the train. We took the train from Cherbourg back to France and it took around 3-4 hours.
The ferry option from the UK is with Brittany Ferries from Portsmouth Cherbourg. The crossing is 8 hours in total, usually overnight, but they also have Summer high speed sailings in just 3 hours. There is unfortunately no direct flight to Normandy by Plane so either by train or ferry is the only option but also in the most sustainable. In fact, for every Eurostar train you take offsets the carbon emissions equivalent of 13 flights.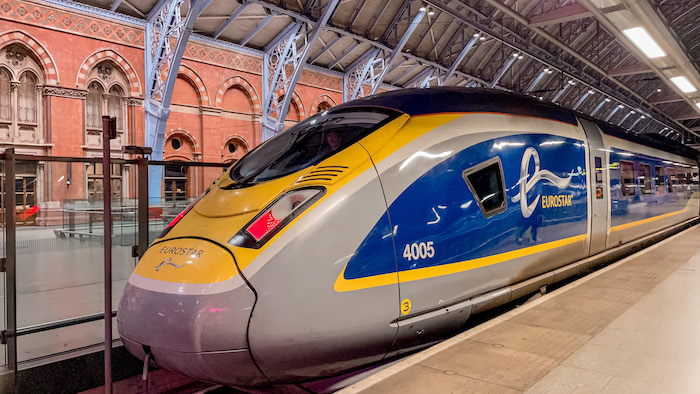 How to Spend 3 Days in Normandy:
Normandy is a beautiful region in France most famous for Mont Saint-Michel, its white chalk cliffs, and its historic D-DAY landing beaches. However, Normandy is also known for its local products such as Camembert, Calvados, cider and tripe. The food and drink that comes from Normandy is so unique and has travelled around the world. Dublin hosts a festival every year, named Normandy Food Tour, solely to celebrate the regions' incredible food. Our Normandy Itinerary was packed with food and drink experiences with local producers and these are the top three I recommend visiting.
Visit a Camembert Cheese Factory:
The region of Normandy has brought into the world one of the best gifts, and that is Camembert cheese. It's a very popular cheese in Ireland and the UK because of its creamy and soft texture and its rich taste. Camembert cheese originated from the 18th century and was traditionally hand moulded. It's unique sensory signature that reflects traditional savoir-faire that has been passed down generations.
When in Normandy you can visit the town Camembert, where this cheese originated from. The best way to learn more about Camembert is to visit a cheese factory where it is produced. It is worth knowing that only cheeses made in certain parts of the region with the milk from certain types of heritage breed cows use the name Camembert. The factory we visited was Fromagerie Réo located in Lessay, which is a family run business since 1925. The founder Théodore Réaux built the bread and the legend is that he always carried a camembert in his pocket.
It is so interesting to see how the cheese is made as the process takes up to 15 days before packaging. Reo factory has 85 employees in total and when it comes to making the cheese there are many steps in working to make the perfect cheese. Some of the steps include milk collection, creaming, molding, cutting, salting all before the cheese is then placed in a Haloirs at a controlled temperature to mature. The ease at which the knife slices into the cheese will indicate its maturity.
You can visit Reo Fromagerie from 1 July to 31 August: Monday to Friday from 9am to 1pm and tours start every hour. From September 1 to June 30 visits are only by appointment and for groups of 20 people.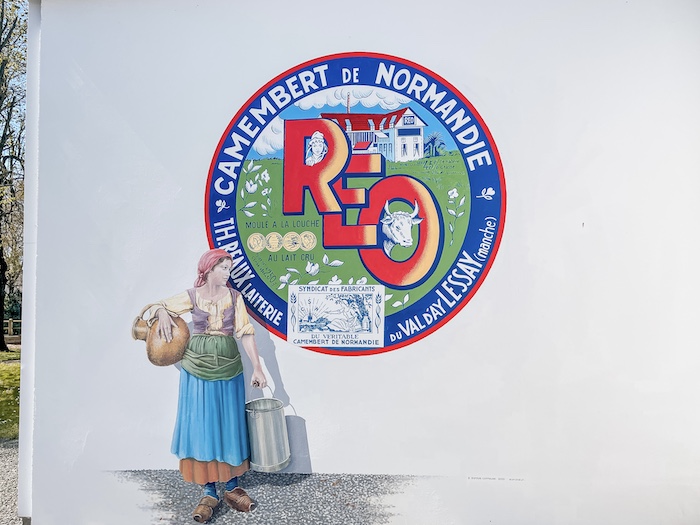 If you ever wondered how caramel sweets are made this Norman manufacture will be a treat! You will learn about the history of Caramels D'Isigny factory since its opening in 1932 which is located in Isigny-Sur-Mer. As well as this you will see how the caramels are made and everything to this day is still hand-made. The fifteen people of the production team use their know-how in the caramel making from mixing, labelling, packaging, all made by hand. All the ingredients are cooked at 80 degrees in copper cauldrons from 1950 and 200 sweets are made per minute.
There is also a shop on-site where you can buy all the 32 flavours of the incredible Caramels D'Isigny treats as well as kitchen wear, souvenirs etc. I also recommend ordering a scoop of the caramel ice-cream to sit out and enjoy on a sunny day. And don't leave without trying their caramel popcorn, which is their bestseller. After one bite, it's not hard to see why!
The factory receives 40,000 visitors a year and produced 15 million sweets a year that even get distributed abroad (for example to Sainsbury's). The visiting centre is open 9am-6pm Monday-Friday, 10am-6pm on Saturday with a lunch break of 1-2pm. The visiting centre is closed on Sundays except for July and August. It costs €4 for an adult ticket, €2.50 for a child's ticket and free for kids under 6 years old.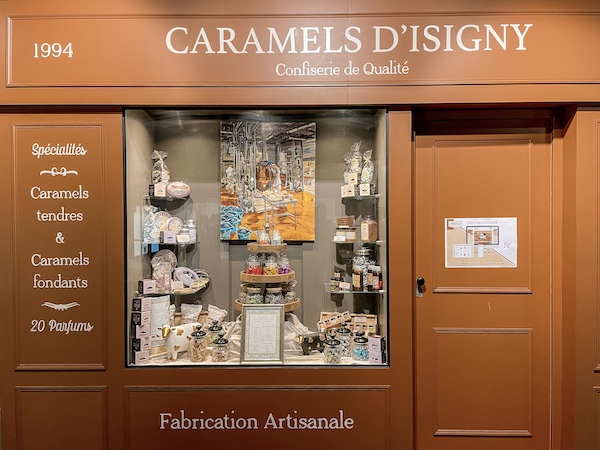 I am a big fan of cider and Normandy cider is famous for its sweet taste. I was so delighted we had the chance to visit the family run cider farm of Ferme de la Sapiniére in Saint laurent- sur- mer. You will see that tradition and mastery combine with the know-how of the owners of the farm. The tour guide takes you through all the steps that goes into creating the cider starting from the presentation of the orchard and explaining the different types of trees and apple varieties as well as the apple picking timing and technique.
You then get shown what happens after the apples are picked, to watching how the cider is packaged all the way to learning about the ageing of cider in tanks. There are 40 different kinds of apples and because they are very sour and bitter, some need to be mixed together. There is on average 7-10 different kinds of apples in one their ciders. The farm started producing in 1991 and started with their first batch of 1,000 bottles. Nowadays, they make 100,000 a year and sell 6 different types of cider, dry and half dry. Each bottle is closed by hand and kept in storage for 2 years before it is sold.
We got to taste the different ciders which was fantastic. We tasted 7 in total as well as the farms special apple juice. Each cider had a unique taste depending on whether it was a dry cider or sweet cider and on the age. I tasted Calvados for the first time which is a very strong spirit up to 70% of alcohol and can only be produced in Normandy. To make one bottle of Calvados, 13 litres of cider is distilled. We also got to try Pommeau de Normandie which is an aperitif that tastes like a mix of sweet wine and port. Of all that I tried, this was my favourite and I had to buy some bottles to bring home after the tour!
Other places to Visit in Normandy:
Phare de Carteret – This lighthouse was built in 1839 and opened to the public in 2016 so you can walk up the 58 steps to get incredible views of The Channel Islands. All visitors can access free-of-charge the lighthouse's museum areas in the former lighthouse keepers' bedrooms, and the temporary exhibition room on the ground floor. You can walk along the shores near the lighthouse and the views are breath-taking, especially at sunset! The lighthouse is usually closed on Mondays and Tuesdays except for high season and typical opening hours are from 10:30am to 6pm.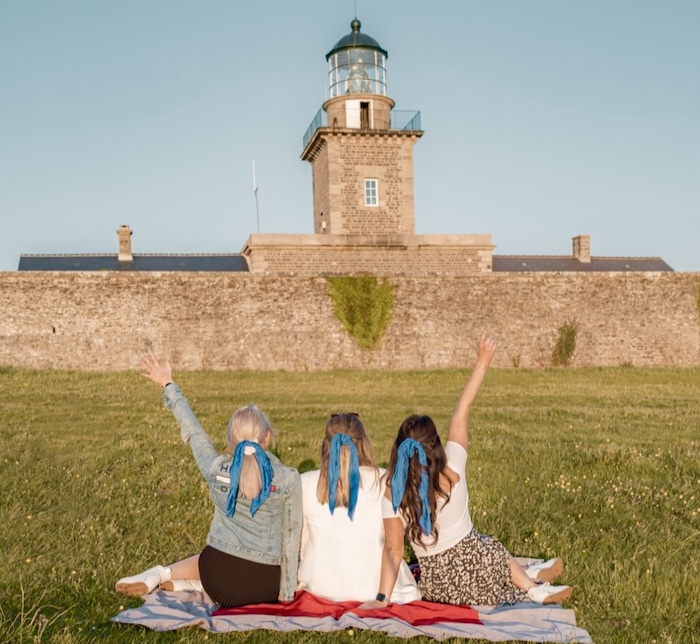 Domaine Utah beach – if you are looking for a countryside escape then Domaine Utah Beach Hotel is the perfect place to book. Located near historic Utah Beach, one of the five landing areas of the Normandy Invasion of World War II. This stunning hotel is a family run property and farm with a restaurant on site too. You could stay in one of the 17th century buildings and choose one of the ornate 19 hotel rooms of Le Grand Hard or one of the 4 gites of Ferme Lavalle.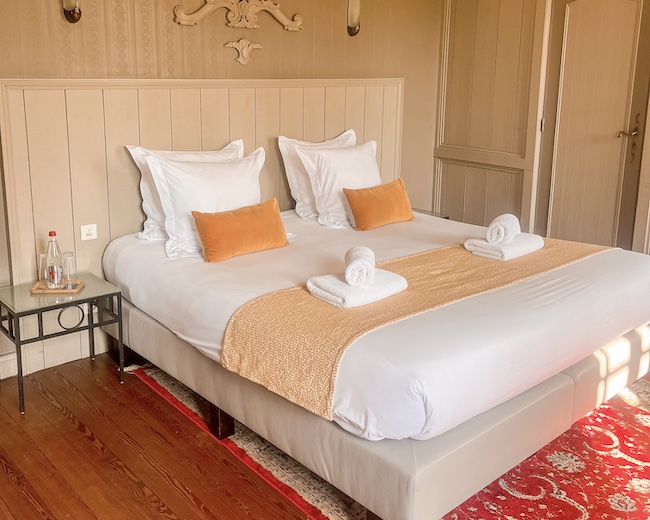 Maison Du Biscuit – This incredible biscuit shop is found in Sortosville-en-Beaumont and a must visit when in Normandy! It feels like you are stepping into Disneyland from the architecture of the store to the packaging of the products inside. There is a café where you can sit down for a tea or coffee break. The Burnouf family have kept the Maison Du Biscuit business alive for 5 generations and sell a variety of goods from confectionary to salty grocery. The best part is you can taste some of the biscuits at the counter so make sure you try a few of their delicious flavours.
I hope you found this blog post helpful! Normandy was one of the most beautiful regions in France that I have visited and I am already wanting to go back. If you try any of these food and drink experiences in Normandy I'd love to hear about them.
Jess x