If you are travelling around Northern Ireland, you just must make a stop in Belfast! It is such a lively city with so many things to see and do. There are great restaurants and pubs to choose from and there is a lot of history to learn about this city too. I have put together a list of my top 8 things to do in Belfast city centre so keep reading to find out more about these places.
Things to do in Belfast City:
The Titanic Experience in Belfast is a World Leading Tourist Attraction. The beautiful building of fine architecture is located in the Titanic Quarter where the famous ship was designed and launched back in 1911. By taking the Discovery Tour you will be taken through the story of the Titanic's construction and launch, to her famous maiden voyage and tragic end. There is also a small interactive ride where to get an insight into the men working in H&W that built the ship.
You can but your tickets online on the website and cost £19.50 per adult. Your ticket also allows you to visit the SS Nomadic, the last remaining White Star Line Vessel. You can get to see what the inside of the Titanic was really like for both the first class and second-class passengers on the ship.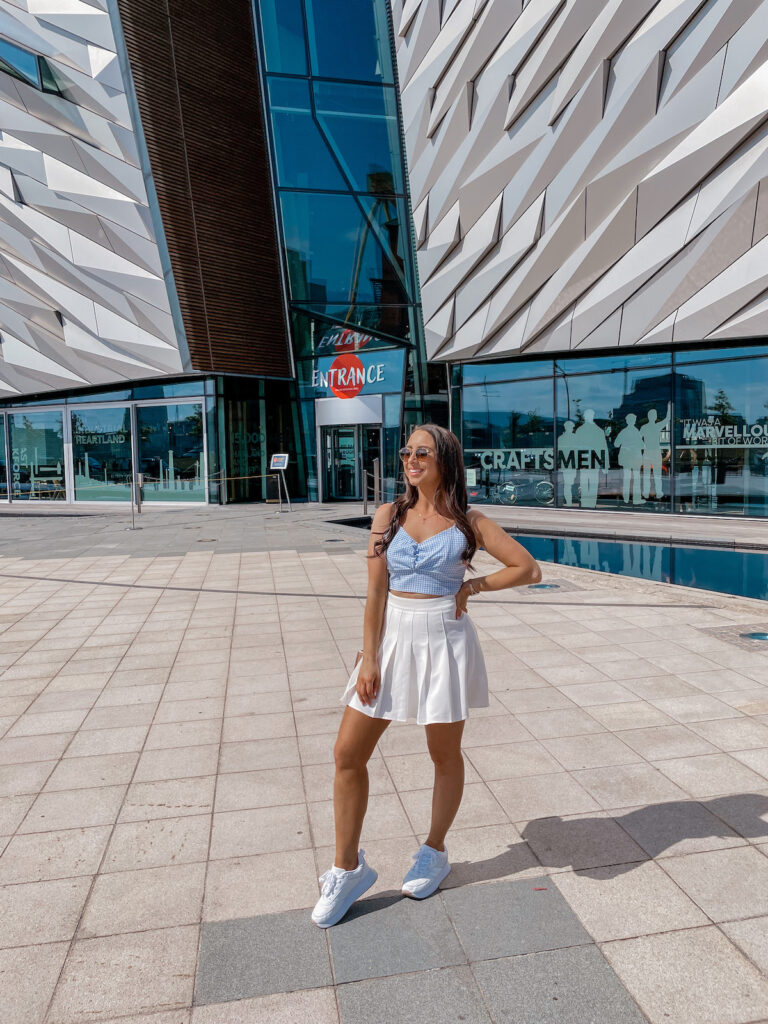 The best way to learn about the history of Belfast first-hand from the locals is to take a Black Taxi Tour. The tour costs £50 per taxi and you must pay in cash. You can typically book this with your hotel as they will call the taxi on your behalf. It takes around and hour and a half for the entire tour and the taxi driver will bring you out to West Belfast to see the famous Bobby Sands mural and other political street drawings.
The driver will tailor your tour, giving you the option of where you would like to visit most and supply commentary featuring local stories and wit.  All the  drivers are from both Protestant and Catholic communities so you will be sure to get an unbiased tour of the city's troubled past. You can book directly on their website.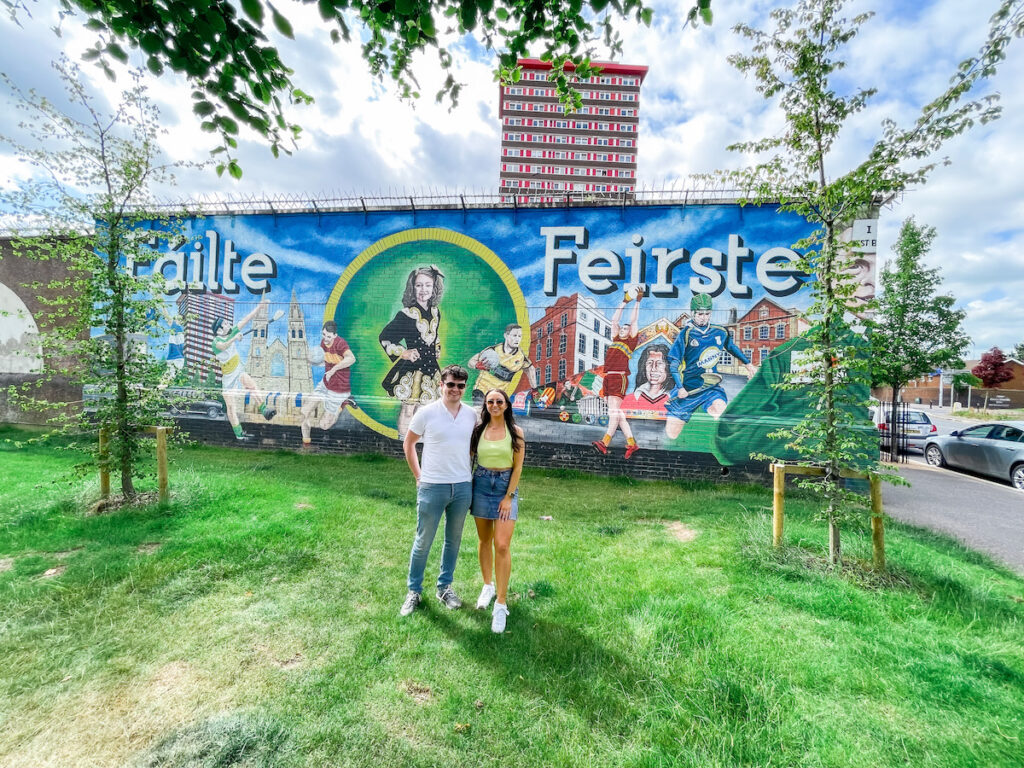 If you want to escape the hustle and bustle of the city for a bit then you can take a visit to the beautiful Belfast Botanic Gardens. You'll find the gardens at College Park Ave, Botanic Ave, Belfast BT7 1LP, a short 5-minute walk from Queen's University. There are seven entrances into the gardens and it is completely free to visit. Definitely a great place to go for a picnic on a nice day. It is 28 acres in size, making it a fine spot for an early-morning stroll.
The gardens opened back in 1895 and are home to a stunning Rose Garden, exotic plant collections and two landmark buildings (the Palm House and the Tropical Ravine House). There are often events happening at the park especially in the summer time.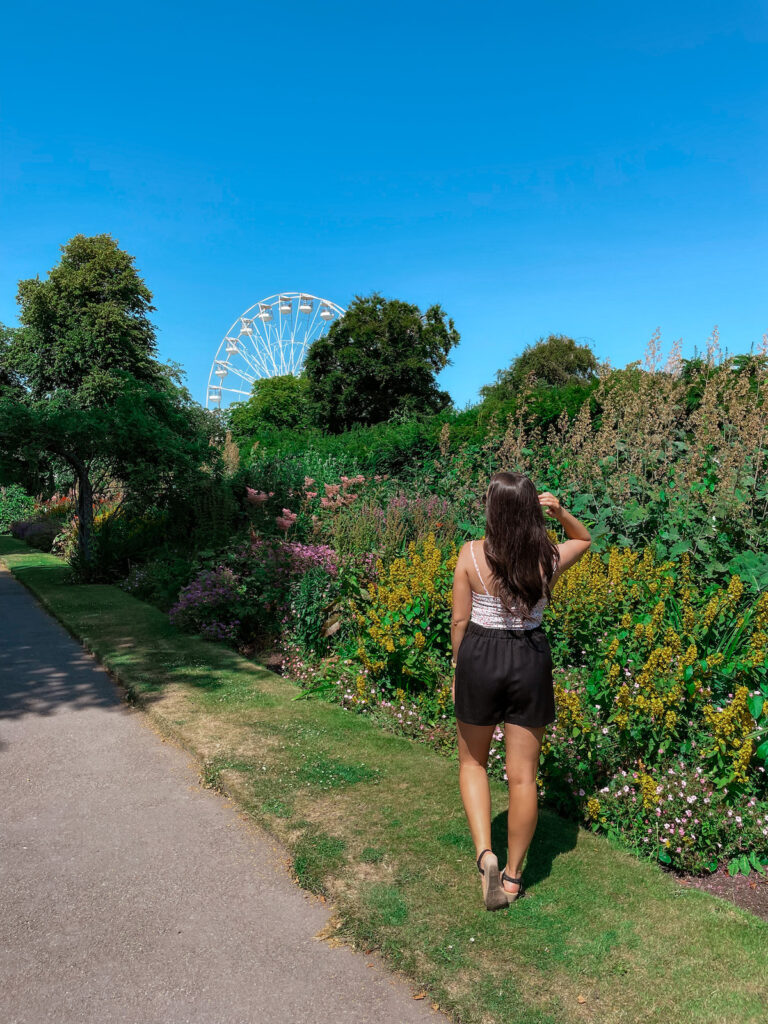 Another thing you can do in Belfast is take a campus tour of the historic university that has magnificent medieval-style architecture to admire. Queen's was voted one of the 10 most beautiful historic universities in the UK and is well known for its very high research output and state-of-the-art facilities. Queen's is a very prestigious university and was ranked 173rd in the world and 26th in the UK in the QS World University Rankings in 2020.
The university or college (as we like to call it in Ireland) was founded in 1849 as a non-denominational alternative to Dublin's Trinity College. Queen's University Belfast is known for its magnificent medieval-style campus. If you're a Harry Potter fan will want to visit the red brick Lanyon Building as most say it looks like a real-life version of Hogwarts.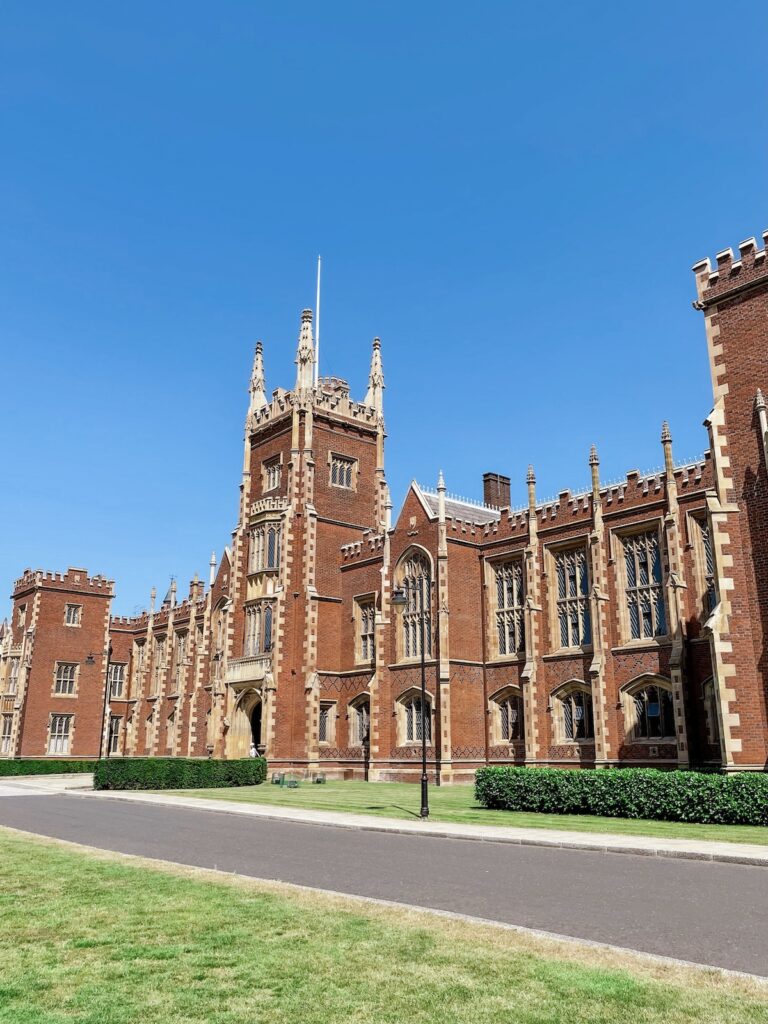 The Cathedral Quarter is the cultural heart of the city with great food and lively pubs! Broad Street used to be the main street in the city and some of the buildings used to be whiskey warehouses. The Harp Bar used to be a whiskey warehouse and The Dirty Onion used to be a Jameson warehouse. These days it is seen as the 'Temple Bar' of Belfast and also where most festivals and summer concerts are hosted. 
The main tourist hotspot for a picture here is the iconic umbrellas beside The Duke of York pub on Commercial Court. The umbrellas are often changed, depending on when you visit. The lighting can be colour-coded for special events and dates such as all green on Paddy's Day or bright red for Valentines Day!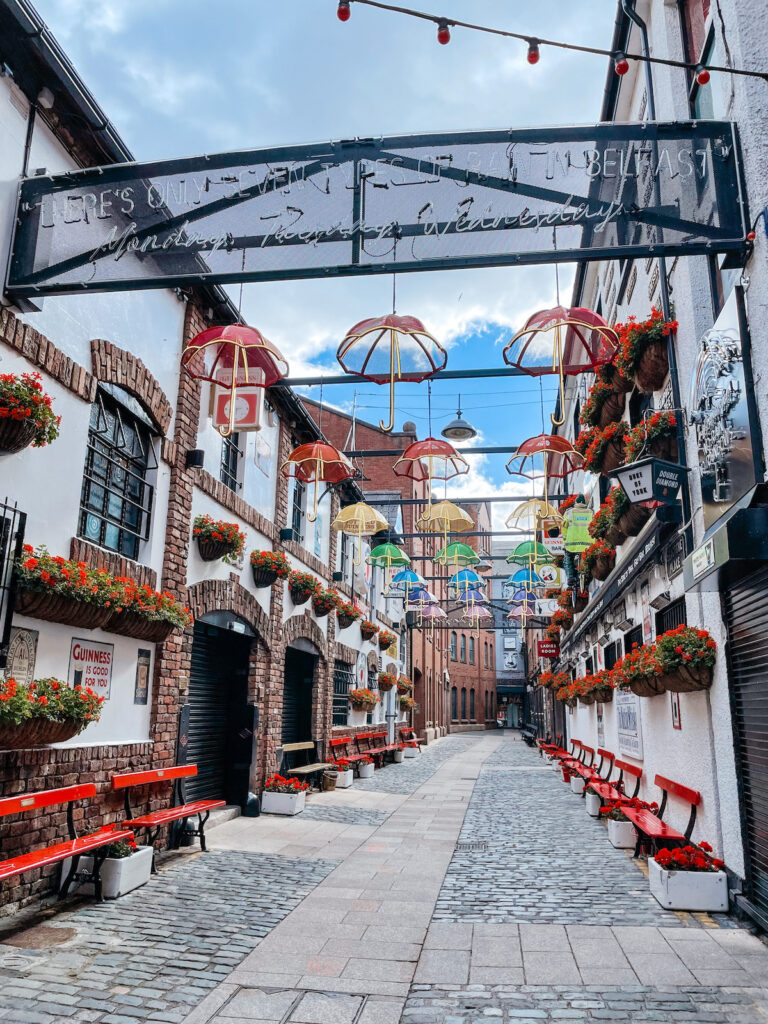 If you're a shopper like me, then you will love Victoria Square! It's Northern Ireland's biggest and brightest shopping centre with 4 floors and over 50 stores, including well-known brands such as Hollister, Hugo Boss and also high street favourites Topshop, River Island and H&M. There's an Odeon cinema and also some chain restaurants to eat like Wagamama, Nandos and Pizza Express (Milano's if you're from the Republic!)
The most interesting part about this shopping centre is the dazzling glass dome on the top floor with a viewing gallery where you can see all of Belfast city. The viewing gallery is open 10am to 6pm Monday to Saturday, 1-6pm on Sundays and late opening until 9pm on Thursday and Friday. The Jaffe Memorial Fountain is also right beside this centre – which is a very instagrammable spot!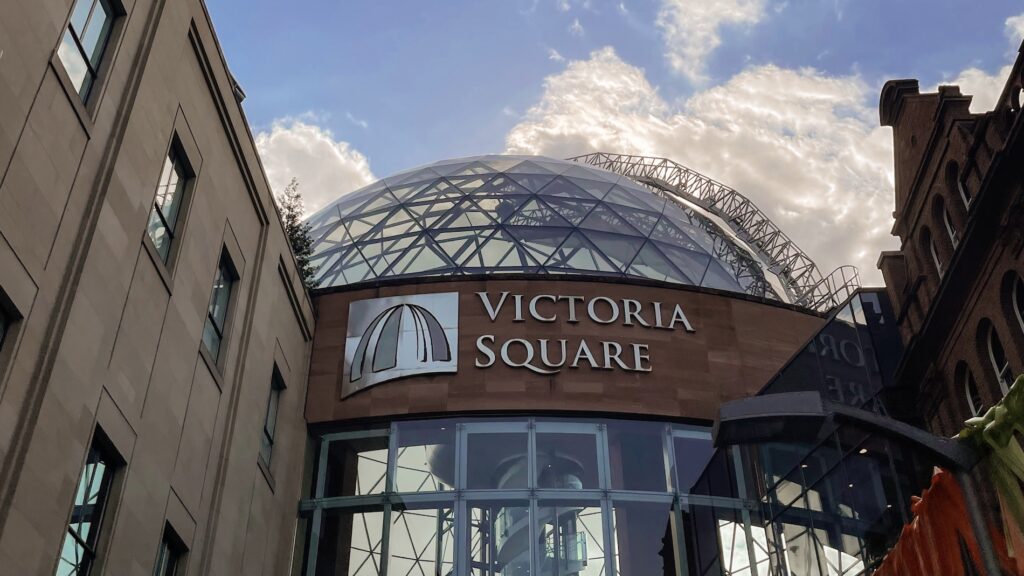 The copper-domed building located in the very heart of the city is iconic and worth a visit! Admission is free of charge into the City Hall and inside there are some notable features such as The Grand Staircase, the Reception Hall and The Great Hall. The ground floor east wing hosts a visitor exhibition over 16 rooms showing a journey from the city's past to present.
Outside on the grounds of the City Hall is the Titanic Memorial Gardens which opened in 2012 for the 100th anniversary of the worldwide tragedy. There is a garden plinth with bronze plaques listing the 1,512 people that died when the ship sank. There are a lot of *** after names which means it was not the passenger's real name.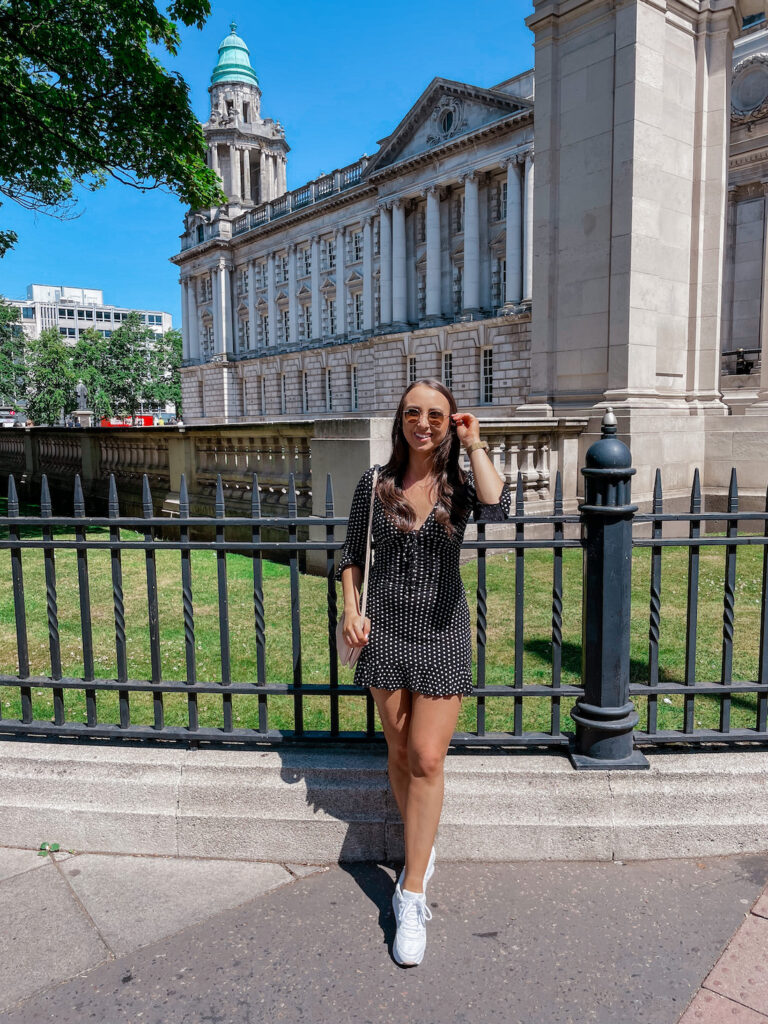 Where to Eat and Drink
Of course, when you're visiting Belfast you'll want to get a bite to eat or check out some local pubs or bars! I have put together a list of places that are worth trying out:
The Chubby Cherub – Italian restaurant and beautiful Romanic scene – perfect for your insta pic!
Harlem Café – Great brunch menu with elegant antique decor
The Thirsty Goat – Go here for a good buzz and a night out
Revolución de Cuba – Tapas night and the building used to be a bank
2 Taps Winebar –  traditional and seasonal tapas with outdoor heated seating
The Treehouse – Rooftop terrace & party venue where you can get cocktails, wine & small plates
The Dirty Onion – Perfect for drinks and small bites
The Pocket at the Flat Iron – Chill brunch vibes and great coffee
Bootleggers – laid-back eatery with burgers & tacos on the menu along with cocktails & beers.
Coppi – Belfast's first cichetti bacari/restaurant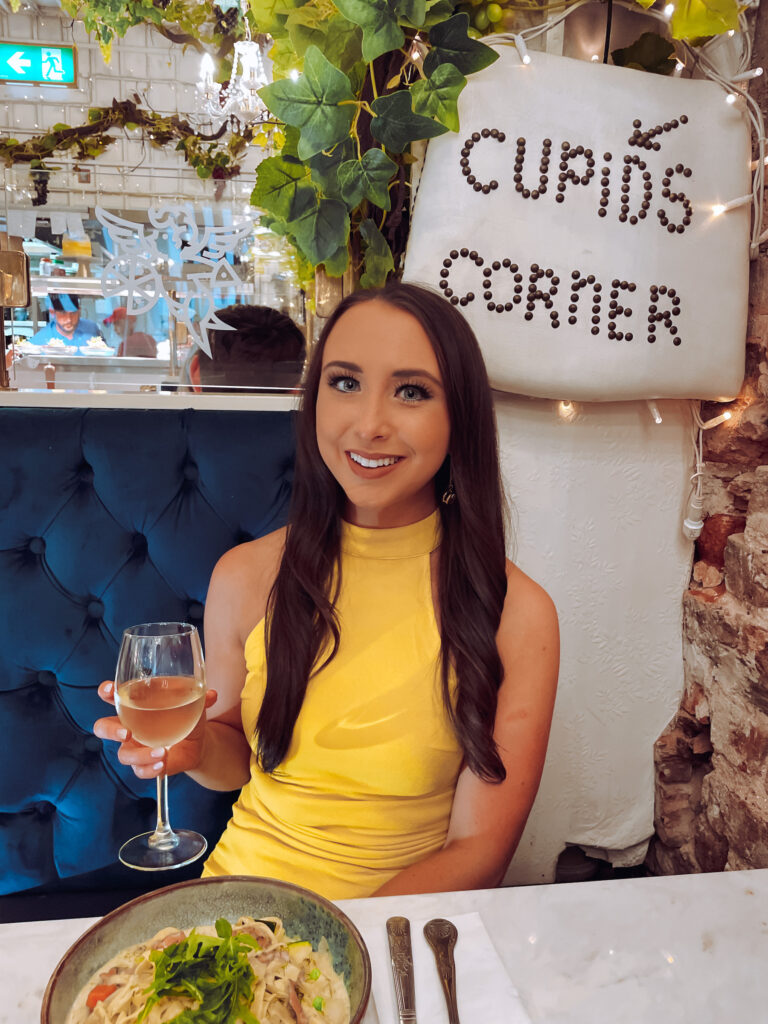 Thank you for reading this blog post and I hope it proves helpful to you when you visit this great city of Belfast. If you're spending a bit of time in Northern Ireland then try to also visit Derry. Be sure to also check out my blog post on Things to do in Derry.
Jess x