Greece is such a beautiful country and a popular travel destination for so many reasons. Island hopping is a must do and such a great experience. There are 227 inhabited islands in total so there is a lot to choose from! No matter which Greek islands you plan to visit you will not be disappointed. Each has amazing food, wine, and beaches and with its own unique characteristics. After my travels in the summer of 2022, I have made a guide on the 4 amazing Greek islands to visit with tips on where to stay, where to eat and things to do.
How Visit These 4 Amazing Greek Islands:
There are two options when travelling between islands in Greece and that is by ferry or by plane. Typically travelling by ferry is the cheapest option but flying is the quicker option. Most travellers will fly into Athens and then take the next flight or ferry from there. If you take the ferry from Athens, there are 3 ports Piraeus, Lavrion and Rafina. This website really helpful on how to get to each one.
You can check the timetables on Ferry Hopper or Go Ferry and book your ticket here. In some instances, you may need to go to the kiosk at the port beforehand to get your ticket printed off. The main ferry companies are Blue Star Ferries, Anek Lines and Sea Jets. When Island hopping check prices of the ferry in advance as you can save money by choosing less popular routes.
Best Time to Visit These Amazing Greek Islands:
The best time to visit the Greek islands is in late May and early June as this time of year the weather is beautiful but not too hot (between 24 degrees and 28 Celsius). It's also not high season so you will be getting better value for your money on flights and accommodation. September is also a great month to visit as it is no longer peak season after the school year starts.
Mykonos has a festival every year for the gay community at the end of August. During this time accommodation prices skyrocket so I would avoid this time. To give you an example; we stayed in the Eternal Suites for €60 per night and on Booking.com the price rose to €400 per night during this period in 2022.
When you see pictures of beautiful white buildings and blue domes from Greece, it is most likely the island of Santorini. Arguably the most picturesque island and Instagrammers dream! This island has become very popular in the last decade. My honest opinion of Santorini is that is it very beautiful of course but I found it was very overpriced and the people were quite rude there to tourists. The streets are very busy so really try to go off peak season.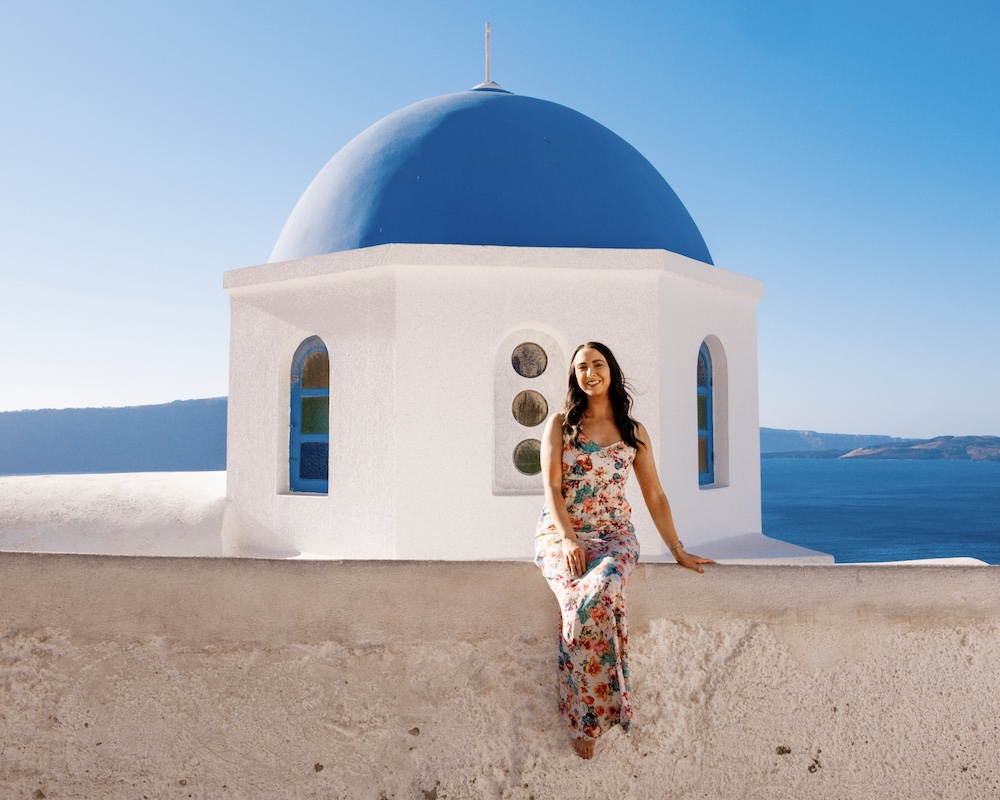 Where to Stay:
The island is quite big with many towns you can stay in. I would recommend staying in Fira which is the main town as this is where the buses go to from other towns. If you want to travel to different towns, you will need to return to Fira and take a bus from there to the next one as it is the main hub.  
What to Do:
Visit the Town of Oia – the most picturesque part of the island
Explore Pyrgos – the oldest town and just as beautiful as Oia but less crowds
Excursion to the Volcano and Hot Springs – a must do if you have good weather!
Where to Eat:
Meltini

– seafood and tapas with a sunset view in Oia

Argo Restaurant

-popular choice on Trip Advisor (Fira)

Nektar Lounge

– lunch/coffee spot with a view (Fira)
One of the understated islands, Naxos is right beside the island of Paros. This island is known for its white sandy beaches, and you'll find narrow stunning streets here with beautiful shops. The great thing is that it is not as crowded as similar islands! 
Where to Stay:
It is best to stay right in the centre as you will also be a short walk from the port for hopping on the ferry to your next destination. This island is a lot smaller than others and you can walk around most places.
What to Do:
Watch the sunset at Temple of Apollo
Have a beach day at Plaka Beach
Wander around the Old Market
Where to Eat:
Taverna

– Traditional Greek food and a local's favourite

Ammos

– if you want some great seafood

Doukato

– Romantic restaurant – ask for Matika which is a sweet drink (like a biscuit!)
This island was my favourite of them all! In Mykonos every street you turn down is more beautiful than the next. The vibe around this island is something else and you can see why it is such a popular destination. There are so many cats running around the streets too as the locals take care of them. Be prepared to spend a bit more money on this island as it is an expensive place to visit.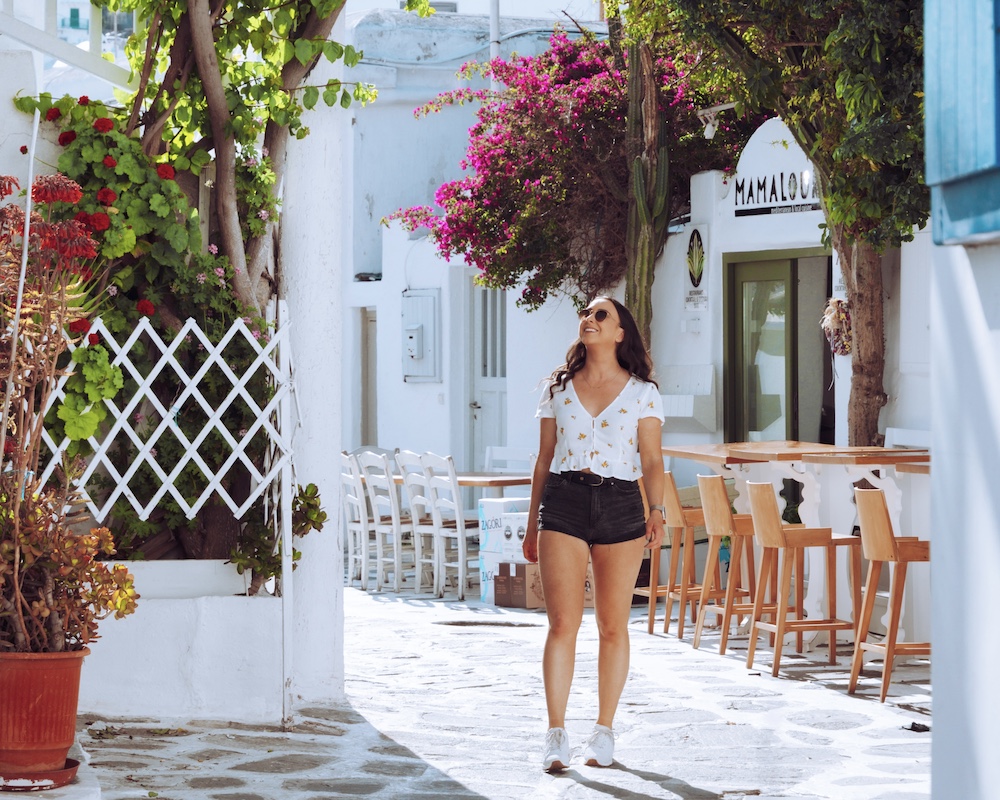 Where to Stay:
Try to stay near the town if you can as you can spend more time exploring the winding streets. The accommodation is more expensive here but it will be worth it as you can also take the bus from Fabrika station to the different beaches on the islands for less than €2. 
What to Do:
5 Windmills – the most iconic landmark on the island
Little Venice – stroll along for incredible views by the water
Visit the Beaches – Paradise beach, Ornos and Platis Glaui are all stunning and you can take the bus from the main town for less than €2.
Where to Eat:
Sakis – for some of the best Gyros you'll ever taste!
Oniro Sunset Bar – This is a popular restaurant to eat in and watch the sunset, but it is pricey – we're talking €25 for a cocktail!
Any restaurant along Little Venice.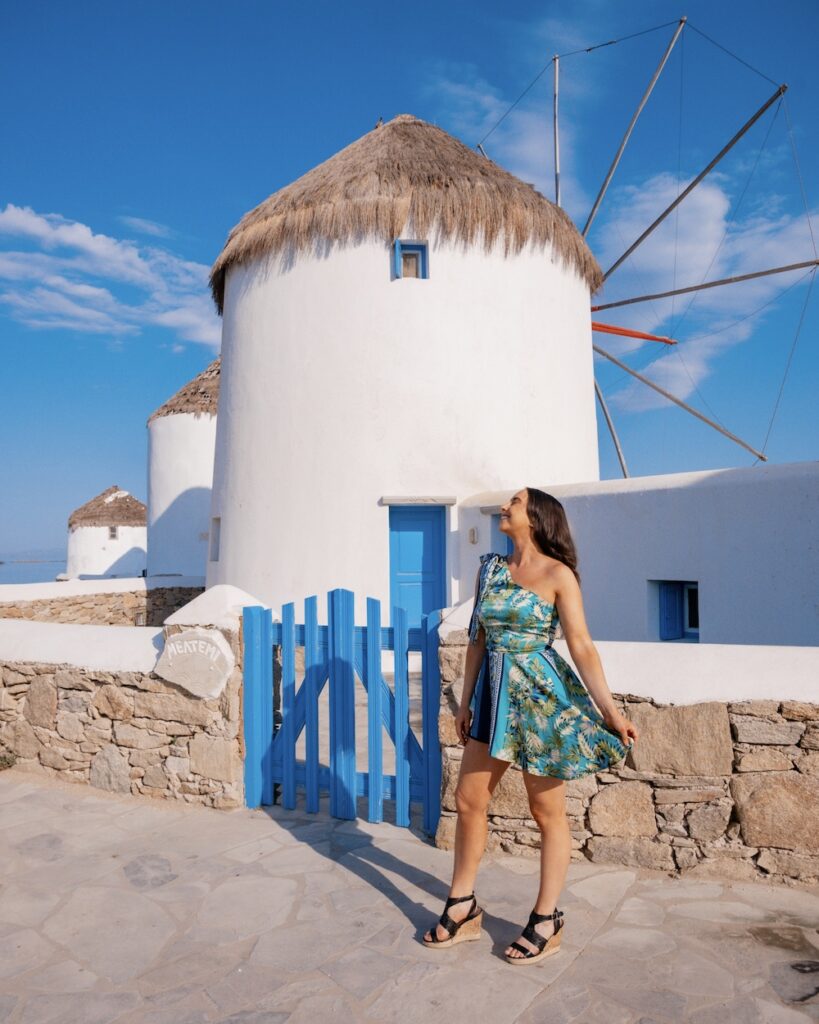 The largest Greek island to visit and one of the most popular by tourists and it's easy to see why! I particularly loved Crete as the people were so friendly and a more budget friendly island compared to Santorini and Mykonos.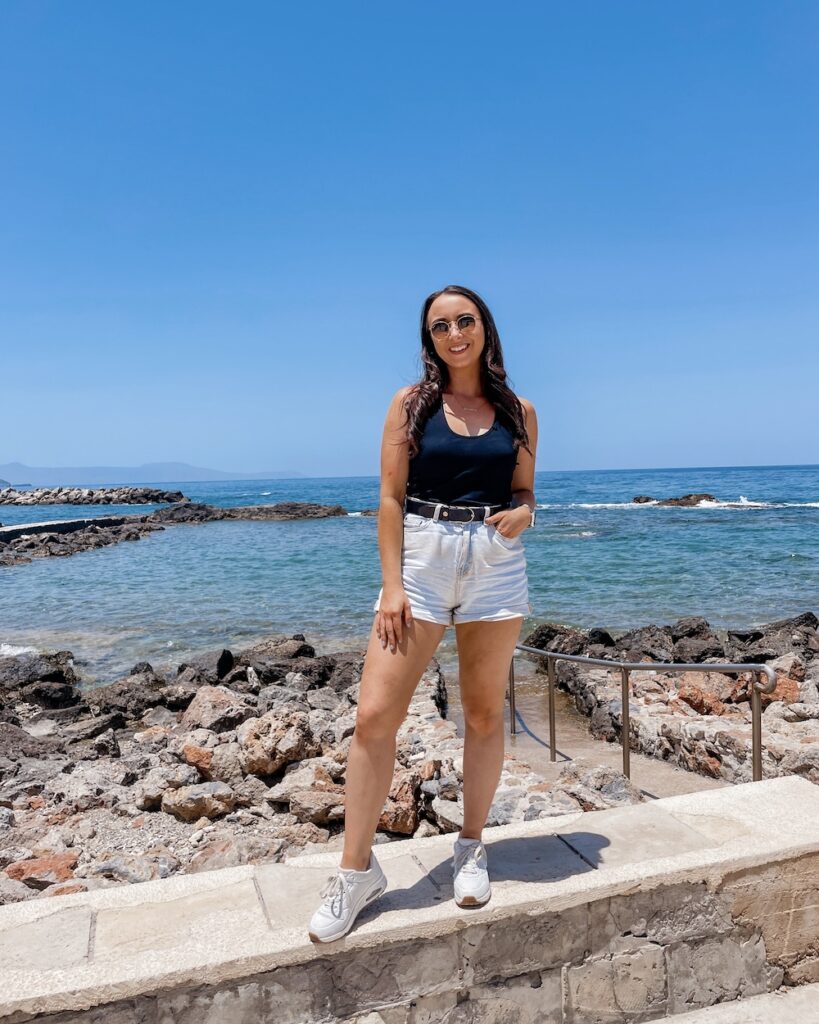 Where to Stay:
Chania is a great place to stay in Greece as it has a port and an airport nearby. We stayed in Halepa Hotel which was a short walk to the harbour and was a great accommodation option overall. Try to book somewhere you can walk to the old town so that you won't be spending too much money on taxis, as the public transport options are minimal.
What to Do:
Hop on Hop off Tour – great way to get around the city and learn about the history. It costs X per person
Bottomless Boat – fun activity to do especially if you like swimming in the sea! It costs €15 per person
Walk to the Lighthouse at Sunset – great evening activity
Where to Eat:
Amphora Restaurant – Tripadvisor recommended and I suggest you try the Moussaka here
Old Venetian Harbour – the atmosphere is amazing at dinner time here and restaurants stay open until midnight!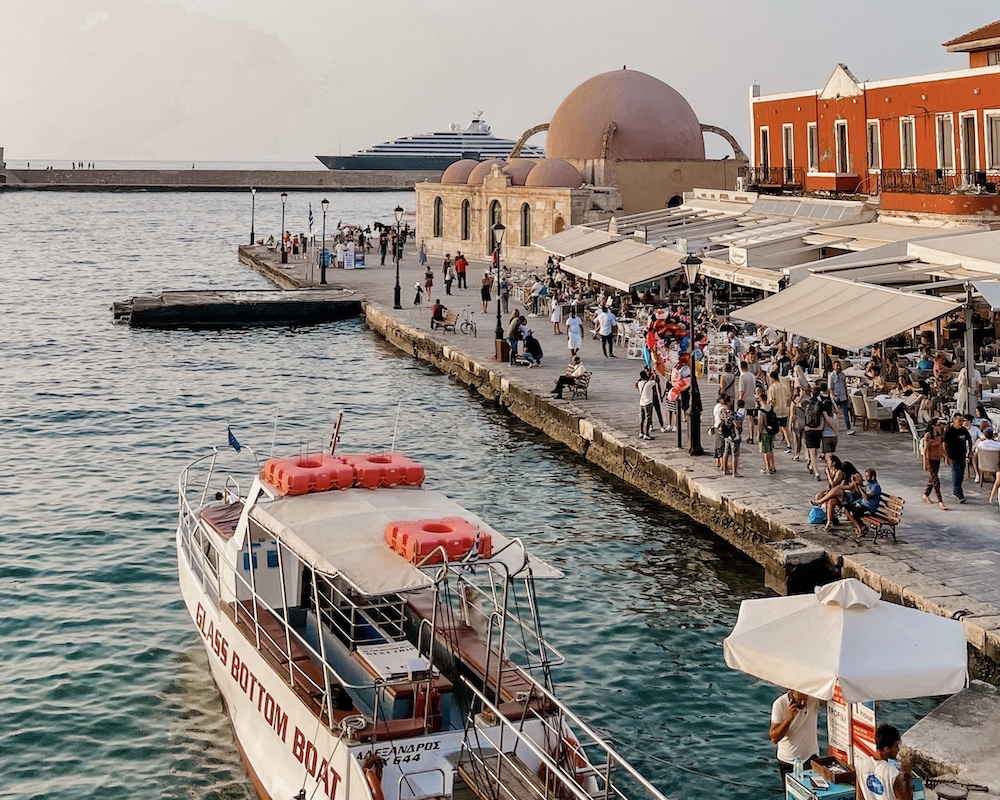 Visiting the Greek Islands is a such a bucket list experience and one you must tick off the list! I hope you enjoyed this guide, and it helps you with your travel planning. If you plan on staying a bit longer in Greece and looking for a different experience, then make sure to check out my blog post on how to Climb Mount Olympus.
Thanks for reading,
Jess x