Climbing to the tip of the tallest mountain in Greece is a difficult but very rewarding experience! The mountain is nearly 3,000 metres in height and takes most fit people two days to complete. If you are very fit and have lot of hiking experience, you could climb it in one day. A lot of tourists who visit Greece just visit the islands which are of course beautiful to see. However, if you're looking for a more unique and adventurous experience in your travels, then keep reading for this guide to climb Mount Olympus, Greece.  
How Get to Mount Olympus from Athens:
It's not very straight forward on how to get to the mountain and depending on where you are coming from, it will vary. We took the train from Athens to Katarini which is the nearest town you will get to by train.
By Train:
The train ticket to Katarini cost €38.90 and the journey was 3 and a half hours long. The main station in Athens for national trains is Larissa Station location and google map link below. You can check the train timetables at www.trainose.gr and you can buy the tickets very easily in the station, just make sure you give yourself enough time before the train departs.
After you get to Katarini you need to get to Litochoro – this is the closest town to the mountain and where most will start their hike. You can take a train which will take around 10 minutes or you can take a taxi which will take around 20 minutes. We took the taxi, and it costs €25 and there was many taxi drivers right outside the Katarini station.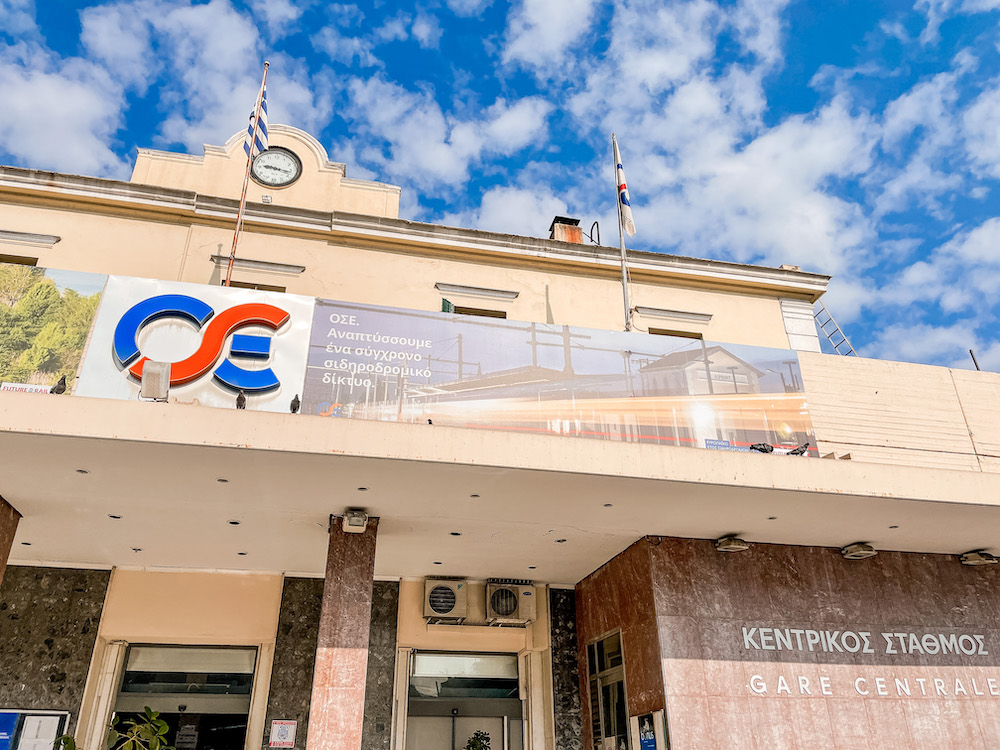 By Car:
Another option that we explored was renting a car to drive there but we decided against it as it was very expensive. Driving from Athens to the starting point of the hike takes 5 hours and 48 minutes according to Google Maps. We needed to drive from Athens and drop off he car at Thessaloniki as that was where our flight home was from.
All car rental stores are in the same street in Athens which is very handy (Leof. Andrea Siggrou) and we got quotes from 3 different companies which I will share in order of cost.
Highest Cost – Hertz
Mid-tier Cots – Sixt
Lowest cost – Budget
 The most expensive cost was the charge to drop off the car to Thessaloniki which was why we decided against it. However, if you are driving back to Athens this would not be added on and would make it more affordable. You would have to drive 5 hours after completing the hike through which would be very tiring!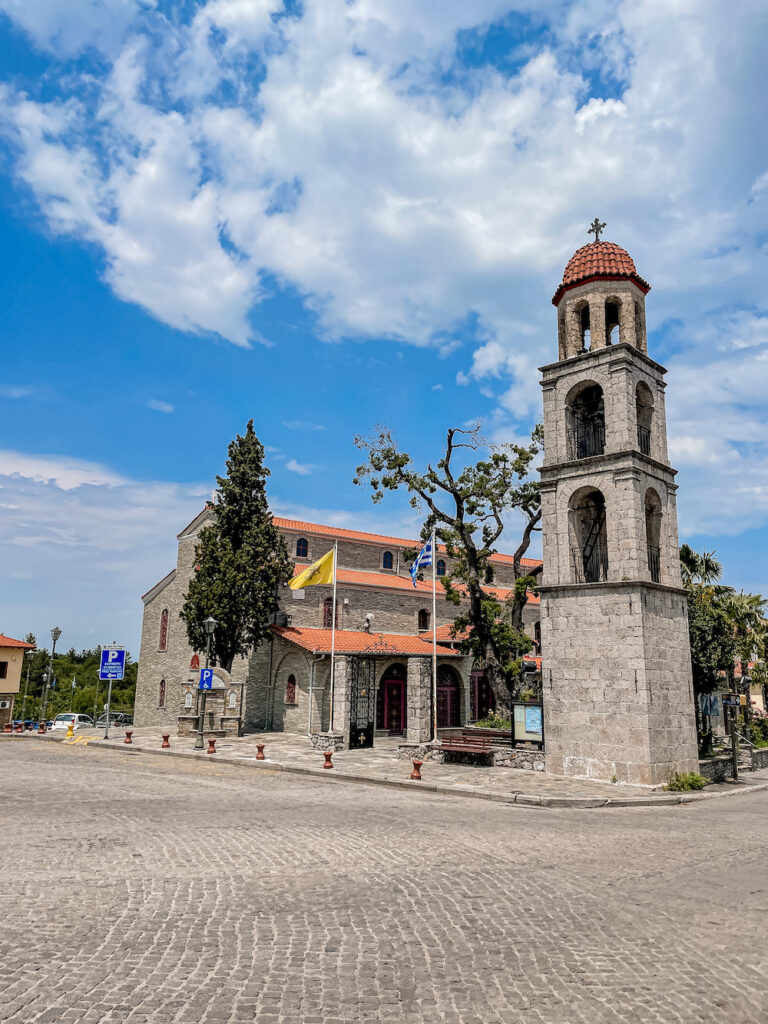 Where to Stay before you Climb Mount Olympus:
The town below the mountain is called Litochoro and it is a very charming Greek town. I would really recommend staying here either before or after the climb, or even both. This way before the climb you can get up bright and early to start the hike. If you stay on the way back down, you will not be too far from a comfy bed.
We stayed in The Olympus View Hotel, and I would recommend as the best place to stay in Litochoro because it in right in the centre of the town. It is also a 4-star hotel with incredible breakfast and a spa where you can relax after your hike. The staff were helpful and were happy to keep our luggage locked in safe room when we were hiking up the mountain and planning to stay in the refuge.
You could also stay in Thessaloniki as an option as it is the nearest city with an international airport. The train from Litochoro to Thessaloniki takes around an hour and costs €9 per person. You can check the train times on this website. You can only buy tickets at the station up to 30 minutes before the departure time so get there in good time!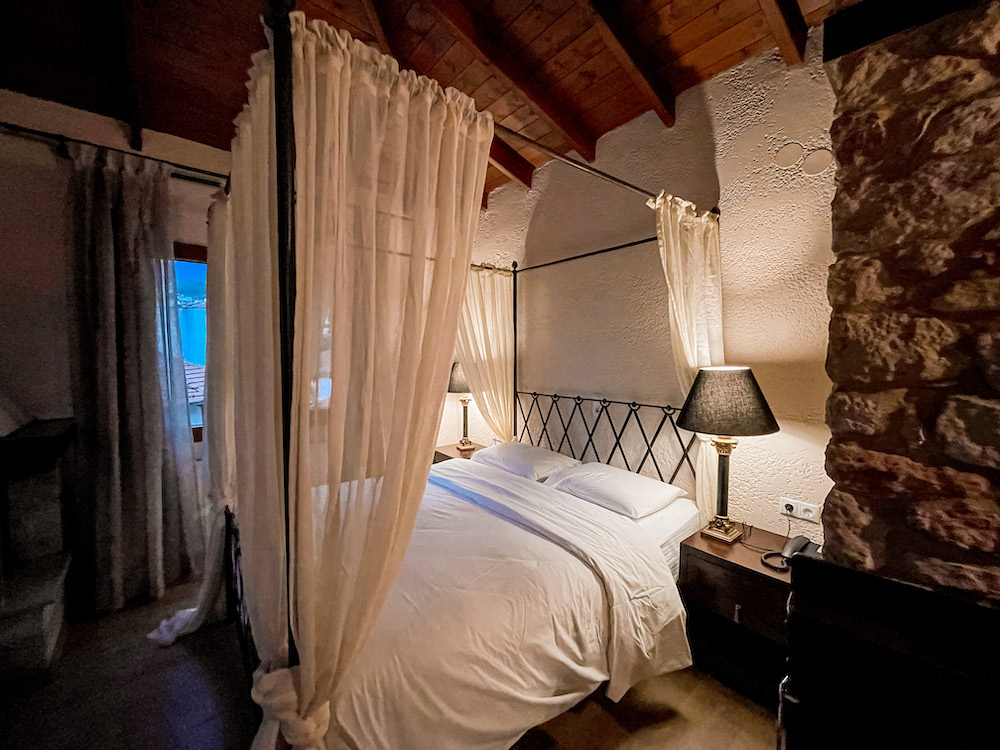 What to bring with you to Climb Mount Olympus:
Hiking shoes

– you should wear hiking shoes if you can as it will make the climb a lot easier. If they are new make sure you break them in first!

Backpack

– the carry all the items below!

Water Bottle

– we brought a litre of water each which was a good amount to keep hydrated

Electric fan

– this was a life saver when we were too hot and took a break

Towel –

the refuge doesn't normally have any so take one in case

Change of clothes

– for the next day if you stay in the refuge

Pyjamas

– if you are staying overnight in the refuge

Sunglasses

– it will be sunny in parts of the climb

Hiking stick

– a lot of people hiked without one, but I would recommend getting one (or two)

Snacks

– You will get hungry up the mountain so bring protein bars, fruits etc.

Portable charger

– to keep your phone battery alive so you can take some great photos on your hike

Toiletries

– deodorant, shower gel etc.

Plasters

– In case of any accidents up the mountain
Book a Stay in The Refuge
If you are going to take two days to hike you will need to book a stay in the refuge which is halfway up the mountain. The first refuge that most hikers stay at is called Spilios Agapitos. It cost €18 for a night stay and an additional €6 for breakfast. It is roughly 2 hours hike from the carpark to the refuge. You can book in advance by emailing them here.
Guide to Mount Olympus Trails:
The most popular trail to take is the E4 and this is the one we hiked. The hike from the town of Litochoro takes around 6 hours to Prionia car park but you can also take a taxi instead of hiking this part. From Prionia car park to the first refuge the hike takes around 3 hours. We took the E4 trail from the car park the first day of our hike but didn't even reach the refuge, as it started to rain hailstones with thunder and lightning. Unfortunately, the weather was too dangerous to keep going so we had to turn back.
On the second day, the weather was still not much better, and we were advised to try the hike from Litochoro to Prionia. We took the taxi up as we did the day before but instead hiked down to the town. We completed the hike in 6 hours and 10 minutes, and it was pretty amazing! Along this trail you will see beautiful landscapes, many wooden bridges, the old monastery of Saint Dionysius and the Chapel of Agios Dionysios.
You can follow the E4 trail all the way to the summit too and I advise downloading All Trails App in advance, as you won't have data up the mountain. There are more than 50 peaks on Mount Olympus and the highest peak is Mythikas. However, this is the very hard peak to climb and quite dangerous. Most hikers will climb to Scala or Skolio (second highest peak at 2911 metres) and both apparantly have incredible views.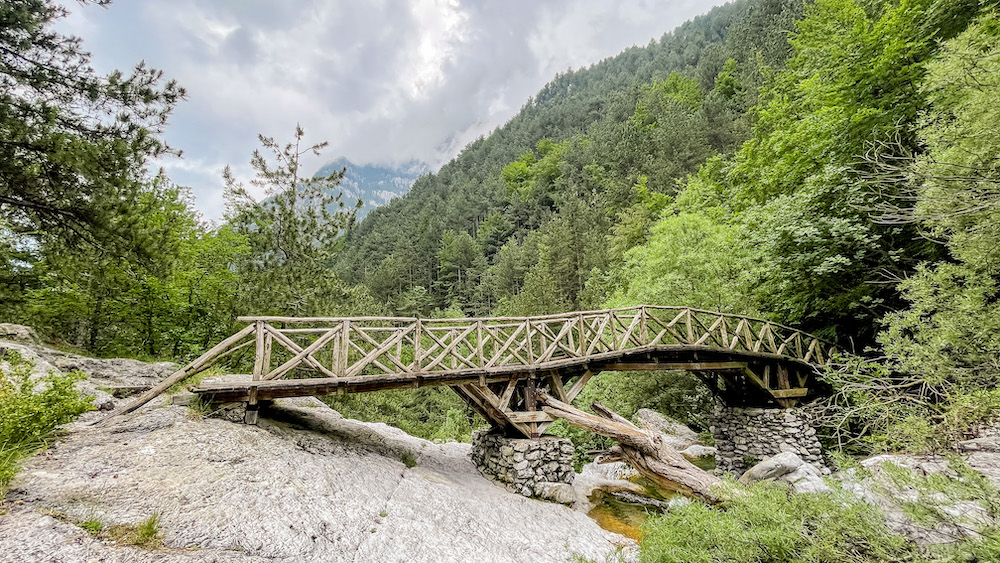 The Carpark and Restaurant:
Most hikers will get a taxi from the town to Prionia car park. The taximan that brought us was named Dimitrios Daviotis who was so friendly and helpful and you can book with him on Whatsapp (+30 6945 332517). The taxi ride from Litochoro to Prionia cost €28. If you are getting a taxi on the way back down, you can try share the trip with other hikers so you can split the fare.
You will see a restaurant/tavern in the carpark, and this is where you will ask to call a cab coming back down from the mountain. Since there is no mobile reception, the waiters here are happy to call a taxi for you and they know the local taxi's by name. While you're waiting you can get a bite to eat or a pint after you're hike! The Goat's soup is their most popular dish.
Hiking Mount Olympus in Greece is a fantastic experience and one I highly recommend. We were unfortunate that the weather turned so we couldn't make it to the top of the mountain. However, we did really enjoy the trail we did, and we will definitely be back to reach the summit someday. To do this hike you need to be prepared so I hope these tips help if you are planning a trip. Let me know in the comments if you managed to get to the top!