Bali is a destination you can visit all year round with temperatures averaging 26 degrees. Dry season is April to September and wet season is October to March. No matter what season you visit there is so much to do on this beautiful island. Here is a list of 5 unmissable activities to do in Bali.
Some of the most beautiful waterfalls in the world can be found in Indonesia. Most of the waterfalls in Bali are found in the north of the island. The best way to chase some waterfalls is to do an overnight trip to this part of the island. The most famous to be found here are Banyumala and Sekumpul Waterfalls. There is usually and entrance fee of around 20K IDR to visit a waterfall and you must pay in cash. I highly recommend visiting Water Slide Lemunkih which is a natural water slide and so much fun!
There are temples all over Bali where the locals will go to practice their religion which is Hinduism. The temples are magnificent to visit and to get an insight into the livelihood of the locals. A frequently visited temple is Tanah Lot as it sits over the water and a great place to watch the sunset. For the temples that you enter inside you will have to wear floor length clothing. If you are wearing shorts or a skirt, you can usually buy a scarf at the entrance to wear inside.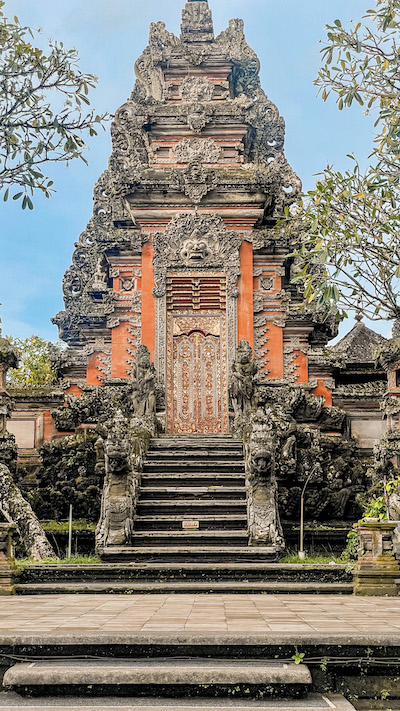 There are so many island trips that you can take from Bali. If you are there for a longer period, this is a great way to spend a weekend! The most visited are the Gili Islands, Lombok and Nusa Penida. You could visit Nusa Penida in one day with a guided tour which we did and got to see the famous Diamond Beach, Broken Beach, Angel Billabong and Rumah Pohon Treehouse. The boat to Nusa Penida takes around 30 minutes and the fast boat to Gili T is 2 hours and 30 minutes. If you want to visit the Gili Islands I recommend going to at least two nights to make the most of your trip!
Have Fun at the Monkey Forest
The Monkey Forest in Ubud is the perfect day activity when there is no rain. You pay 80K IDR to enter, and you will see so many monkeys roaming around the forest. They will walk right beside you, climb up the trees and just sit there eating and it's so interesting to watch them. You shouldn't pet the monkeys or feed them anything and they have been known to steal visitors' belongings. However, as long as you're wary of this, there is nothing to worry about as they are not vicious monkeys. Most of the monkeys in the forest are female and some have baby monkeys clinging to their bellies which is adorable. You can take a selfie with a monkey on your lap with one of the workers for 50K IDR.
Explore the Rice Terraces
The rice fields are just incredible to see and the most picturesque can be found in Ubud. You will find some swings to get that perfect pic too! The rice field I visited was Adrian Desa Rise Terrace and the swing cost 200K IDR to ride. It was a little bit scarier than I expected but still really fun! You can walk around the rice fields and admire the views. As well as the swings there are plenty of other photo opportunities and you can also go ziplining if you dare!
Thank you for reading this blog post, I hope it helps with your trip to Bali, Indonesia. Are you planning to visit? Let me know in the comments!
Thanks,
Jess x