With 260 days of sunshine a year, friendly locals, and beautiful sight to see, Lisbon is the perfect weekend getaway! It's a very easy city to fly to and there are so many things to do in Portugal's stunning capital. If you have a short trip planned to this destination, keep reading this blog post for how you can spend a weekend getaway to Lisbon.
Where to Stay for your Weekend Getaway to Lisbon:
We stayed in the Lux Lisboa Park Hotel, and it was just amazing! The Lux Lisboa is a 4-star hotel near the centre, 5-minute walk from Parque Eduardo VII and 10 minutes from Praça Marquês de Pombal. The reason we loved this hotel so much is because of the rooftop with a heated pool and jacuzzi! It's the perfect place to relax on a weekend getaway. There is a bar serving great cocktails (I personally recommend the Pina Colada) and also serving lunch and dinner. The breakfast included with the room rate is superb with continental options as well as hot food. The hotel also has an airport lift service for guests which is free of charge. We took advantage of this for our returning flight and ended up getting a lift in a Tesla Model X which was such a cool experience!
Things to Do and Places to see during your weekend getaway to Lisbon:
The best way to see Lisbon is to take a tram tour around the beautiful city. The most popular tour is Tram 28 which is a public tram service that stops at most of the city's main attractions. A single ride on the 28 is much cheaper than a sightseeing tour, however, since it is a commuter line for most of the locals. However, it's usually very crowded. I really recommend taking the Tram Tour run by The Yellow Bus Tour Company. It costs €18 per adult and your ticket is valid for 24 hours and gets you free access to other attractions such as the Sta. Justa Lift. It also gets you on the Tram 28 for free too! The Tram Tour starts and ends at Praça de Comércio and takes you up all 7 hills of Lisbon and through areas such as Alfama, Estrela and Lapa.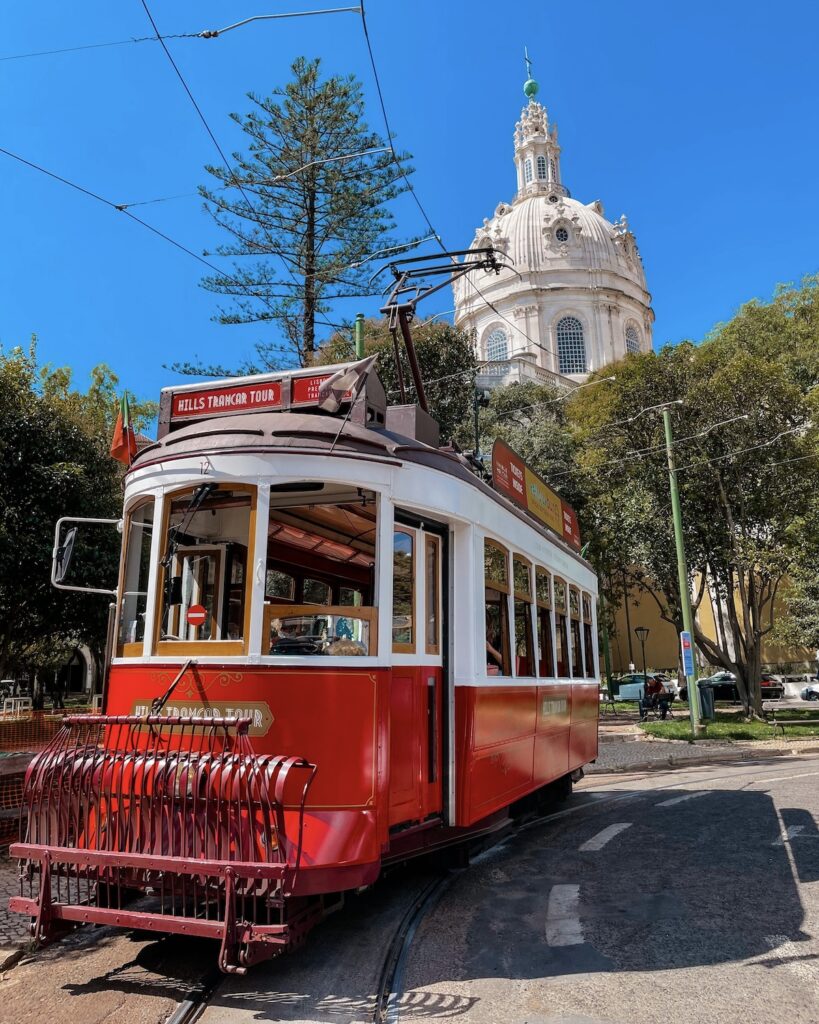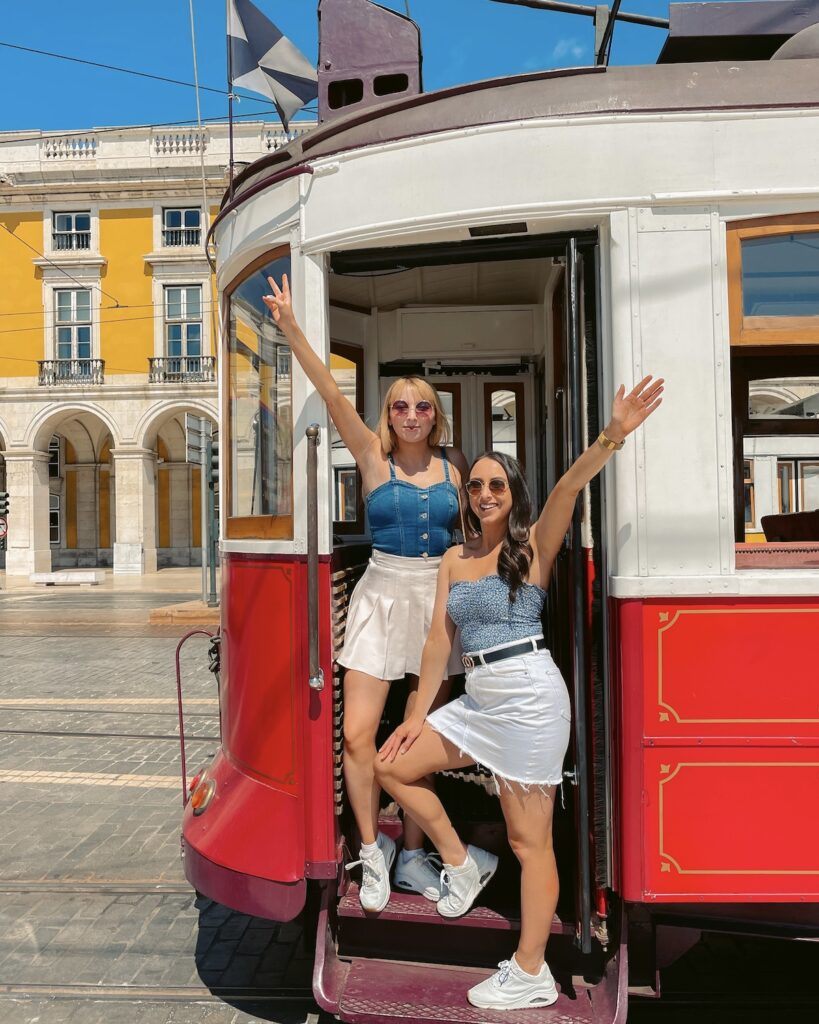 A great way to learn about the history of the Portuguese capital is to visit the Lisbon Story Centre. Located in the centre of Praça de Comércio, the interactive centre offers a 60-minute journey through 20 centuries of historic events. They have audio guides for visitors in 9 languages; Portuguese, Spanish, English, French, Italian, German, Russian, Mandarin and Japanese. It costs €6 for an adult entry and €3.50 if you have a valid student card. The opening hours are from 10AM – 7PM with the last admission at 6PM.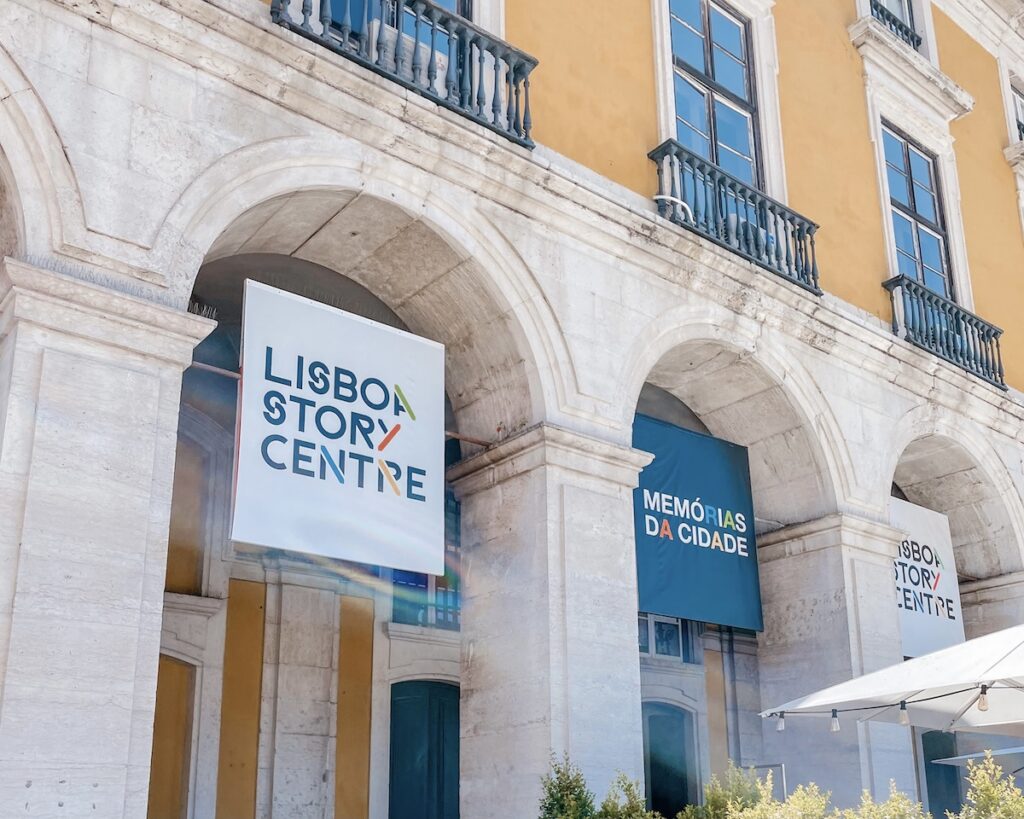 A fun way to see the city is to get a ride on a Tuk Tuk! There are so many of these in Lisbon and if the driver spots you are a tourist, they will try their best to get your business. Tuk Tuks can usually be found parked on centrally located streets and squares in Lisbon. The best places to find one are Praça da Figueira, Praça dos Restauradores (near Glória funicular) and  Rua do Carmo. To ride a Tuk Tuk in Lisbon, prices can vary per driver. Our fare was very reasonable – €10 in total and we were a group of 3. You can definitely negotiate the price with Tuk Tuk drivers before you choose to take the ride. Our driver's name was Tamvir Rayhan and I definitely recommend him as he does guided tours of the city in up to four languauges. His email is [email protected] or his phone number is +351 920144324.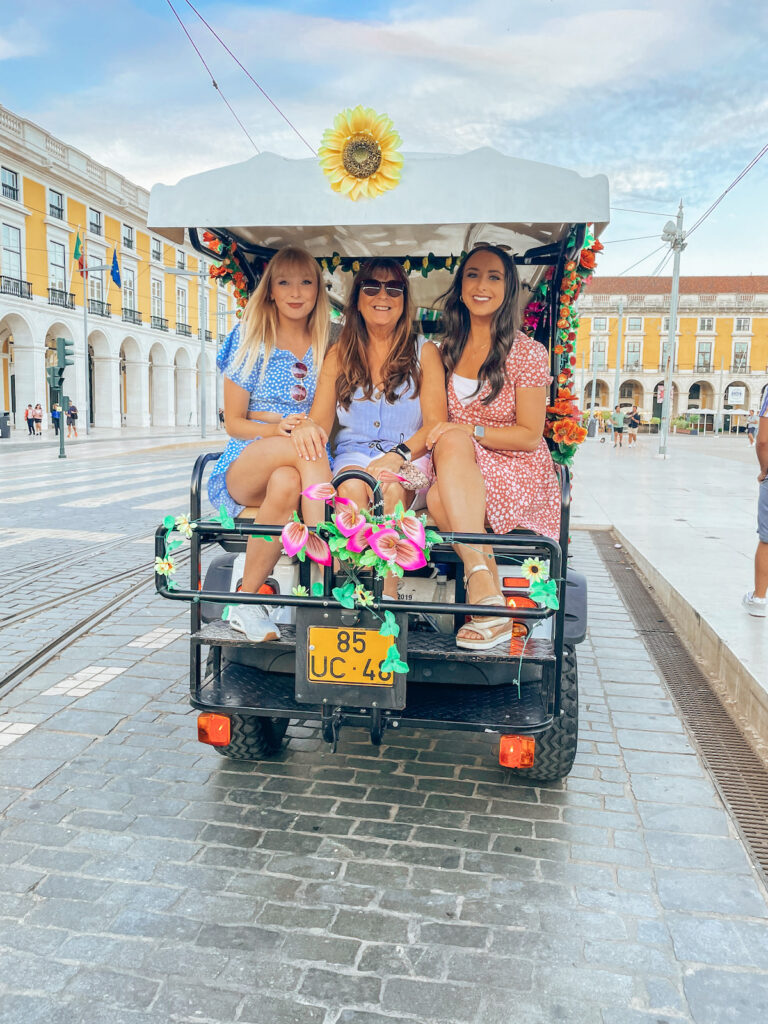 At the bottom of the city along the waterfront is a beautiful square named Praça do Comércio. This square is the biggest square in Lisbon and also one of the biggest in Europe. Here you'll find Arco da Rua Augusta (The Arch) and the Statue of Dom José I, which is in the middle of the square. The Statue of Dom José 1 was  constructed in honour of his financial help in rebuilding the city following the damage from the big earthquake in 1765. This area is very picturesque and you could easily spend half a day here just sitting by the water or exploring the buildings around the square. There are many great food options here too and I would definitely recommend Troppo Squisito restaurant for dinner as they have amazing Italian dishes. The fairy lights around the square make the atmosphere very romantic at night too!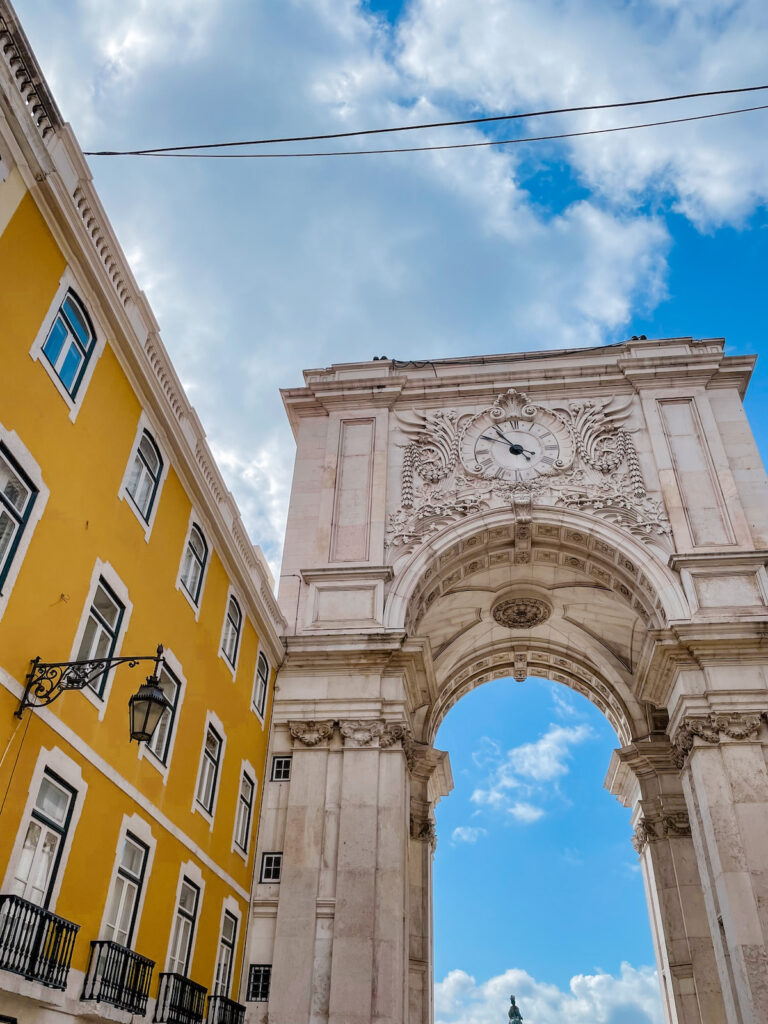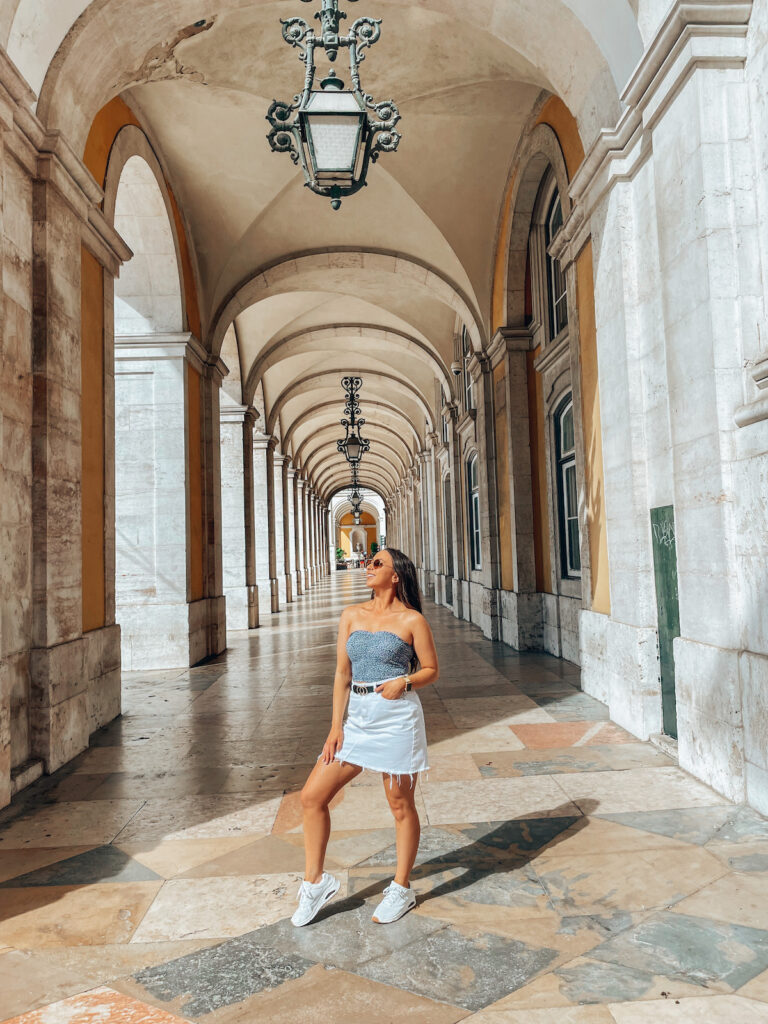 Lisbon is of course, most famous for its trams and funiculars. The lines were installed in the 20th century and the tram has become a symbol of the capital and Lisbon tourism. There are so many around the city that you can ride on or just look for a photo spot. The best location for this is the Elevador da Bica and it's located on Rua de S. Paulo 234, 1200-109. Here you'll find two funiculars going up and down. One of which is a nice clean yellow, whilst the other is covered in graffiti. This yellow funicular departs every 15 minutes and takes tourists and commuters between the Cais do Sodré district on the waterfront and the neighbourhood of Bairro Alto at the top of a hill. There will be lots of other people trying to take their photo here so you will have to be patient to get your shot, but it will be worth the wait!
Miradouro da Senhora do Monte
The highest viewpoint in Lisbon is perched on the hillside in the Graca neighbourhood. Miradouro da Senhora do Monte,meaning Lady of the Hill. It offers perfect panoramic views of the stunning old quarters and castle to the downtown district of the city and beyond. This place is perfect for getting some pictures of the entire city and it looks amazing at sunset, so I would recommend going at this time. It gets very crowded as many locals come here to sit and chill. Once you have explored this stunning viewpoint, make your way down to the Aperol Spritz bar that has a great atmosphere and only €5 for an Aperol Spritz!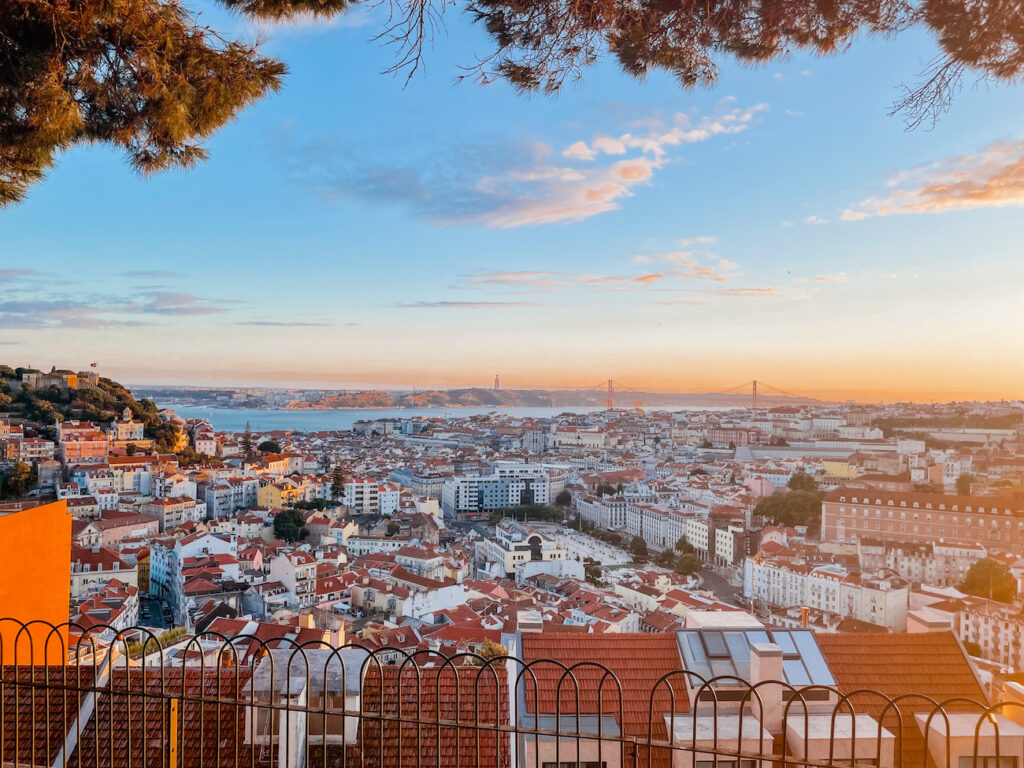 The famous pink street is a must-see spot when visiting Lisbon! It's exactly what you expect, a long winding street completely painted in a hot pink! There are also hanging umbrellas which really add character to the spot. The street comes alive at night when many bars and clubs open and it has a good buzz. It's a perfect insta photo spot but and if you're looking for a good photo try going during the day if you can.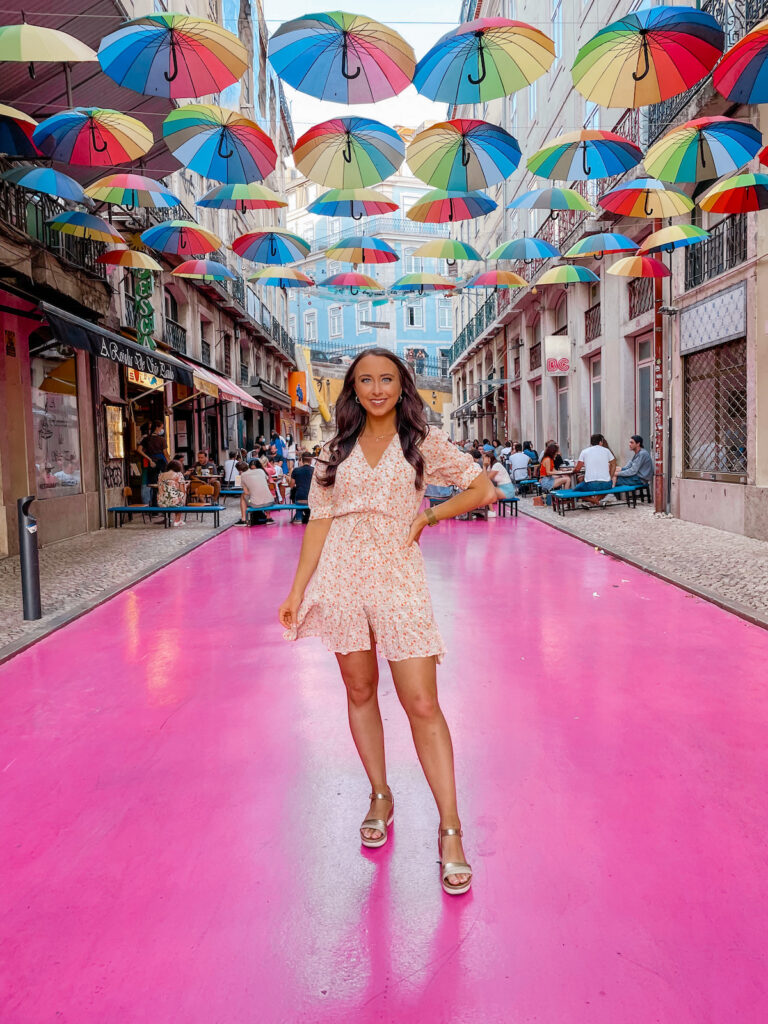 A trip to Lisbon is not complete without visiting the Pop Cereal Café in the heart of Bairro Alto! This Café is such a unique experience. It opened in 2016 after the owners visited London and were inspired by the Cereal Killer Café on Brick Lane in Shoreditch. The atmosphere in Pop Cereal Café is so cool with the walls decorated with cereal related pop art, as well as funky colourful furniture. There are more than 100 different varieties to choose from, many of which cannot be found in the national supermarkets. They have a suggested menu with great options, some of which include ice-cream! You can also create your own customized version of the traditional cereal bowl (mixing 3 or 5 different cereals together). The cafe opens from 9AM to 7PM every day.   
Thank you so much for reading this blog, I hope you find some inspiration for your trip to Lisbon!
Jess x