The first city stop I made during my trip to Australia in February 2020 was to Brisbane or 'Brissy' as the locals like to call it! This incredible city was founded in 1825 and known for its charming vibe and 280 days of sunshine a year. We were very lucky to have friends and family living in Brisbane so we got a lot of advice from them and stayed with close friends while we were there. Out of all the cities this is the one that I wished we had spent more time in, as there are so many things to do and see outside of the city too.
Best Time to Plan Your Trip to Brisbane:
We travelled to Brisbane in the month of February which is the middle of summer for Aussies. I soon found out that this is actually the wettest and most humid time of the year to visit. Honestly, the humidity was a bit much for my Irish skin! If you are like me then try to avoid visiting between December and early March if you can.
The best time to visit Brisbane is during their Autumn season which is from March to May. The average daily temperature in this season is between 18°C and 30°C with very little rainfall. You should be able to get good discounts on accommodation and activities as it is not peak season.
Winter is between June and August which is also a good time to visit as the temperature is still warm (from 12 °C to 22 °C). The busiest time to visit is in Spring and especially in September as the Brisbane Festival happens around this time. If you plan on visiting this time of year make sure to book everything a while in advance.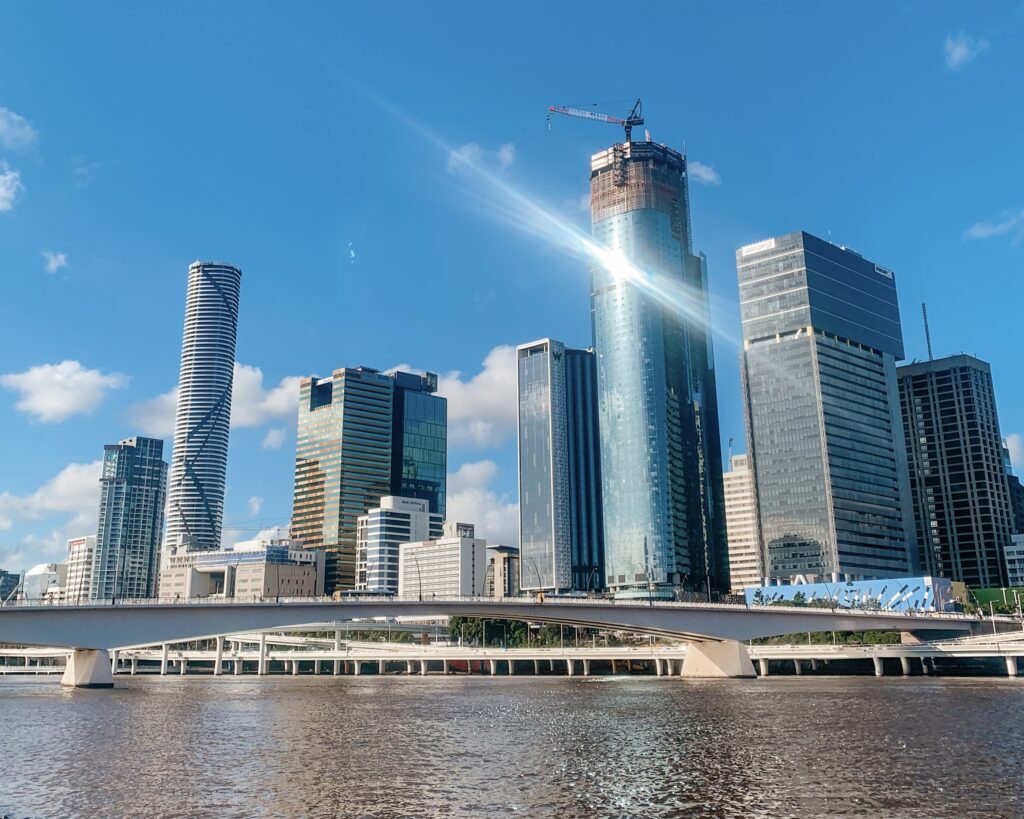 Things to do in the City for your Trip to Brisbane:
There are many things to do around Brisbane city and every suburb has something to offer. Of course the CBD (Central Business Disctrict) is where you will want to spend most of your time and the overall vibe of the city is so chill. I was very lucky to have a local tour Aussie guide, my friend Lauren, whom I met in London and told me all the best things to do in Brissy:
Wheel of Brisbane
If you want to get a good view of the city from up above then you should definitely hop on the Wheel of Brisbane! Tickets costs $16 AUD to ride this 60 metre Ferris Wheel and it lasts around 15 minutes. You can grab yourself a drink before you hop on too!
Australia Zoo
If you are visiting Australia, it is only necessary to visit the Home of the Crocodile Hunter! The ticket price to enter is $59 AUD for an adult and $47 AUD for student. Australia Zoo expands over 700 acres and there are so many amazing wildlife creatures to see such as wild crocodiles, koalas and of course kangaroos!
This is where I got to hold a koala and feed kangaroos for the first time and it was an incredible experience. It's definitely one of the things you do most when you travel Down Under, since we certainly don't see these animals every day in Ireland.
South Bank
One of the main places in the city that should be on your itinerary is South Bank. Brisbane sign is near the southern bank of the Brisbane River outside QPAC (Queensland Performing Arts Centre). This area has such a lively atmosphere with some amazing restaurants and bars as well. This is where you will find Australia's only inner city man-made beach named Streets Beach and it is totally free to visit.
Eat Street Markets
Located on Northshore and an activity I highly recommend is the Eat Street Markets. The opening hours are Fridays and Saturdays from 4-10pm and Sundays from 4pm to 9pm. There is an amazing variety of food markets here as well as entertainment, depending on the night, from DJs to dancers to jazzy bands. It's $5 AUD to enter with a discounted rate of $15AUD for 4 adults.
Koala Sanctuary
The world's first and largest koala sanctuary is located just outside of Queensland's sunny capital city. Lone Pine Koala Sanctuary is home to more than 130 koalas and tickets costs $49 AUD to enter and you can cuddle a Koala here any day of the week! You should know in advance that you cannot hold a Koala in New South Wales state, so make sure to tick this off the bucket list in Queensland if you can.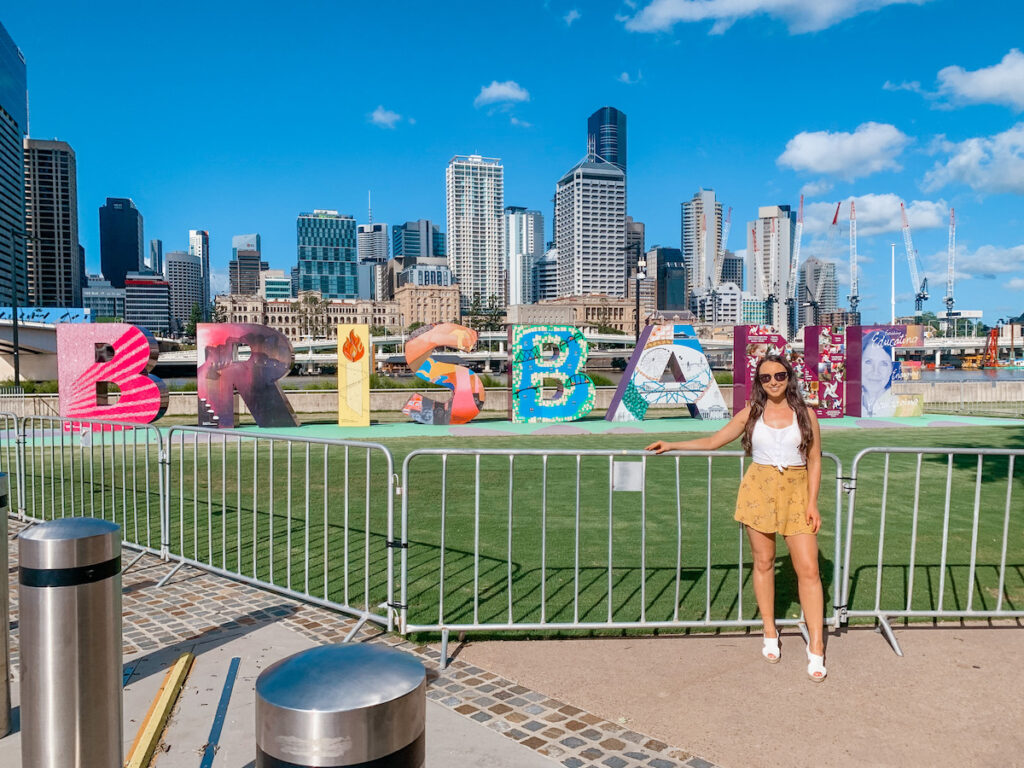 Things to Do Outside the City:
This is the one city where I would really consider renting a car. We borrowed a car off my family who live there which was great for exploring. You can easily book one to rent on sites such as Rental Cars and Sixt. If you want to visit either of the places I just mentioned by car is really the only way as the public transport there is not great and quite infrequent. The three main places to visit are the Gold Coast and the Sunshine Coast.
Gold Coast
The Gold Coast is an hour drive away from Brisbane Parts of the Gold Coast are like the Malibu of Australia. Tanned skin, surfers with wavy blonde hair, lots of plastic surgery, across a gorgeous coastline. I recommend visiting Burleigh Heads or Coolangatta which are more local hang-outs.
Tourist beaches are Main Beach and Surfers Paradise. If you like shopping you can visit Pacific Fair, a huge multi-level mall that is partially open-air. There are also many theme parks such as Wet 'n Wild, Movie World, Dream World (ride-based) and Sea World. We didn't have time to visit any of these but something to do if you have an extra day to spend in the Gold Coast.
Sunshine Coast
The 'Sunny' Coast is around an hour and a half drive from Brisbane and is the Surfers Paradise of Australia. There are so many beaches to visit here but the main ones that were recommended were Noosa and Rainbow Beach. The beach we spent the day was actually be Mooloolaba because we had friends from Ireland staying in this suburb. 
Another great day out in the Sunny Coast is to climb Mount Coolum. This volcanic dome presides over the Sunshine Coast landscape and an easy enough hike. The climb takes around an hour and a half in total. Expect to take around 45 minutes to reach the summit and 30 minutes to get back down. We climbed in the scorching summer heat and were eaten alive by mosquitos (make sure to pack your insect repellent) but the views were incredible and definitely worth it.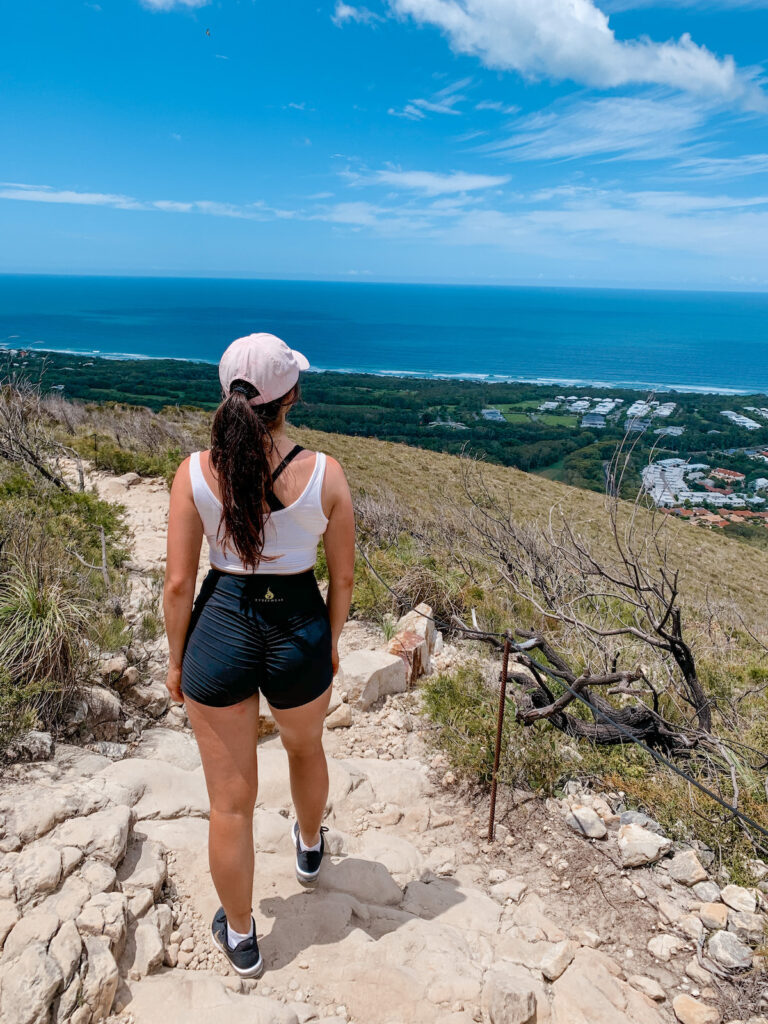 The Islands off the Coast of Brisbane:
There are three main islands off the coast of Brisbane; Moreton Island, North Stradbroke Island and Fraser Island. You might have already heard of Fraser Island as it is the largest sand island in the world. I hear it is an amazing place to visit but if you are stuck for time (like we were) you could consider visiting one of the smaller islands.
Fraser Island is a three and a half hour drive from Brisbane and you have to take a ferry out to it. Most people will camp overnight so you would need a weekend for this trip really. You will probably also have to hire a 4×4 as no other cars will be able to drive on the sand.
As for the other islands Moreton Island (third largest sand island in the world) and North Stradbroke Island (second largest sand island in the world) are just an hour ferry away from Brisbane. The ferry for North Stradbroke Island takes off at Toondah Harbour at Cleveland, in Brisbane's East. To catch the ferry to Moreton Island you will need to get to Holt Street Wharf in Pinkenba, Brisbane. We spent a day and a night on Moreton Island and it was by far one of the best parts of the trip! The beaches have white sand and there is a resort on the island called Tangalooma.
You can book online through their website for a room and you just add on the ferry too. We booked a Hotel Standard Room and it was $289 and the ferry ticket add on was $84 per person. You can also add on activities or you can just book them when you're there. They had fantastic water based and sand based activities on the island. here's a list of some below.
Parasailing
Snorkel the Tangalooma Wrecks
Scuba Diving
Kayak Tours
Sand Tobogganing
Quad Bike Tour
Helicopter Tours
These are just some of the activities you can do at the resort. I'm sure that if you visit Moreton Island you won't regret it! The most amazing part was getting to feed the dolphins at night. At 7PM you walk on down to the dock where there are huge crowds looking down at the sea. This is where you can feed wild dolphins.
The dolphins come in to the resort the same time every night to get fed. You can watch them come to the shore but I really recommend going to feed them (you do have to add this to you booking in advance). It is dark when you feed them so it's a bit pointless taking a photo as they don't let you put on the flash but there are staff that take a photo on the camera, which you can buy later.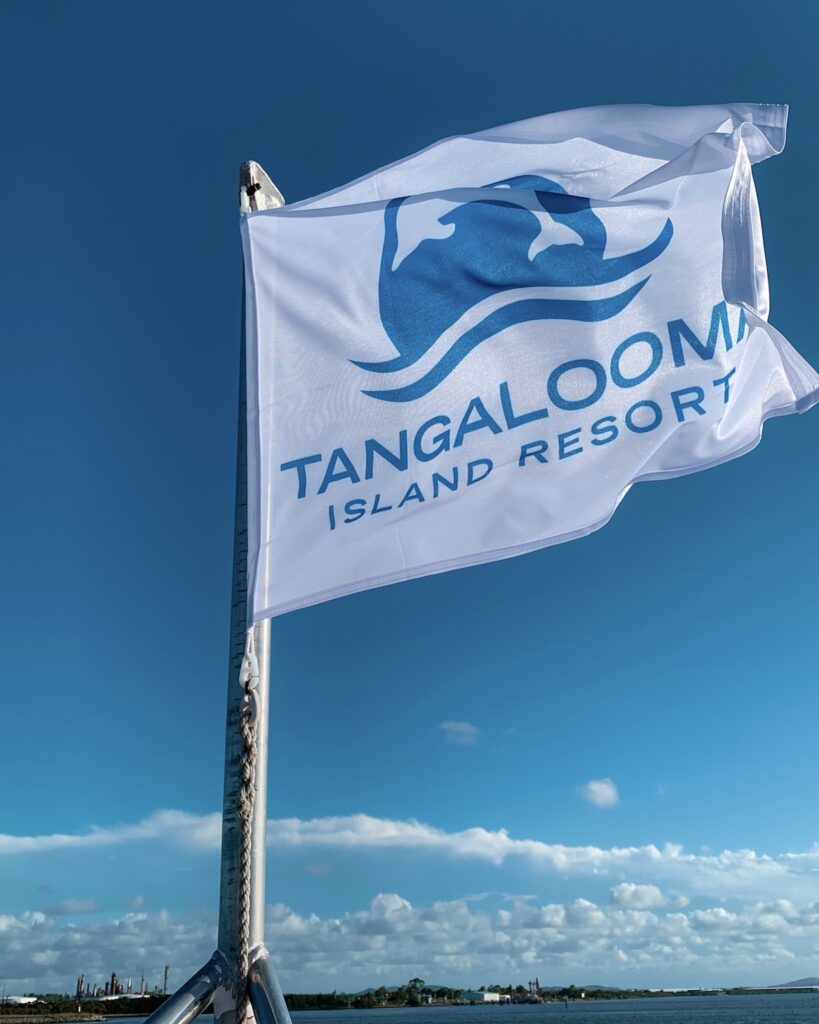 Thanks for reading this blog post! If you are planning a trip to Australia make sure to check out my Travel Guide for Sydney as it is only an hour and a half flight from Brisbane.
Jess x