A very historical city and a must-visit in Europe. You can visit Warsaw in summer or winter as in the summer it gets temperatures up to 25 degrees Celsius and in the Winter, you can be lucky and get snow! A 2-day weekend is a good amount of time to stay in Warsaw and you can get in most activities and get a feel for the culture during this time. It is only a 2-hour flight from London or 2.5 hours from Dublin which makes it a nice weekend break. If you have booked your trip and looking for a how to spend two days in Warsaw, then keep reading!
Where to stay for Two Days in Warsaw:
I recommend staying in the Old Town area as you will be able to walk to most of the noteworthy points in the city. The Old Town is a UNESCO world heritage site and filled with beautiful colourful buildings. You have a lot of choice for things to do and places to eat if you stay here.
We stayed in the Jess Hotel and from the name you can probably guess why! It was a lovely hotel and very reasonably priced. There is also a spa that we booked into to have a massage and it was so relaxing. I would recommend it!
While Poland is a country in the EU, they do not use Euro as their currency. The currency they use is Polish Zloty, so make sure you  exchange your money before you go. I always use Revolut when travelling abroad as I can spend in different currencies with no charge and without having to use cash.
How to Spend Two Days in Warsaw:
After you get checked into your hotel or hostel, get out and explore! Here are some ideas to spend your first day in Poland's second largest city.
Viewpoint in the Bell Tower of St. Anne's Church
I love a city viewpoint whenever I'm travelling and the Bell Tower of St. Anne's Church is the one to go to in Warsaw. The name of this building in Polish is Kosciol Swietej Anny and is one of Warsaw's oldest buildings. Construction started in 1454 and the building has survived several wars. 
The church is located in the Old Town Market Square where there are markets selling local jewellery and food. You can only pay with cash to enter the tower and it costs 10PLN per person which is around €2.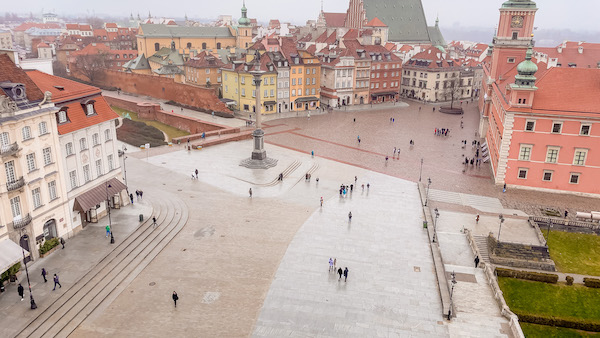 Visit the Royal Castle:
The Royal Castle is a beautiful and very historical building and is the most visited activity in Warsaw. . Dating back as far as 1598, the Royal Castle was the former residence of Polish monarchs. It was completely demolished in 1944 during the Second World War, but the locals worked hard to restore it to the original design.
The tickets cost 45.00PLN for adults and 35.00 for children (approx. 9 and 7 euro) with a free cloakroom inside. You can take an audio guide to learn about the history of each room as you walk through. The rooms inside the castle are incredible such as the Great assembly hall, the Throne room and Parliamentary chambers.
Taste some E. Wedel hot chocolate:
Take a break from the sightseeing and enjoy a cup of Polish hot chocolate. E. Wedel is the Polish national chocolate brand that has been in production since 1851. There is a long list of hot chocolates on the menu to try. I had the 'milk chocolate with blackcurrant purée, caramel with sea salt and whipped cream' and it was delicious!
There are E. Wedel stores and cafés in many locations across Warsaw where you can grab a takeaway cup or sit, sip and enjoy. It's a little bit more expensive than other cafes by city standards but definitely worth trying!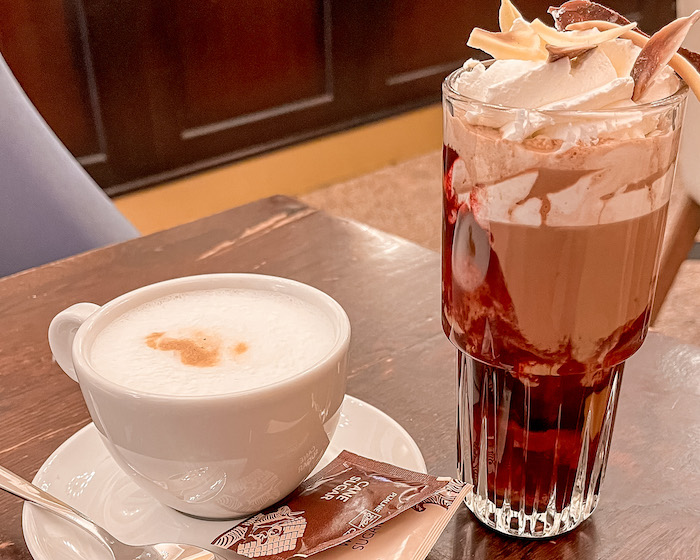 Take a Hop on Hop off Tour:
One of my favourite ways to explore a city is taking the Hop on Hop off Bus Tour. You get to learn so much about the city from the guide or recording. It is also a mode of transport to get from A to B as they usually stop at the main attractions. In Warsaw, there are two lines, the red and green line. The tickets cost between 20-30PLN depending on the amount of time  you want them for (24, 48 or 72hours).
The first stop on both lines is the Palace of Culture and Science and when the bus pulls off make sure to look down at the road. You will see the pedestrian crossings look different as they are painted as pianos. This is in honour of Frédéric Chopin, the Polish composer and pianist from the Romantic era.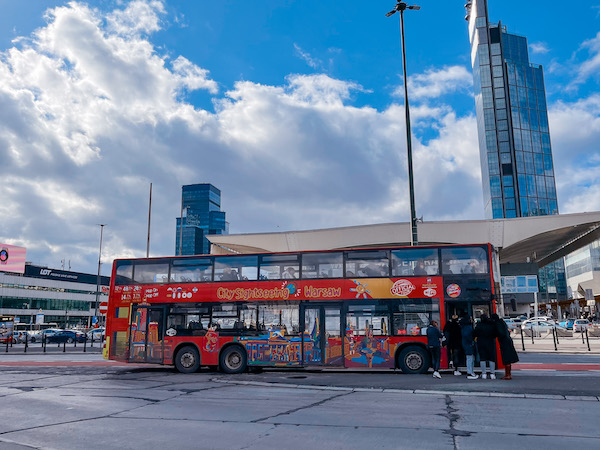 Explore the area of Mirów:
For a complete contrast to the Old Town, explore Mirów which is a more modern area in the city and a business hub where skyscrapers stand, for example the Warsaw Spire. There are many nice cafés and restaurants in the area too. This is where you will find the 'I Love Warsaw' sign which is a great photo opp of course!
Skyfall is a new attraction that is also located in Mirów. If you are an adrenaline junkie add this activity to your list to feel like you're floating 200 metres above the ground. They are not open on Sundays and you need to book or call in advance so make sure you plan ahead. 
Have a drink in an Irish Bar:
Since I am Irish born and bred, I can't help but look for an Irish bar whenever I'm abroad. And with the luck of the Irish, there is nearly always at least one in every city around the world! Molly Malone's in Old Town is a lively Irish bar selling Irish car bombs and of course, Guinness!
Palace of Culture and Science:
The Palace of Culture and Science is Warsaw's most iconic landmark but also a very controversial building. It was a gift from the Soviet Union to the people of Poland in 1955. This is why people also call it Stalin's gift. Most Poles hate it because it reminds them of times they would rather forget.
It holds the title of 'tallest building' in Warsaw and is 237m in height. There is a café and viewpoint on the 30thfloor of the building that offers incredible views of the city. It costs 20PLN (4.5 Euros) to go to the viewing terrace. There is also a science museum on the ground floor that is open from 8am-4pm Mon-Sat and 9am-3pm on Sunday.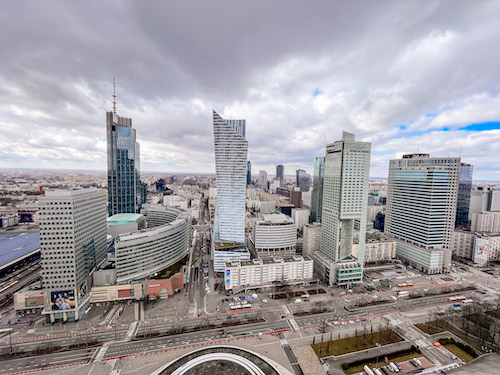 Warsaw Rising Museum
If it's raining during your time in Warsaw, there are many indoor activities to do,  one of which is visiting museums. There is a lot of history in Warsaw and museums like the Warsaw Rising Museum is a great way to educate yourself on all that has happened.
Opened in 2004, this museum is home to hundreds of artifacts from the Warsaw Uprising of 1944. Polish citizens rebelled against German occupation and the uprising lasted 63 days. The museum has a lot of interactive film as well as artefacts such as clothing and letters during this tragic time in the city. The cost of a ticket to the museum is 25 PLN (around 5 euro).
There are many other museums that you can visit such as POLIN Museum, Neon Museum and there is even a Polish Vodka Museum!
Many thanks for reading this blog post, I hope you found it helpful for your travels to Warsaw! If you are extending you trip to other areas in Eastern Europe, I highly recommend Prague in Czech Republic.